"Who is making your wedding cake?" and "what kind of wedding cake are you having?" are probably the questions I've been asked the most up until our wedding.
People were actually quite surprised when they learned, that I wasn't planning on baking the cake myself. However I knew from the very beginning, that I didn't want to bake my own wedding cake. Wedding cake baking is a very serious and time consuming affair. Something that I wouldn't have the time, energi or skills to make. Especially not in the days before the big day.
We knew quite early on, that we wanted to ask Torben Bang of  Bang Patisserie to make our wedding cake. I've known Torben for quite some years, and I respect him so much. He is talented like no other. He is an esthetician all the way to the core. And he is quite the artist. In other words, we were very confident in trusting Torben with our wedding cake project.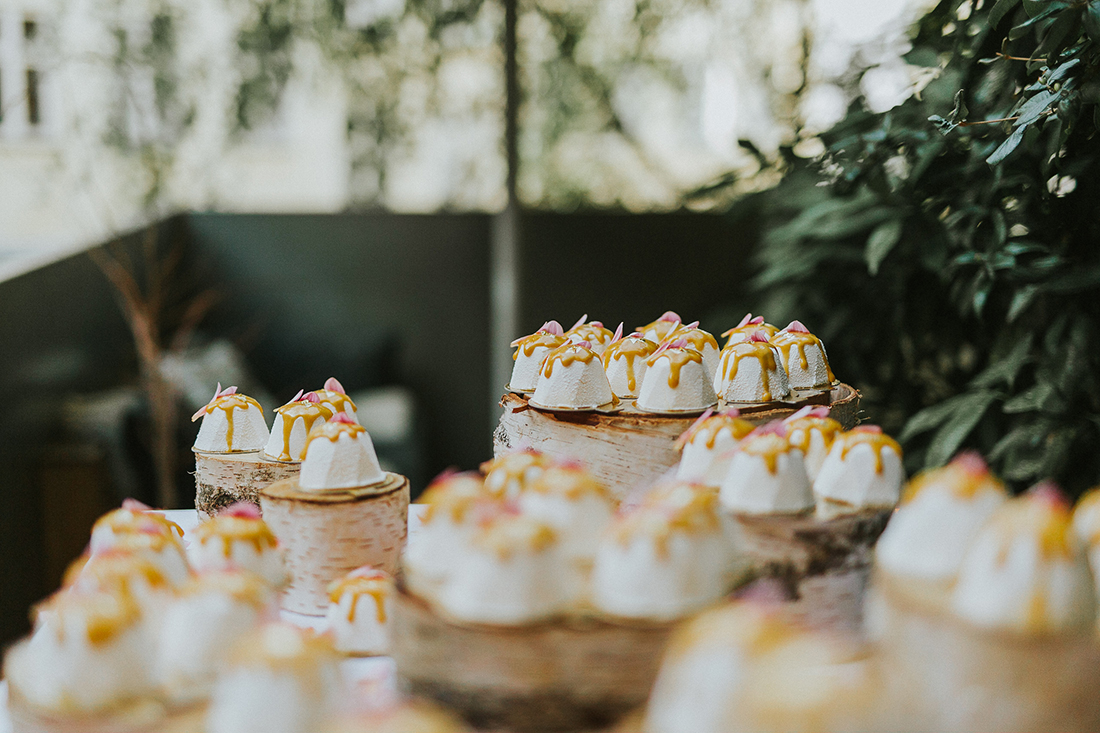 We had one simple wish for our wedding cake: We didn't want it to be traditional. I could sense, when talking to family and friends, that they were expecting us to have the very classic kind of wedding cake. You know the tall one with multiple tiers. Those expectations actually drew us to want the exact opposite. We wanted our guests to be surprised by our wedding cake. We longed for something interesting and different. Something modern and more minimalistic.
We told Torben our thoughts and dreams, and he immediately understood our intentions. As the conversation progressed, the cake project evolved from one cake to several cakes. White, of course. Topped with a running gold glaze and a single flower petal. Besides from those initial thoughts, Torben was given full artistic freedom. We trusted him and knew we were in safe hands.
And WOW did he amaze us on our wedding day. When we finally saw those cakes, we were practically swept off our feet. Not only were they beautiful, more beautiful than we could have ever imagined. They were arranged so dreamy. And oh were they delicious.
Their taste and components, you ask? Passion fruit mousse, layers of salted caramel and caramel chocolate mousse, topped with a runny gold glaze, leaf gold and rose flower petals. Petals, that by the way matched the flowers in my bridal bouquet. A detail, that I would have never thought of. But such a perfect and sweet detail.
The prettiest wedding cakes I've ever seen. So incredibly delicious. So unique. And so "us".
Thank you, Torben!