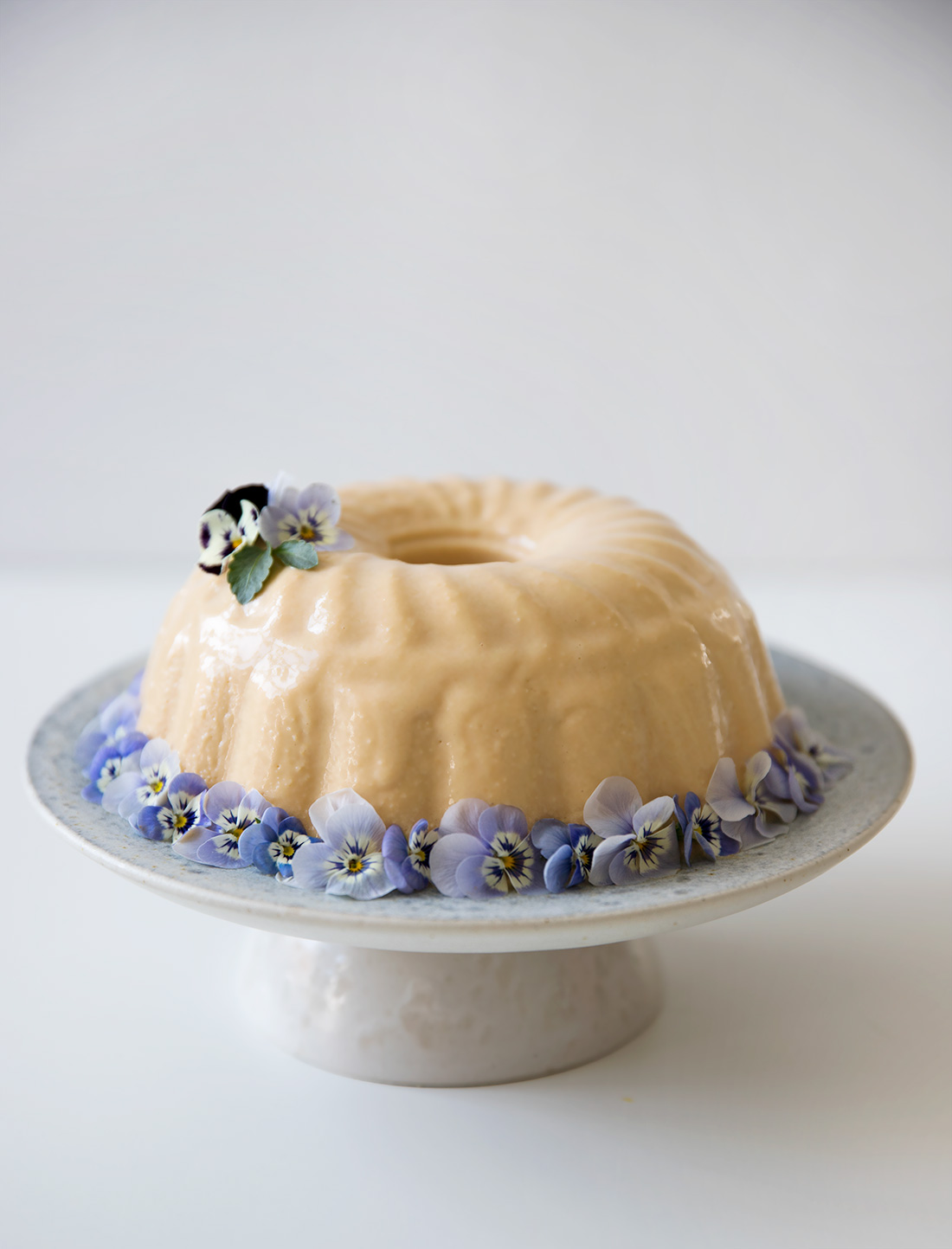 To be honest not all my cake and desserts attempts end well. I almost always only share my successes, but you should know that behind every cake is very likely a few failed attempts. So here's a little insight in a project that didn't end as planned. Hopefully my experiences will keep you from making the same faults next time you want to make a pudding from scratch. Because when made correctly, puddings are the best!
Up until yesterday I'd never tried making a pudding myself before. But I've tasted them many times, made by the Danish pudding queen Marie Holm (author of several pudding cookbooks).
Having fallen in love with Maries puddings I know that they should be (or at least have the potential to be) silky smooth, light and full of flavor. Sounds pretty darn delicious, right?
So I gathered the courage and tried making a pudding myself. A salted caramel pudding, because who doesn't like salted caramel?!
Making the custard was easy enough, and actually quite quick. So far so good. Until I discovered all of the little lumps in the custard. Apparantly I had over heated the whole thing, making it clumpy. Marie had told me that if ending in this situation, it can be solved with giving the custard a quick blend with a hand blender. Unfortunately I don't own a hand blender, so instead I strained the custard through a fine strainer thinking that could solve the problem. I then poured the custard into the pudding tin and placed it in the fridge.
Fast forward up until today, when it was time to "pop" the pudding out of the tin and onto the cake platter. Marie told me to dip the pudding tin into a bowl of hot water for 10 seconds, melting the sides of the pudding just a little, making it easier for the pudding to let go of the sides. I filled a large casserole with super hot water and gently dipped the tin counting to 10. I turned the tin upside down and woosh, I felt the pudding let go. But alas, when lifting the tin I saw strains of melted pudding running down the side. Obviously I had let it melt for too long. I guess finding the exact right number of seconds is a matter of feeling, that will come once I've tried making puddings many more times. Anyway, the little bit of runny pudding only affects the overall appearance. The cake is still delicious and aaaalmost perfect.
Once having placed the pudding on the cake platter it became way too obvious that I hadn't exactly managed to strain all of the lumps from the custard. The shiny mirror surface that I was aiming for wasn't very whiny and flawless at all.
Oh well, I think I managed to save it somehow once decorated with pansies covering the flaws.
All in all, the budding did end up with some blemishes. But it was my first attempt at making pudding and although my perfectionistic side is a bit scarred I am still somehow satisfied. And guess what? It still tastes amazing!
How about you? Do you recognize the situation and the frustration? Please share with me your stories of failed baking attempts.