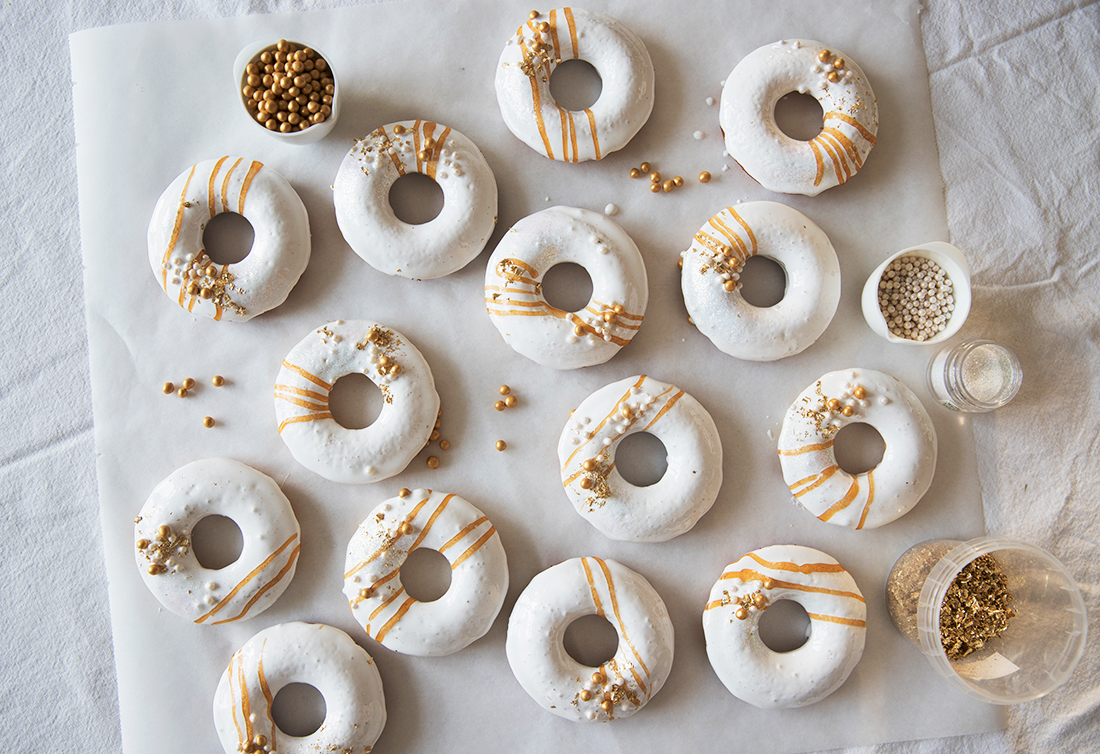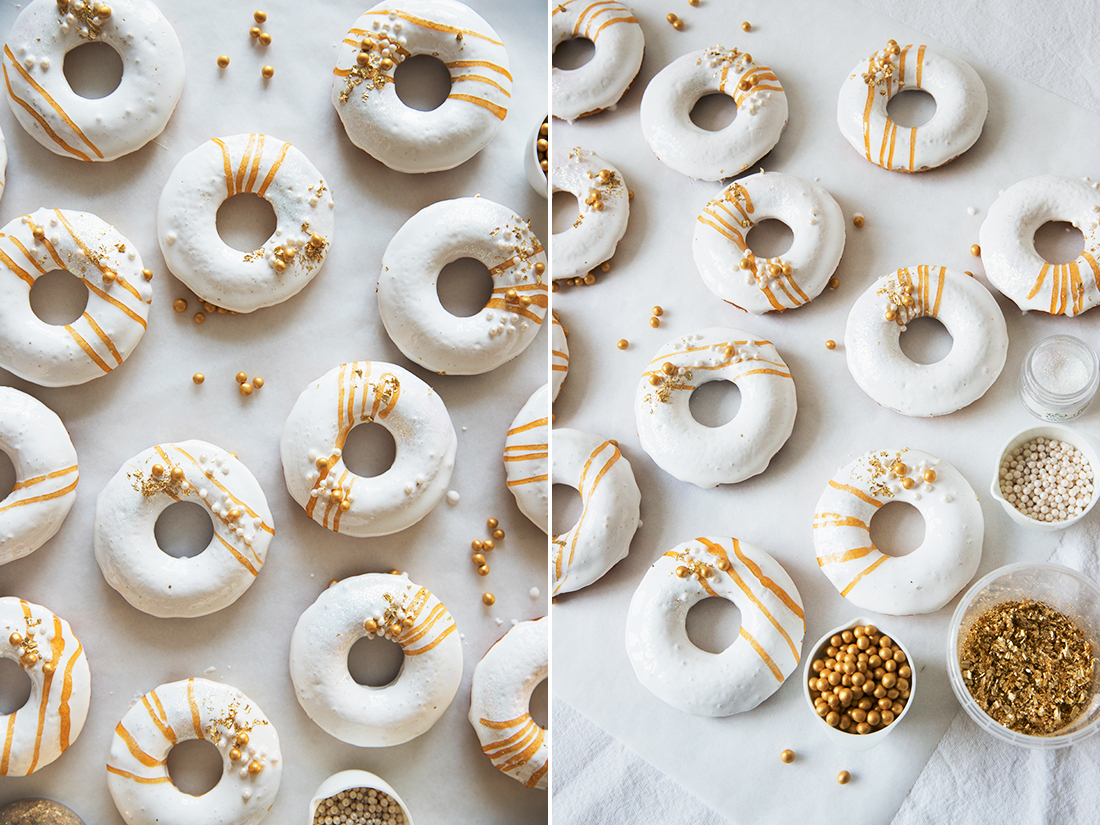 I guess you've all heard the saying "less is more", right? I'm not sure it applies when it comes to cake decoration, haha. When I made these donuts I had envisioned that they should have been very white, very simple and very minimalistic. Perhaps a bit of gold decorations. So I started with the gold stripes. Then added a few gold pearls. Clearly that wasn't enough. So I added the edible gold dust. The white glitter. White pearls. "Oh shoot", I thought to myself "I overdid it". But when I stepped back and looked at the donuts I was actually pleasantly surprised. They really looked amazing. Beautiful even, if I may say to. And the decorations were just perfect.
So in this case there is no such thing as less is more, but we'll go with more is more.
I love baking my donuts in the oven, by the way. Actually I've never tried baking them the traditional deep fried way. I haven't had the courage to do it yet. But luckily I quite like the oven baked version. They taste absolutely delicious and I get to work in a kitchen free from smoke and that oil smell.
There are many different moulds for baking oven baked donuts in. I'm a fan of silicone moulds (I use these* from Silikomart), as I find that donuts tend to get stuck in the traditional metal moulds (even the non-stick ones).
To decorate my donuts I used
Dr. Oetker gold pearls
Dr. Oetker white pearls
Rainbow Dust white edible glitter (this*)
Gold dust flakes
Gold glace from Silikomart (this*)
*affiliate links
Ingredients (makes app. 6-8 donuts)
150 g all-purpose flour
110 g sugar
1 ¼ tsp baking powder
¾ tsp salt
1,2 dl milk
1 tsk lemon juice
1 egg
1 ½ Tbs melted butter
Preheat the oven to 220 

°C

.
Grease the donut mould thoroughly or spray with butter spray.
Sieve together flour, sugar, baking powder and salt in a bowl.
Whisk the egg in another bowl.
In a third bowl mix milk with lemon juice.
Add milk, egg and the melted butter to the flour mixture and stir until the batter is even is without lumps.
Pour the batter into the donut moulds. Only fill up each cavity about halfway – the donuts will rise quite a lot.
Bake in the oven for 4-6 minutes.
White glaze
½ jar (115 g) of Marshmallow Fluff
30 g powdered sugar
1½ Tbs milk
Pour Marshmallow Fluff and powdered sugar into a bowl and stir. Add 1 Tbs of milk and stir until the glaze is smooth and shiny. Add more milk if needed until you are happy with the thickness of the glaze.
Pour the glaze over the cooled donuts.
Decorate with sprinkles, glitter and gold glaze.
Just a few quick words on "affiliate link": If you purchase a product via an affiliate link I earn a (very) small commission. I only link to products that I use and that I highly recommend. You still get the same good product for the same good price as you would have if you had bought the products elsewhere, but this way I earn a very small percentage, which supports my work.