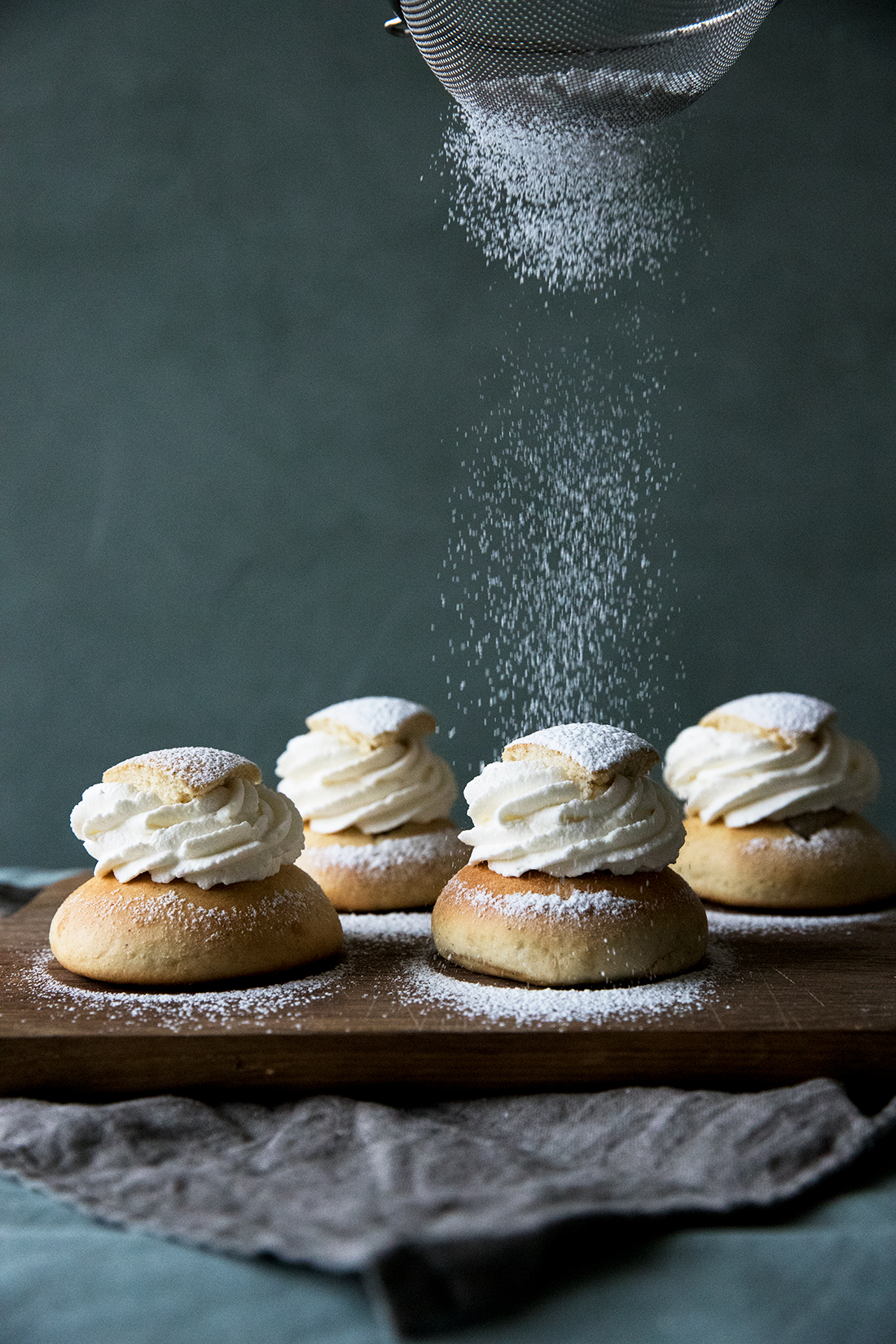 There's something so very special about this time of year, since we are approaching the "semla season". In Sweden they traditionally bake and eat semlor around this time and up until March (the specific dates vary each year, being dependent on the dates of Easter). For me, not really being so aware of dates, holiday celebrations etc., all I know is February is when my semla craving kicks in. And let me tell you, even though semlor is a traditional Swedish pastry, here in Denmark we have adopted the love for semlor. Like we have adopted almost everything else that comes out of the Swedish bakeries (do I have to mention kanelsnurrer (cinnamon rolls) for instance?).
In my case the love for semlor is to some extent innate. I'm half Swedish (my mother is from Sweden), så I remember eating semlor as far back as my oldest memories go. Really! I have so fond memories of going to Swedish patisseries with my Swedish family and if I was lucky enough I would get a semla to eat. What a joy! I still get that feeling today when I visit Swedish patisseries and order a semla. It's like no other thing in this world.
In Sweden they fill the semla with an almond mixture made from "mandelmassa". It's almost like marzipan, but with more almonds and less sugar. I haven't been able to find "mandelmassa" in stores in Denmark, so I've just used normal good quality marzipan and added more almonds.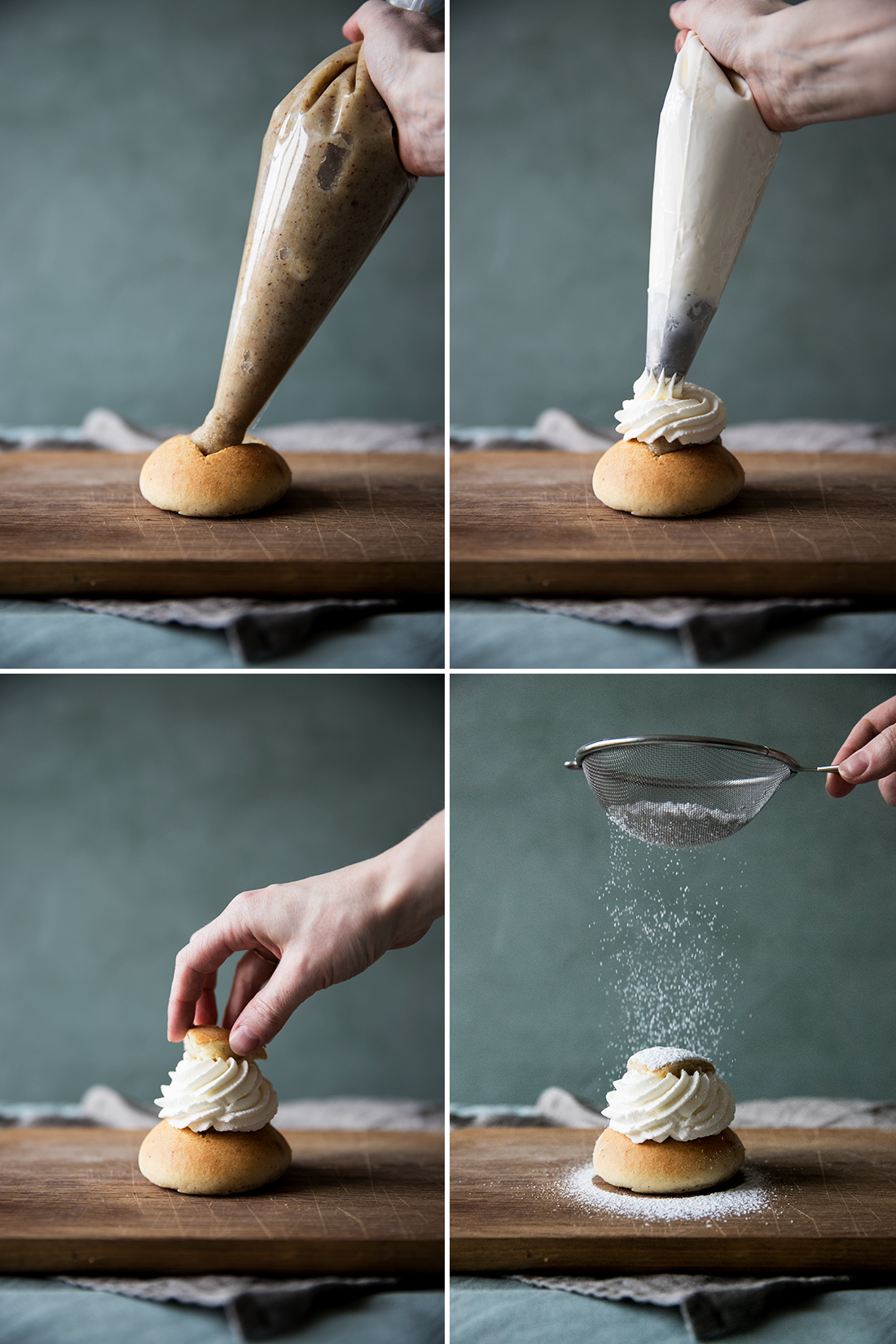 Ingredients (makes 14 semlor)
Buns
2 dl whole milk
25 g fresh yeast
260 g all-purpose flour
—
160 g all purpose flour
1 egg
½ tsp salt
1 Tbs ground cardamom
100 g butter, room temperature
85 g sugar
Butter for brushing
Heat up milk until it is lukewarm and pour it in a big bowl. Add yeast and stir until the yeast has dissolved. Add flour a little at a time while stirring. Continue until all flour has been added and the dough is nice and lump free.
Cover the bowl with a damp dishtowel and leave the dough to rest for 15 minutes.
Add the remaining ingredients to the dough and knead it thoroughly until the dough is shiny and elastic (will take about 7 minutes in a stand mixer).
Make 14 even sized buns and place them on a baking sheet with baking paper.
Cover the buns with a damp dishtowel and leave them to rise for 2 hours.
Turn on the oven on 210 ºC and brush the buns with a little bit of melted butter. Bake the buns for 10 minutes or until they are golden brown.
Almond filling
200 g marzipan
20 g almond flour
20 g almonds
1 tsp ground cardamom
Seeds from 1 vanilla pod
30 g powdered sugar
0,5 dl milk
Pour the marzipan and almond flour into a bowl. Chop the almonds and add them to the bowl. Add cardamom, vanilla seeds and powdered sugar, and mix everything well together.
Add the milk a little at a time while stirring. Stop once you are happy with the texture. The almond filling should be soft but not liquid.
Pour the almond filling into a piping bag.
Assembling the semlor
0,5 L whipping cream
Powdered sugar for decoration
Whip the cream to a soft whipped cream and pour it into a piping bag fitted with a large star nozzle.
Cut a triangular lid in all of the buns. Make sure to cut deep enough so that you make a hole in the middle.
Fill the holes with almond filling and decorate with a swirl of whipped cream. Place the lid on the buns, press down gently and decorated with finely sieved powdered sugar on top.