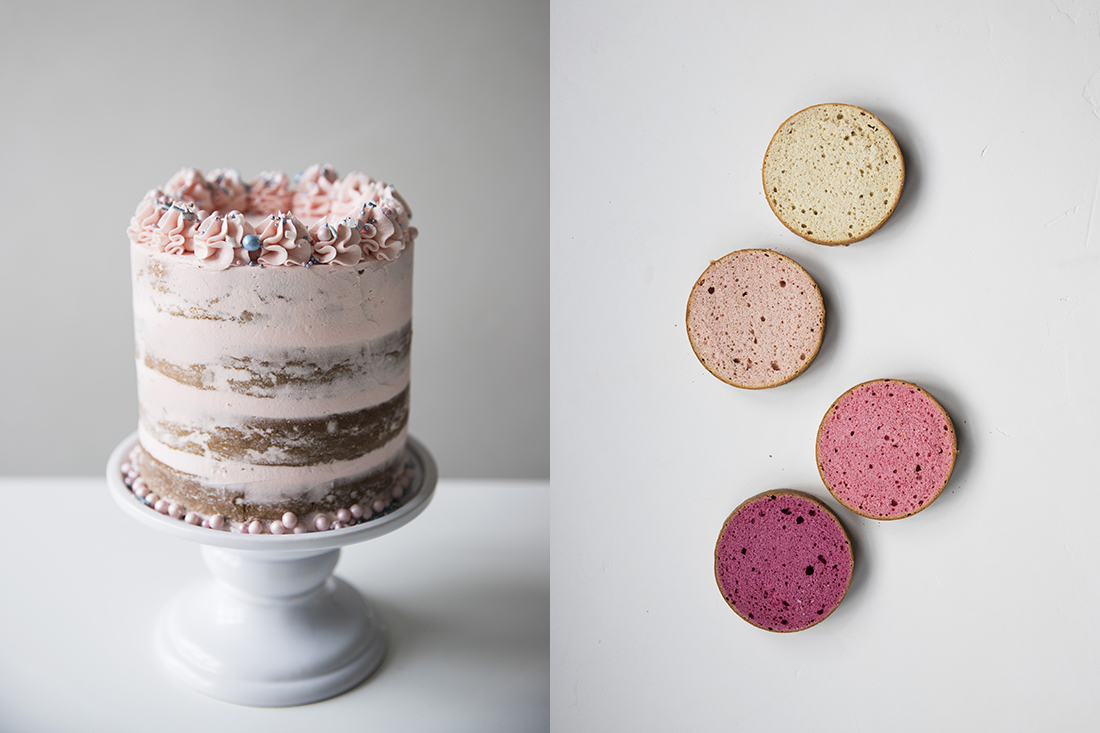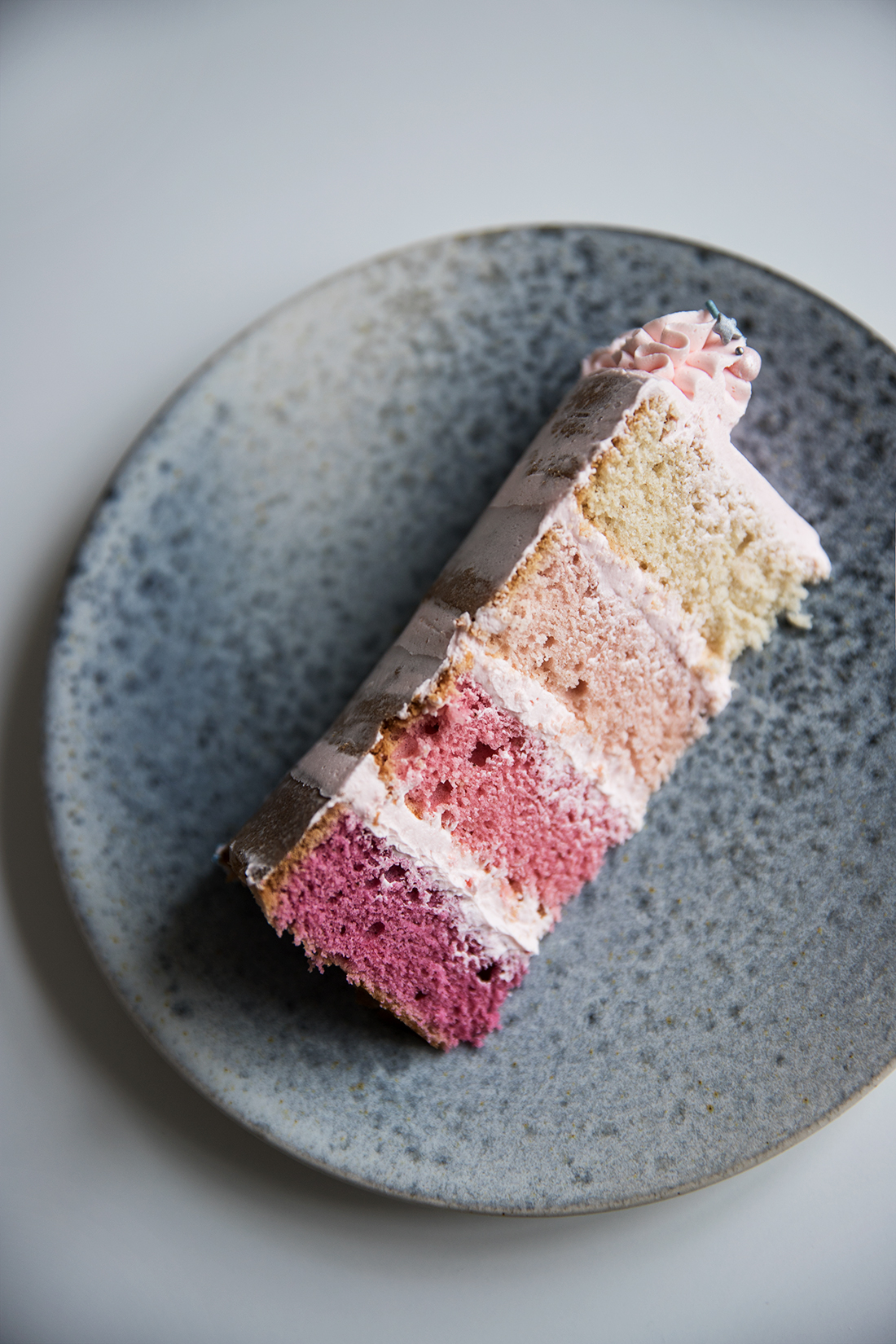 Sometimes you just need that extra touch of pink in your every day life, right? These last couple of weeks have been way too gray, cold, rainy and just really January-ish. In othe words; there's been too little color. At least that's how it's been in my world. How about in yours?
There are a few things that you can do yourself to get in a better mood when the days are just too boring. I get me extra kicks of energy when I get laughs from my baby, kisses from my boyfriend and when we all listen to music and dance in our living room. Oh, and everything also gets a little bit more fun and festive when the color pink is added. I know that sounds very teenage-ish, but I simply haven't outgrown my pink phase. And honestly I hope I never will.
Så this weekend I gave myself permission to play with pink in my kitchen. And the result was this tall, pink layered caked topped with buttercream swirls and beautiful sprinkles. This cake is really not a huge and time consuming project, it's actually quite easy and fast to make. So if you, like me, get a splash of energy from baking, I can recommend baking this cake as a therapy on grey days.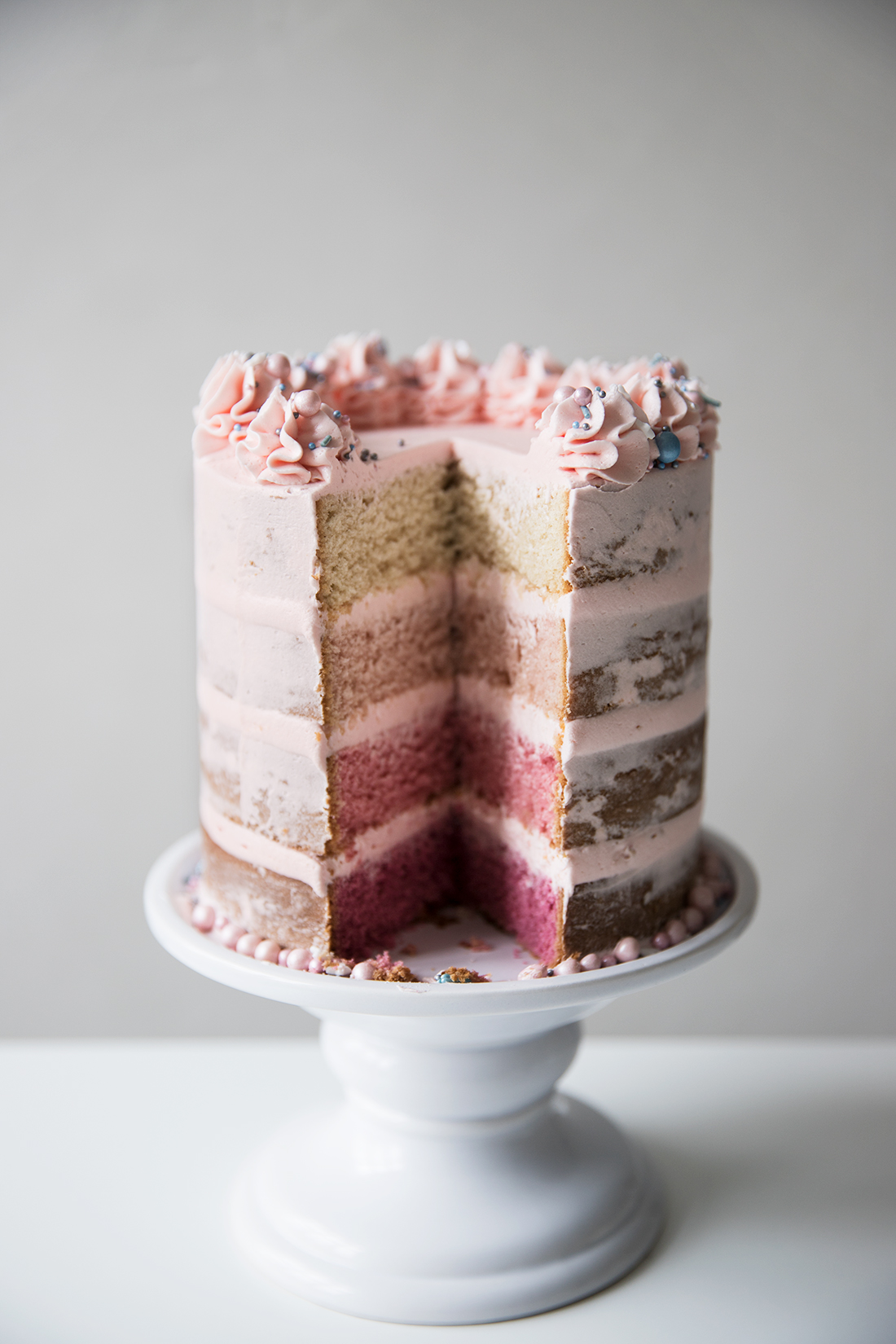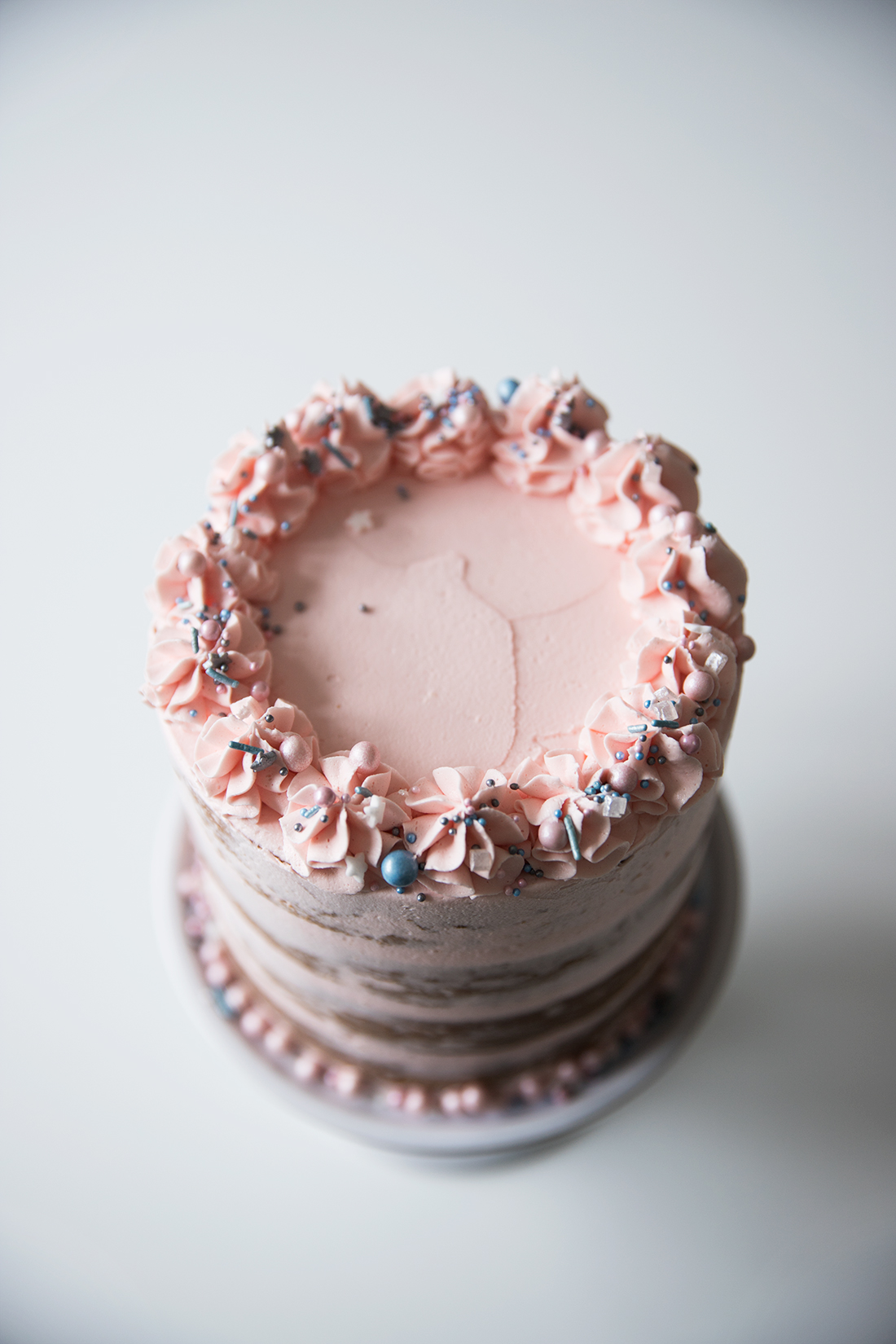 My pink ombre naked cake is made with vanilla sponge cake in varying shades of pink. Between them I've spread a small layer of buttercream, which I also covered the cake with. In other words, this is a very "basic" cake when it comes to flavors. But it's still super delicious! The sponge cake layers are light and spongy and the buttercream adds that perfect touch of creamyness. The cake can be baked as is, or you can use the recipe as a starting point to experiment with other flavors. For example you can add flavor to the sponge cake layers, you can sprinkle chocolate, berries or spread marmalade between the layers and/or you can add flavor to the buttercream.
I've baked this cake before, but in a blue version. Back then I sprinkled blueberries between the layers, adding that perfect touch of freshness and sourness to the cake.
I'd love to hear your ideas for different flavors in this cake! Please let me know in the comment section below.
Equipment
(affiliate links)
To make the cake tall and "thin" I use these 16 cm nonstick springforms from Patisse.
To color the sponge cake layers and the buttercream I use these gel colors form Wilton.
To add buttercream between the layers and to cover the cake with buttercream, I use spatulas from Wilton. I use this small one and this large one.
To pipe the beautiful small swirls on top of the cake I use Wiltons 1B piping nozzle.
Just a few quick words on "affiliate link": If you purchase a product via an affiliate link I earn a (very) small commission. I only link to products that I use and that I highly recommend. You still get the same good product for the same good price as you would have if you had bought the products elsewhere, but this way I earn a very small percentage, which supports my work.
Pink ombre naked cake (8 servings)
For the cake
640 g all-purpose flour
5 ½ tsp baking powder
170 g butter, room temperature
400 g sugar
Seeds from 2 vanilla pods
3 ¼ dl whole milk
4 egg whites
Pink icing color
Preheat your oven to 175 ºC. Prepare four springforms, butter the sides, sprinkle with flour and gently knock out the excess flour.
Sieve flour and baking powder together in a bowl and place the bowl to the side.
Whisk butter, sugar and vanilla seeds together in a large bowl, until the mixture is light and fluffy.
Add the flour micture and milk alternately to the bowl with the butter mixture while whisking. Continue until all ingredients are added and the dough is nice and smooth.
Whisk the egg whites until stiff in a new bowl and gently fold them into the dough.
Pour the batter in four bowls, making sure there is the same amount in each bowl. Add different amounts of pink color to three of the bowls so that each dough graduates from light to dark. Pour the batter into the prepared springforms – one color pr springform.
Put the springforms in the oven and bake for 35-40 minutes or until a stick inserted comes out clean.
Frosting
400 g butter, room temperature
400 g icing sugar
1-2 Tbs cream
Pink icing color
Pour all of the butter into the bowl of a stand mixer and whisk it thoroughly for 3-5 minutes until the butter is light and airy.
Add icing sugar one tablespoon at a time while the machine is still whisking at medium speed.
Once all of the icing sugar has been added, turn the speed up to max and whisk it for another 3-5 minutes until the frosting is white and very fluffy. Add the cream and whisk again.
Add a little bit of icing color og whisk. Add more color if needed.
Assembling the cake
Sprinkles for decoration (affiliate link)
Cut the risen top of the cakes so that their surfaces are flat and horizontal.
Place the darkest of the cakes on your cake stand and add some white frosting on top of it. Make sure the frosting is spread out evenly with a palette. Place the next cake on the on top and add a bit of frosting again. Spread out and repeat with the remaining layers.
Add a layer of frosting on top of the cake and around the sides. Use a large spatula to scrape off the frosting from the sides leaving only a very thin layer, thus getting the "naked look".
Pour the remaining frosting in a piping bag with a star nozzle (I use Wiltons 1B) and pipe small swirls on top of the cake.
Decorate with sprinkles and place the cake in the fridge until it's time for serving.