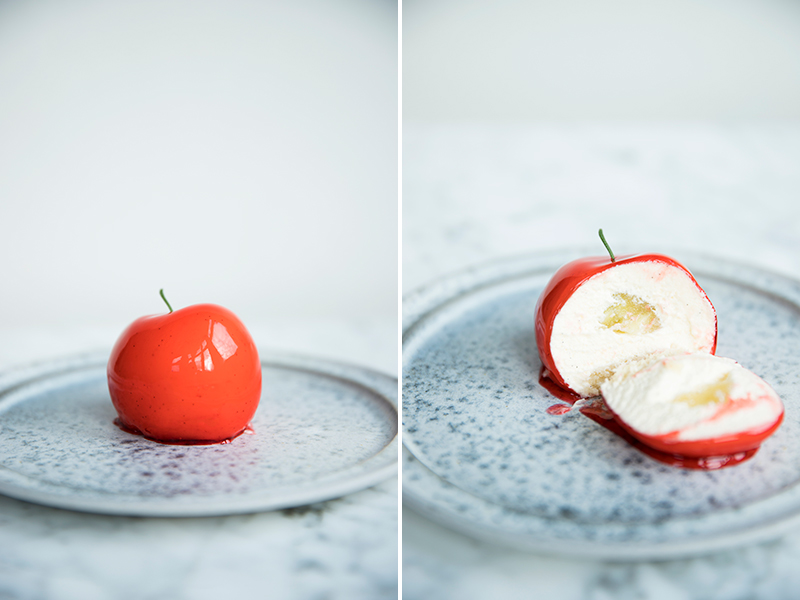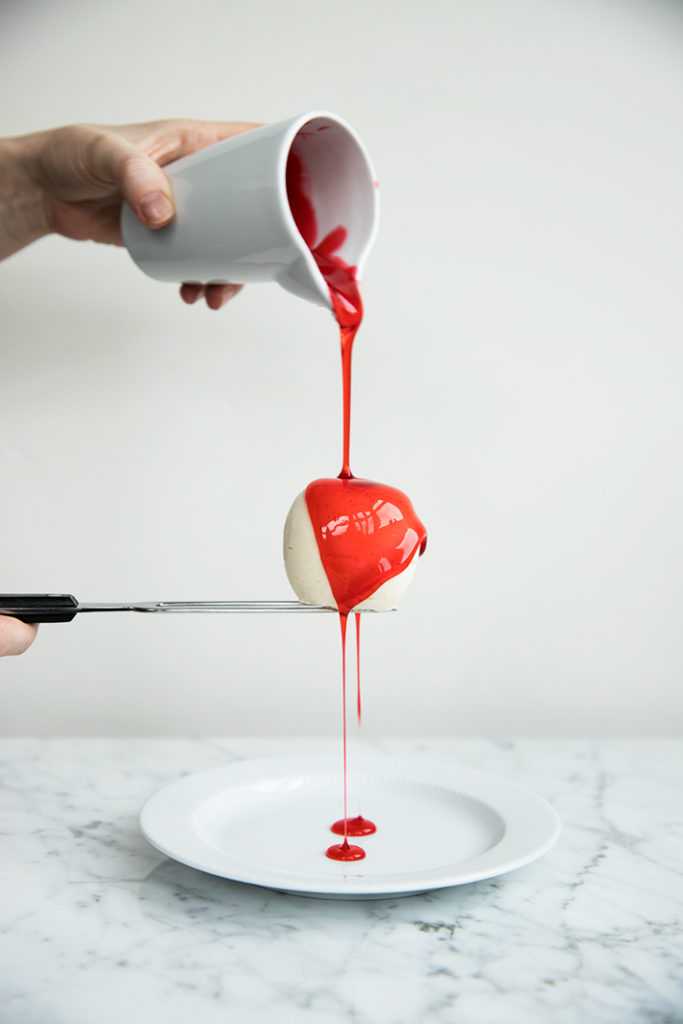 For me, New Year's Eve is a chance to really give it all I've got when it comes to desserts. It's not unusual for me to start thinking about which dessert I want to make several weeks ahead, well, maybe even months. And I know a lot of you feel the same way. I can see in my blog statistics that you start visiting my recipes for NYE desserts already in the beginning of December. I love it!
Back in December when I was in Paris, I bought a few new silicone moulds, and I started fantasizing already back then about what adventures I were to begin with these new mould. I knew for sure that I wanted to use one of the moulds for a fabulous NYE dessert.
So, for a long time I've been following this guy on Instagram. Take a look at his pics and videos. How amazing are the cakes that he creates?! I've been wanting to recreate some of his amazing fruit desserts for a looong time, I just didn't have the courage to do it. And where would I begin? I didn't even have the tools. But hey, I definitely won't learn anything if I don't at least give it a try, so I decided that I wanted to make apple desserts, since one of the moulds I had bought in Paris was an apple silicone mould.
… And let me tell you, the desserts that came out of my little project where not only perhaps the prettiest little desserts I had ever made, they were also the most delicious ever.
These apples consist of a core of apple purée and crisp pieces of raw apples, surrounded by a Grand Marnier English cream (a mousse-like texture). Under the apple I've placed a little vanilla sponge cake and finally I've covered the apple in a shiny red mirror glaze.
For a recipe like this you actually don't need a lot of fancy equipment. However you do need the silicone moulds to get the apple shape. I used these moulds:
Just a few quick words on "affiliate link": I've recently started linking with affiliate links when it makes sense. If you purchase a product via an affiliate link I earn a (very) small commission. I only link to products that I use and that I highly recommend. You still get the same good product for the same good price as you would have if you had bought the products elsewhere, but this way I earn a very small percentage, which supports my work.
If you don't have the above mentioned moulds and don't feel like purchasing them, don't worry! You can still use this recipe and just create your dessert in glasses. The dessert will be super delicious either way!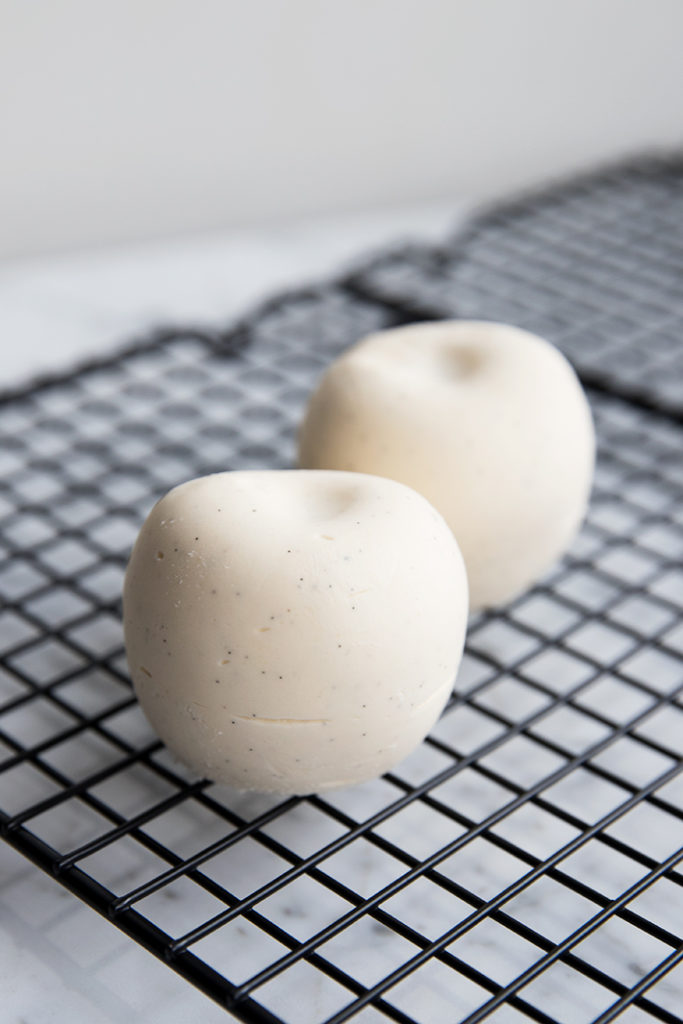 By the way I have something to admit… That beautiful red mirror glaze covering the apple – I didn't make it myself. Sorry to say, but I'd better be honest! Due to total lack of time and looots of stress (and a crying baby) I had to take a shortcut and use a store bought glaze. Honestly I didn't have the time and/or energy to make it from scratch this time. However I have made mirror glaze lots of times before, so in the future I will make my own again. Anyway I totally acknowledge that there are times when making everything from scratch is just too overwhelming, so it's nice to know that there are decent ready made products to use out there. I used this red glaze from Silikomart (affiliate link).
For the recipe itself I found my inspiration in one of Silikomarts own recipes. They make both amazing silicone moulds (I think my collection is somewhere around 20 pieces now) AND recipes to match the moulds. How wonderful is that. However I freestyled my way through most of the recipe and I also adapted the ingredients so that they were more easy to find in Danish supermarkets.
This cake is not at all very time consuming to make in itself. However all in all it does take some time, because the apple centers need to be frozen before the cakes can be assembled. So making it over two days is a good way take on this little "project".
Oh, and the result? Nothing less than fantastic! I'm usually not the one to brag about my own creations. But I have to say I'm SO proud of these apples. Not only are they so insanely pretty. They also taste absolutely amazing. I could eat one every day for the rest of my life and my life would be complete.
Just a quick note: for the Grand Marnier bavarian cream I used 2 sheets of gelatine, but looking back I think I should have used 3 instead. So I've written 3 in the recipe. Perhaps I could've even used 4, but I think I'll have to experiment more before I'm totally sure.
Please note that the recipes below will yield more sponge cake bottom, apples centers and bavarian cream than you need. But sometimes you have to make bigger amounts than what you really need, because it will be too difficult to get the textures perfect when working with small amounts of dough, cream etc. The good thing about this is that you're allowed to sample taste as much as you'd like as you bake, and there will perhaps even be enough apples/cake/bavarian cream to fill a few small extra glasses for dessert.
Good luck with your desserts!
Recipe (makes 5 apples)
Vanilla sponge cake
100 g all-purpose flour
1 tsp baking powder
¼ tsp salt
30 g butter, room temperature
100 g sugar
1 egg, room temperature
½ tsp vanilla extract
0,8 dl buttermilk, room temperature
Preheat your oven to 175 ºC.
Butter a small springform (16 cm) and sprinkle with flour.
Sieve flour, baking powder and salt together in a bowl.
Pour butter and sugar in a new bowl and whisk at high speed until it turns bright and airy. Reduce to medium speed and add the egg. Whisk again, add the vanilla extract and whisk until combined.
Add a little bit of the flour mixture and a little bit of buttermilk alternating between the two while stirring. Continue until all has been added.
Pour the batter into the springform and bake in the oven for 30-35 minutes or until a skewer inserted comes out clean
Let the baked cake cool on a wire rack.
Apple centers
80 g Granny Smith apple (for the purée)
1 sheet of gelatine
5 g lemon juice
10 g sugar
5 g Grand Marnier – more if needed
50 g Granny Smith apple (for the raw apple pieces)
Start with making the purée. Peel the apple and bake it in the oven set on 200 ºC. Once the apple has softened you can slice it into smaller pieces and remove the core. Blend the apple slices to a fine purée.
Place the sheet of gelatine in a bowl with cold water for 10 minutes.
Pour 80 g of the apple purée into a pot also adding the lemon juice and sugar. Slowly heat it up until the sugar dissolves. Squeeze the water from the sheet of gelatine and add the sheet to the pot. Stir until it dissolves in the hot apple purée. Remove the pot from the heat.
Pour 5 g of Grand Marnier into the pot and taste. Add more if needed.
Peel an apple and remove the core. Cut the apple into small cubes (app. 0,5×0,5 cm). Pour 50 g of apple cubes into the apple purée and stir.
Pour the apple mixture into the cavities of the truffle silicone mould and place it in the freezer. Let it freeze completely before making the Grand Marnier bavaroise.
Grand Marnier bavaroise
3 sheets of gelatine
80 g sugar
64 g pasteurized egg yolk
100 g cream
100 g whole milk
Seeds from 1 vanilla pod
40 g Grand Marnier
560 g whipped cream
Place the sheet of gelatine in a bowl with cold water.
Pour sugar and egg yolk in a bowl and whisk until it is bright and thick.
Pour cream and milk in a pot and heat it up until it reaches 80 ºC. Don't let it boil! Slowly pour the hot milk mixture into the eggs while whisking.
Add vanilla seeds and whisk again.
Pour everything back into the pot and slowly heat it until it reaches 85 ºC while stirring. Take the pot off the heat and let it cool to 24 ºC.
Squeeze the excess water from the sheet of gelatine, put it in a bowl and place it in the microwave to melt. Pour the melted gelatine into the cream and stir. Add Grand Marnier and stir again.
Gently fold the whipped cream into the cream.
Assembling the apples
Rosemary or other herbs for the stalk
Pour the bavarian cream into a piping bag and pipe 30 g of cream into the bottom of each of the cavities in the apple silicone mould. Place a ball of frozen apple in the middle and pipe more bavarian cream to cover the apple. Leave a bit of room for the vanilla sponge cake.
Cut the sponge cake lenghtwize making it about 0,5 cm. Using a cookie cutter (or a simply a glass) cut out small circles of sponge cake (about 3 cm) to perfectly fit the opening of the silicone mould. Place the sponge cake on top of the bavarian cream and gently press it a bit down.
Place the apple silicone mould in the freezer and let the apples freeze completely.
Take out the apples about 1 hour before serving and place them on a wire rack. Heat your glaze to 30 ºC and gently pour it over the frozen apples.
Use a little rosemary leaf or any other herb for the apple stalk.