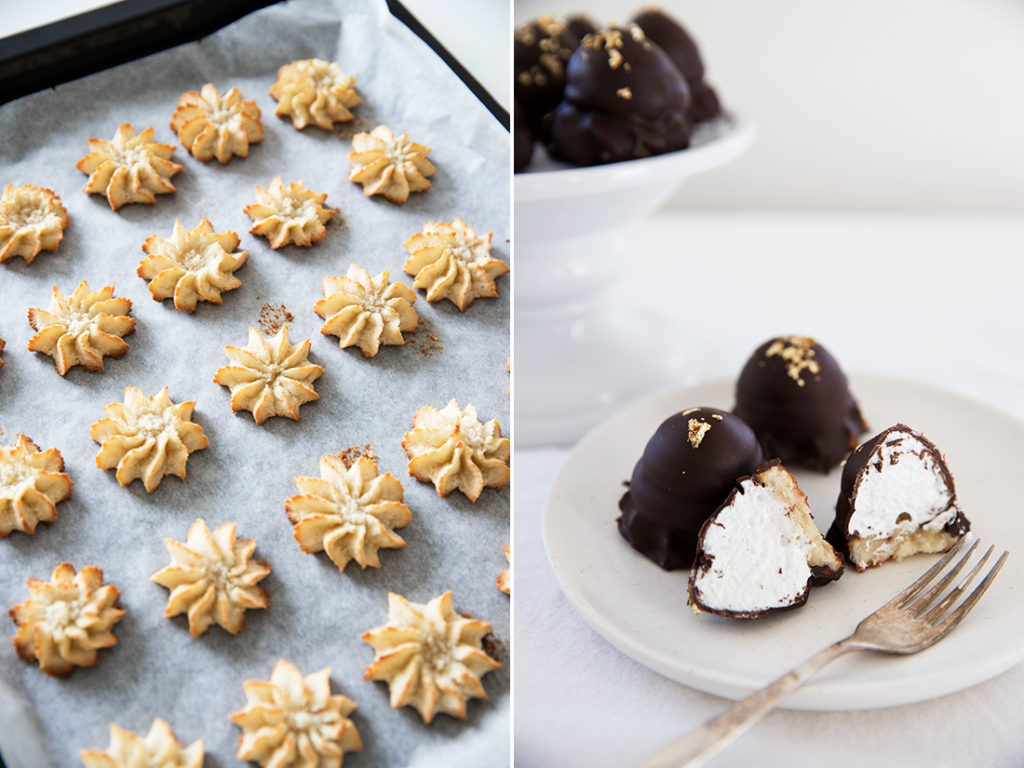 With New Years Eve JUST around the corner, I'd like to share a yummy little treat that'd be perfect to serve this special day. I've made a fusion of the two Danish classics "kransekage" and "flødeboller". To be honest, I have no idea how to translate either of those. So let me describe: I've piped a marzipan based and topped it with sweet and fluffy meringue covered in dark chocolate. SOOO YUMMY!
It's not tricky nor difficult to make these, so don't be be discouraged by the many steps. But you do have to have some basic equipment to get this done. As a minimum, you'll need a piping bag for the meringue. I've used the following equipment:
 A big star nozzle for the marzipan bases
A round nozzle for the meringue
Piping bags for both of the above
Thermometer
Recipe (will make 25-30)
Marzipan bases
100 g sugar
1½  egg whites
500 g marzipan
Preheat the oven to 190 °C.
Mix all of the ingredients and fill the batter in a piping bag with a big star nozzle.
Pipe small star bases onto a baking tray with baking paper and bake them in the oven for 10 minutes or until golden.
Take the tray out of the oven and let the marxipan cakes cool completely.
Meringue and chocolate cover
60 g water
150 g sugar
80 g glucose syrup
Seeds from 1 vanilla bean
100 g egg whites
2 Tbs sugar
300 g dark chocolate
Edible gold for decoration
Pour water, sugar, glocose and vanilla seeds into a pot and bring it to a boil until it reaches 117 °C (it will take about 20 minutes).
Whisk the egg whites with two Tbs of sugar until almost stiff.
Slowly pour the boiling sugar mixture over the egg whites while whisking. Whisk for 8 minutes until the meringue thickens and cools off at the same time.
Pour the meringue into a piping bag with a round nozzle and pipe meringue onto the marzipan bases. Place them in the fridge for 1 hour.
Melt and temper the chocolate and dip the meringue until covered.
Decorate with edible gold and store in the fridge until ready to be served.