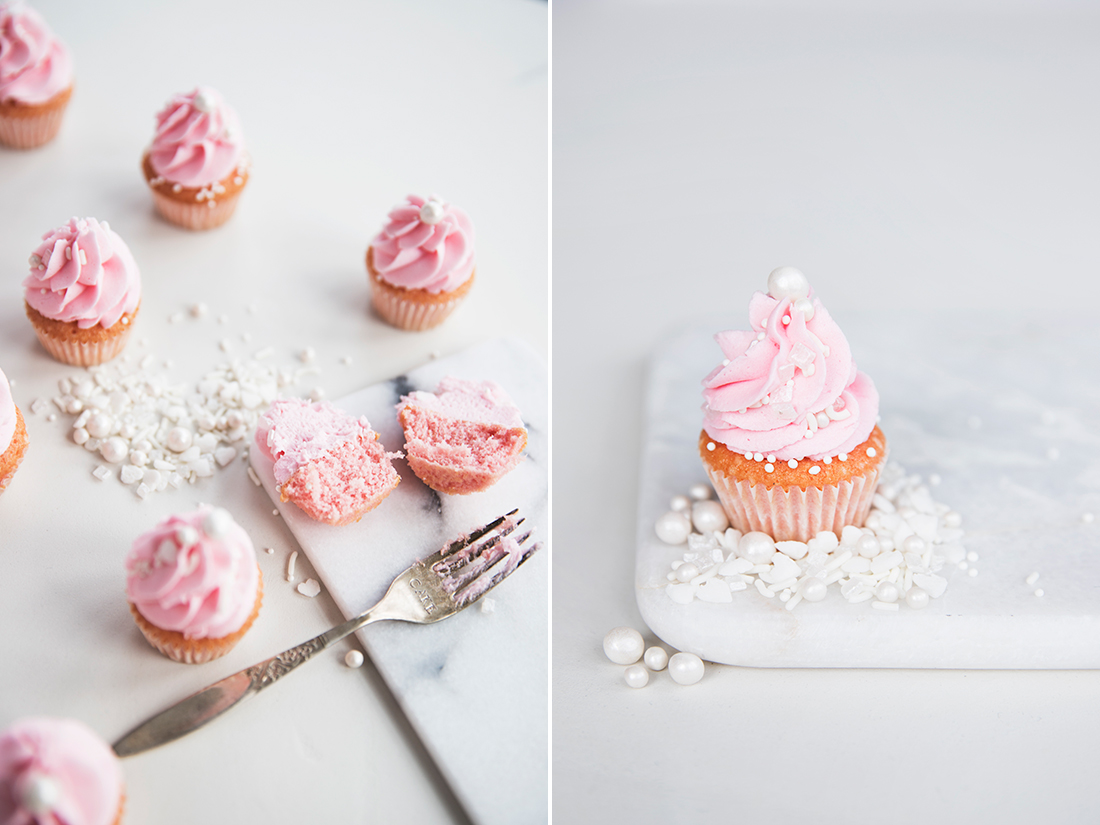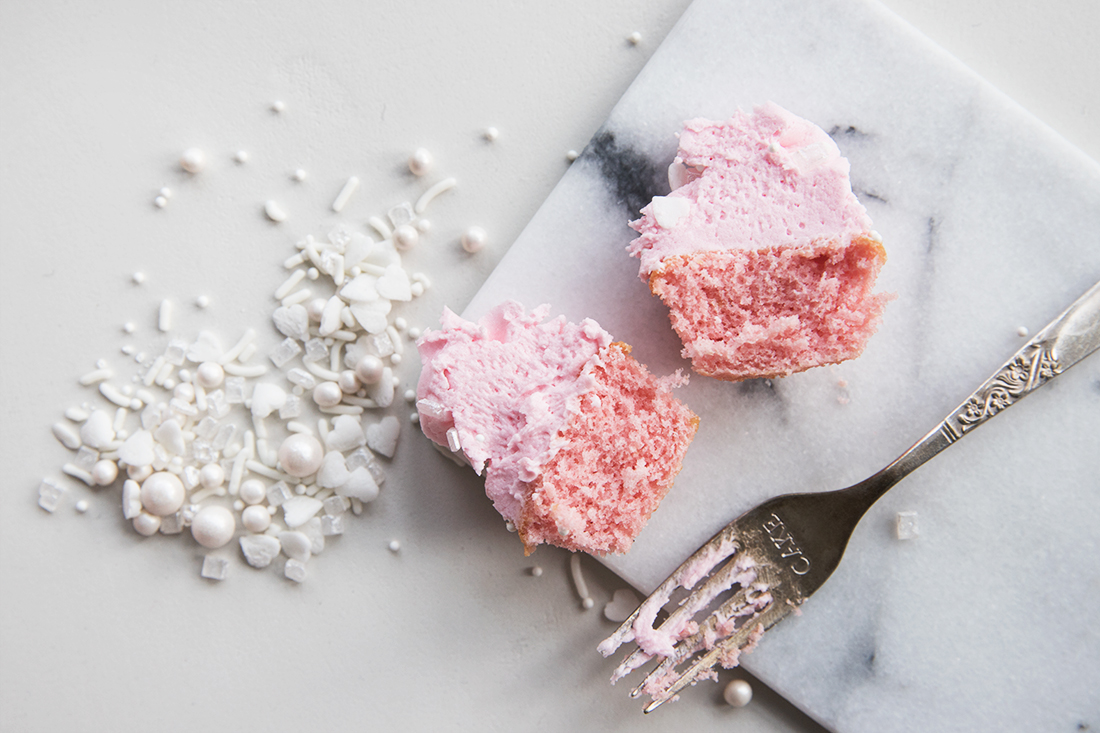 New Year's Eve is just around the corner and this means it's time to fill your glasses with champagne. Yes! Finally! Buut you guys, why stop there?
I LOVE champagne, and therefore I felt like experimenting with adding it to my cupcakes. Guess what?! The result was phenomenal! This is quite a dangerous discovery, haha.
I used my basic recipe for vanilla cupcakes and substituted the milk with champagne. I had no idea if it was going to work or not. Would the champagne act weird during the baking process? Would it taste strange? Would it taste of anything at all? Once the cakes had finished baking and I took the first bite I burst out in happy cheers and did a little happy dance. The cakes actually tasted of champagne, and not too much, not too little. The taste is subtle and elegant, but it's definitely there. A TRULY delicious cupcake!
I also added champagne to the frosting, making it a perfekt match for the cake. The frosting is light and airy and tastes perfectly sweet and champagne-ish. If I were to make these cupcakes again, I would maybe pipe a little less frosting on top of each cupcake. I mean, frosting is nice, buuuut I prefer a little more cake vs. frosting.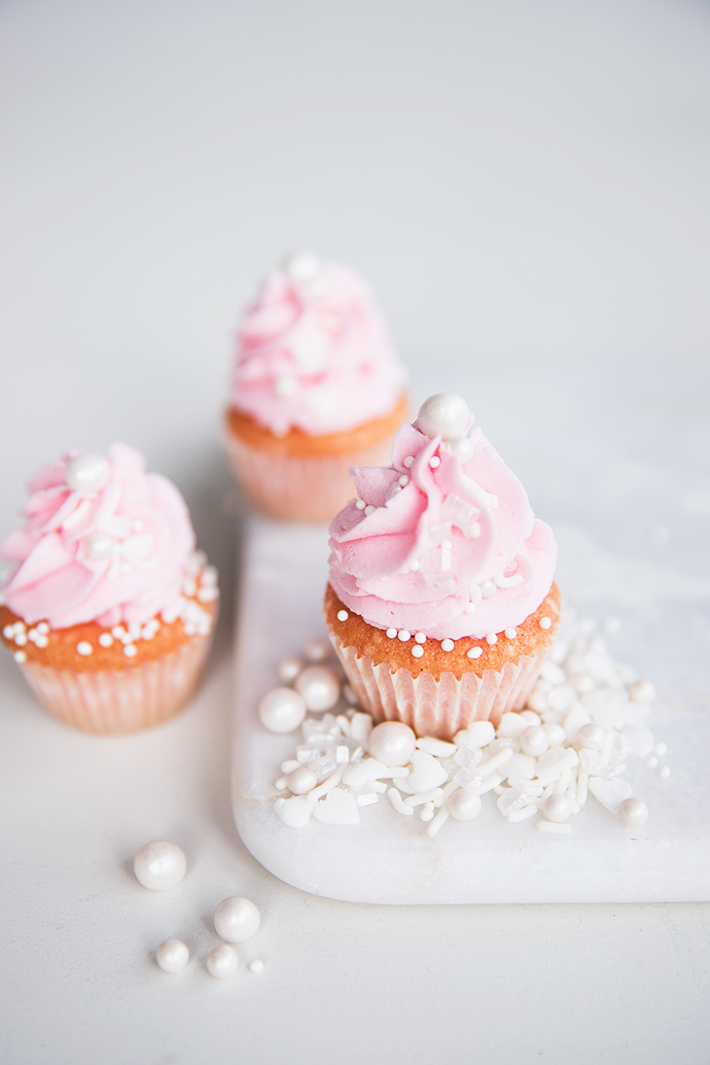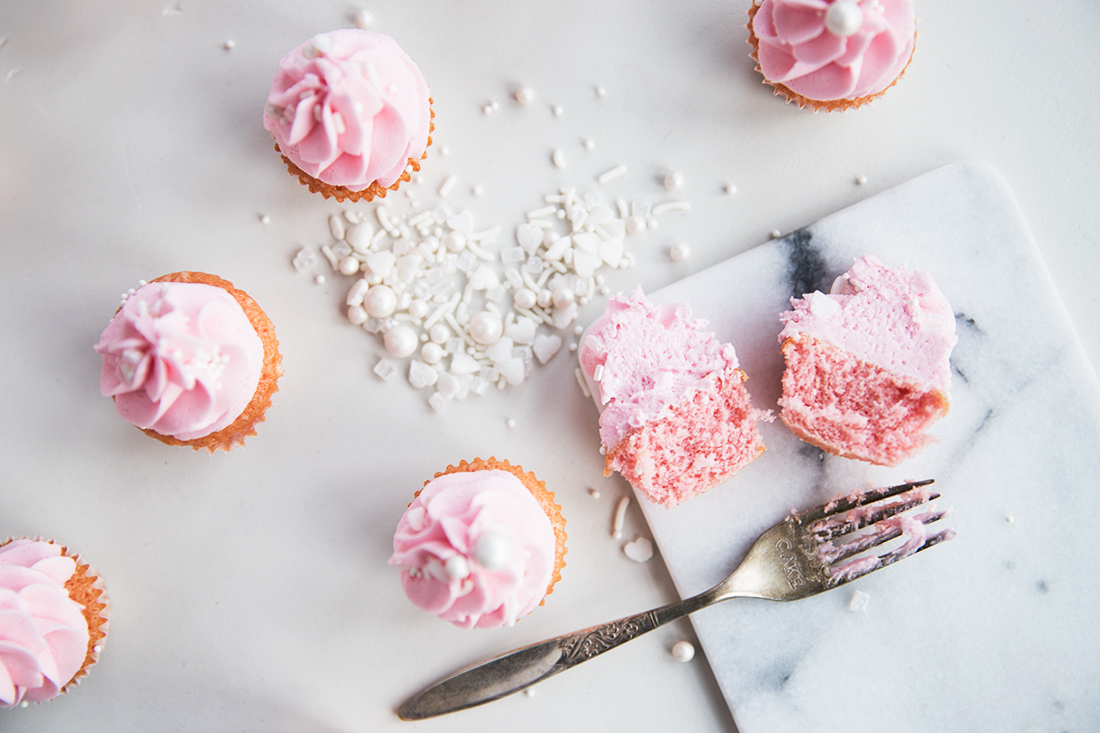 I decided to color these cupcakes pink because I thought they needed a bit of color. Having said that, you could just as well keep them neutral, which would actually make them appear more champagne-colored.
I decorated them with a white sprinkle mix to add a bit of festive feel to them. I thought the little white balls in different sizes reminded me of the bubbles in the champagne, so they were perfect for topping. Remember to add your sprinkles immediately after the frosting's been piped, making the sprinkle easier to stick on to the frosting. This frosting will turn just a little bit hard after a while, and the sprinkles will bump off if you wait too long.
I'm about to head back into the kitchen again, because my baking cravings have not yet been set. I'll have a new NYE recipe ready for you tomorrow – make sure to check back in.
Enjoy <3
Ingredients (makes 24-26 mini cupcakes)
120 g all-purpose flour
140 g sugar
1½ tsp baking powder
A pinch of salt
40 g butter, room temperature
120 g champagne
1 egg
1 tsp vanilla extract
Pink food coloring
Preheat your oven to 170 ºC.
Add flour, sugar, baking powder, salt and butter to a bowl and whisk until the texture becomes sandy.
While stirring, slowly add half of the champagne.
In a new bowl, whisk the egg with vanilla extract and the remaining champagne. Add a bit of pink food coloring.
While stirring, pour the pink egg mixture into the bowl with the flour mixture. Stir until the texture is nice and even. Add more food color if needed.
Pour the cake batter into the cupcake cups. Remember to only fill them about ⅔ up, making room for the cupcakes to rise.
Bake the cupcakes for about 20-25 minutes.
Once they're finished baking let them cool off completely before piping the frosting.
Frosting
110 g butter, room temperature
470 g powdered sugar
60 g champagne
Pink food coloring
Sprinkles
Pour the butter into a bowl of a stand mixer and whisk until it is soft.
Add a little but of powdered sugar and them a little bit of champagne, stirring in between. Keep adding more powdered sugar and champagne, alternating between the two, until everything has been added. Whisk on high speed until the frosting is light and fluffy. Add the food coloring.
Pour the frosting into a piping bag with a star nozzle and decorate the cupcakes and add the sprinkles at the end.