SPONSORERED BY EVA SOLO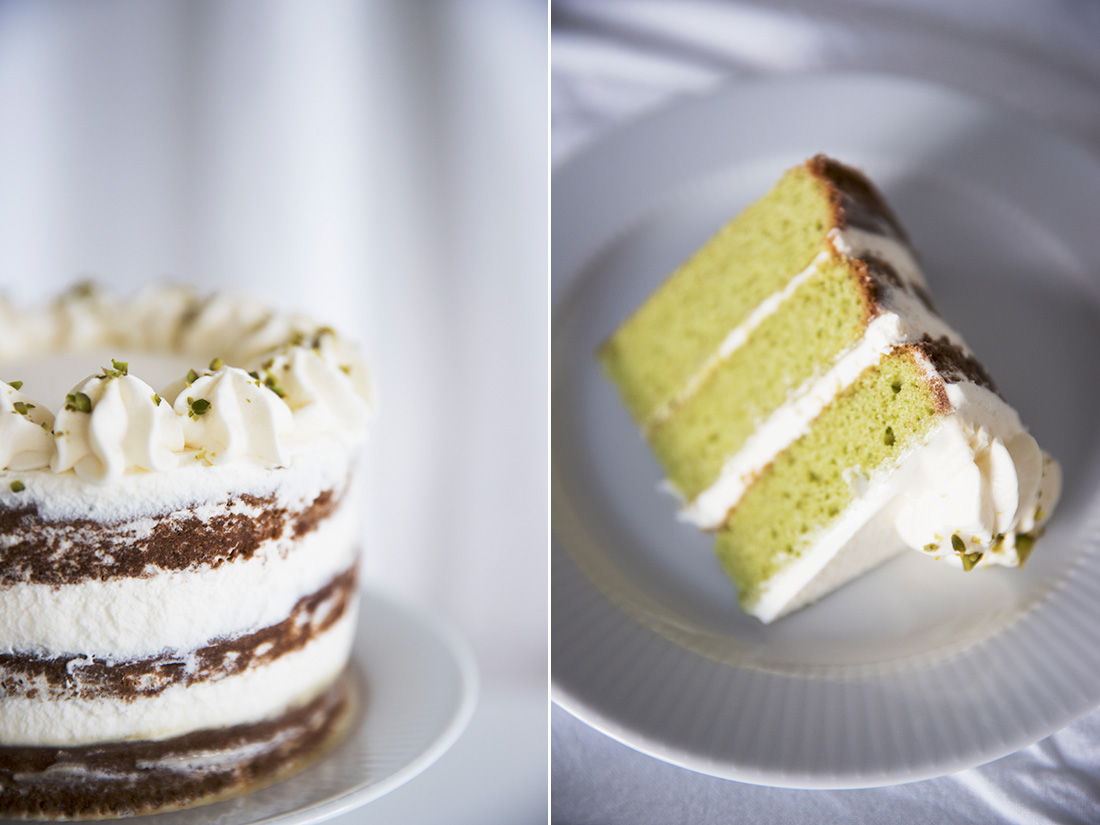 The other day it was my good friend's birthday, so I took her out for some cake and bubbles. Long story short, we were served this enormous and delicious layered cake. It was soo good and oh so light and airy. Since then I've been dreaming about layered cakes. I love these kind of cakes so much. I love to make them, I love to decorate them and I certainly love to eat them.
Layered cakes can be very complicated, both in looks, tastes and baking process. And just the though of baking a complicated layered cake can be terrifying! In my opinion, there's certainly no need to exaggerate these cakes. They don't have to consist of 45 different ingredients, flavors and textures. As long as they're delicious, pretty and not too heavy, most people are more than happy. I know I am for sure!
For this cake I tried something completely new that I'd never made or even tasted before: Pistachio butter. I wanted the layers in my cake to be made of pistachio cakes, but I didn't want hard and lumpy pieces of pistachio in the batter. So I decided to chop them very finely in a food processor. The amazing thing is, when you blend nuts in a food processor for a loooong time, they will eventually turn into a buttery kind of texture. You can make this "butter" from practically all kinds of nuts, and use it as an ingredient in cakes, in smoothies, spread on bread etc.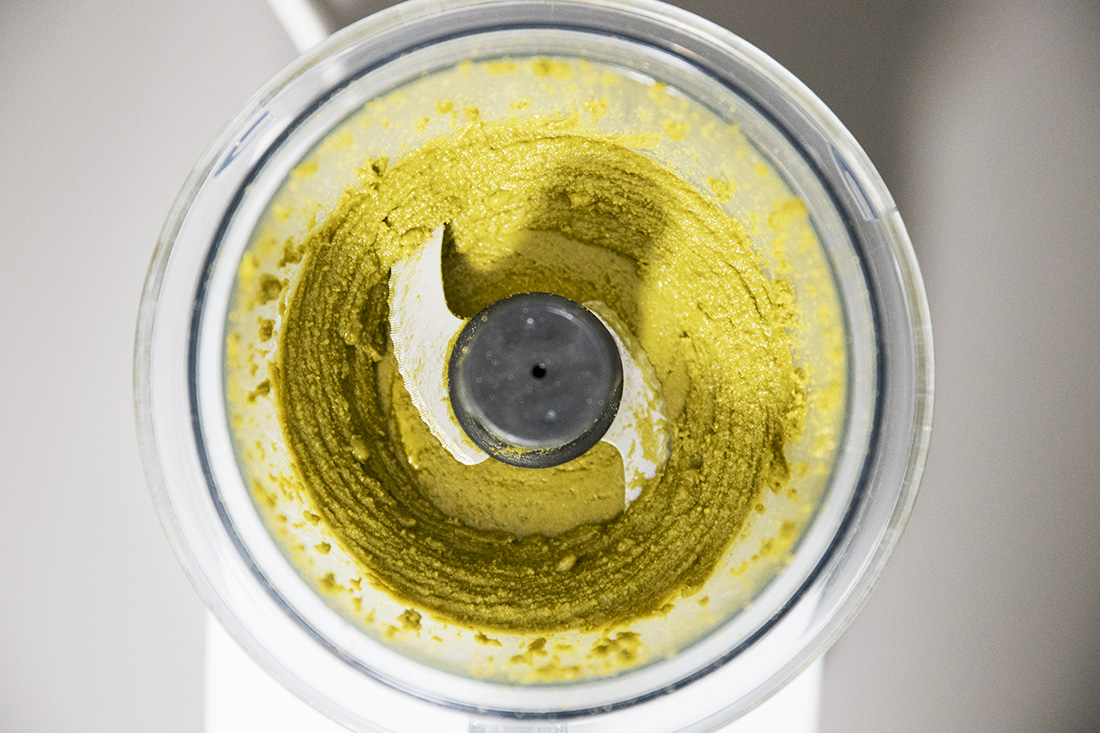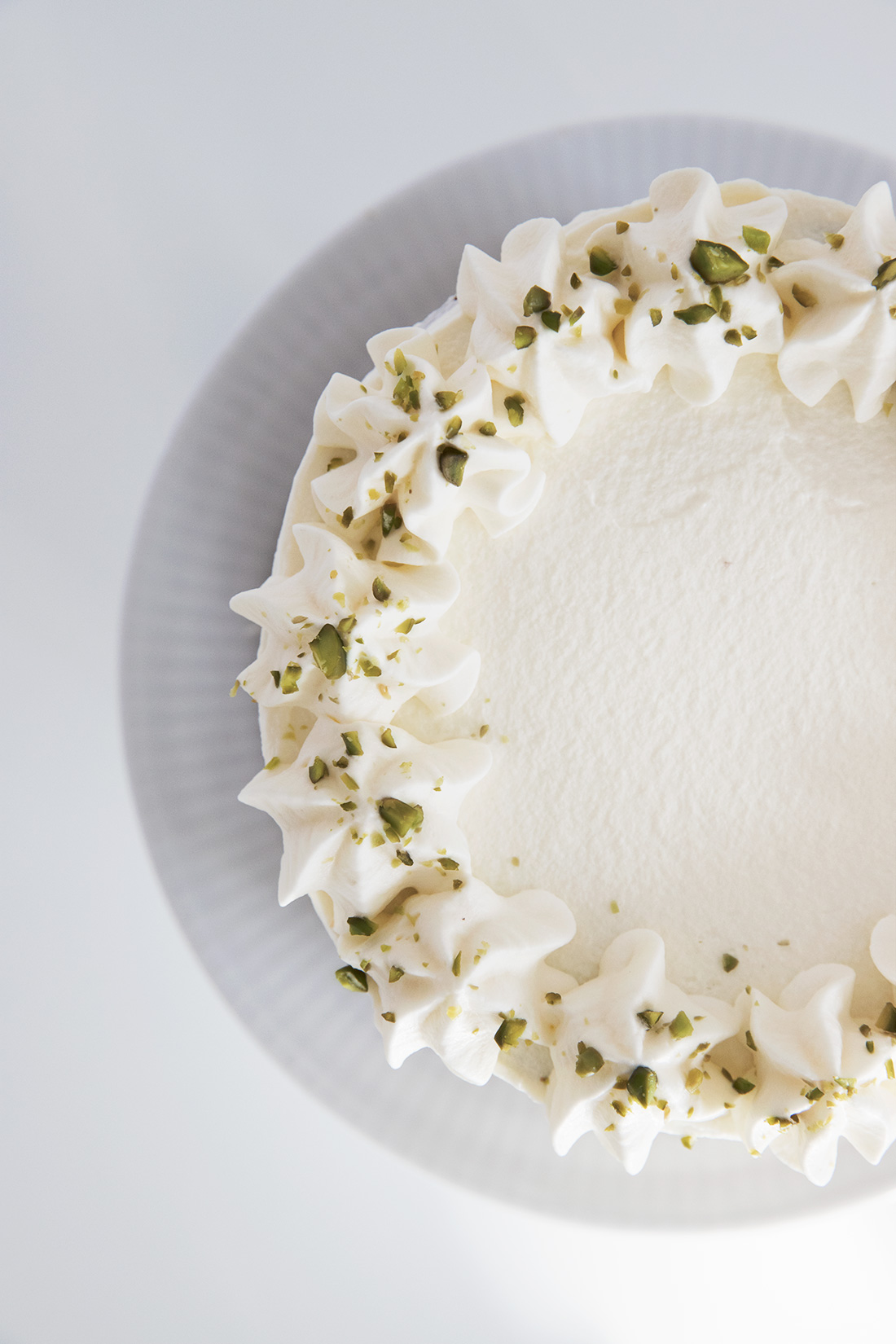 I made this recipe as a part of my great collab with Danish design brand Eva Solo. This'll be my last post of the collab for this year. As I've mentioned before, I'm so glad I've teamed up with Eva Solo in this collab. I really enjoy letting my creativity loose and matching my cakes with their products. Or is it the other way around? 😉
This cake I served on a "homemade" cake stand made from a small plate placed on top of a little bowl that I turned upside-down. I used the Legio Nova tableware which actually already has a cake stand, but for this cake their cake stand was simply too wide.
If you like the Legio Nova tableware as much as I do, then don't forget that right now you can actually get 15 % off their products using promo code COPENHAGENCAKES15 in their webshop here.
Pistachio cakes
100 g pistachios (unsalted)
185 g all-purpose flour
1 tsp baking powder
225 g butter
250 g sugar
4 eggs
1,5 tsp vanilla extract
Pour the pistachios in a food processor and blend. Keep blending for a loong time until they start looking moist and eventually become "buttery".
Preheat the oven to 175 ºC.
Grease three springforms (16 cm) and sprinkle with flour. Knock out the excess flour.
Sieve flour and baking powder in a bowl.
Melt the butter an pour it in a new bowl. Add the pistachio butter and stir until combined.
Crack the eggs into the butter mixture and add sugar and vanilla extract while stirring.
Little by little add the dry ingredients to the bowl with the wet ingredients while stirring. Continue stirring until the batter is smooth.
Pour the batter into the prepared springforms and bake the cakes in the oven for 25-30 minutes.
Let the cakes cool completely.
Lemon whipped cream
4 dl cream
1 dl lemon curd (store bought or from this recipe)
Pour cream and lemon curd into a bowl and whip until the texture is thick and airy. Be careful not to over-whip.
Assembling the cake
1 dl lemon curd (store bought or from this recipe)
Lemon whipped cream
Finely chopped pistachios (unsalted)
Cut off the risen tops of each of the pistachio cakes, making them flat and horizontal.
Place one pistachio cake on a cake stand and spread a thick layer of lemon curd on top. Then spread a layer of lemon whipped cream on top of the lemon curd and place the second pistachio cake on top.
Repeat with a layer of lemon curd and lemon whipped cream and place the last pistachio cake on top.
Cover the entire cake in a thin layer of lemon whipped cream.
Pour the remaining whipped cream in a piping bag with a star nozzle (I used Wilton's 1M) and pipe small swirls around the top of the cake.
Gently sprinkle with finely chopped pistachios.