SPONSORED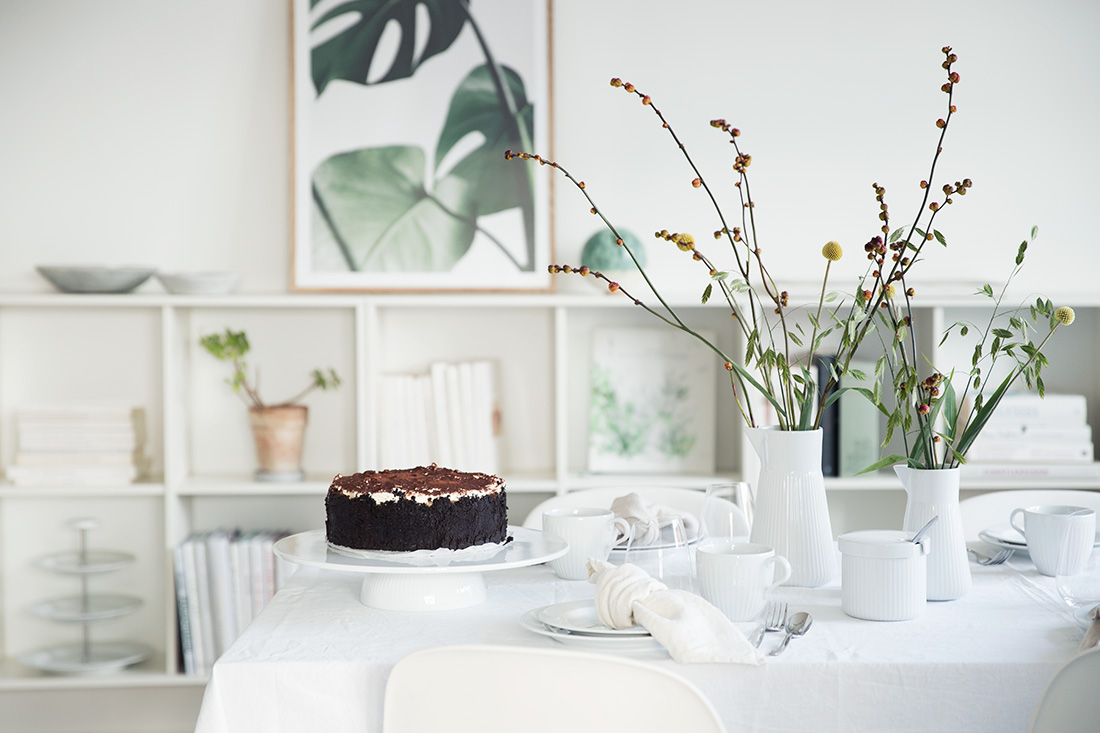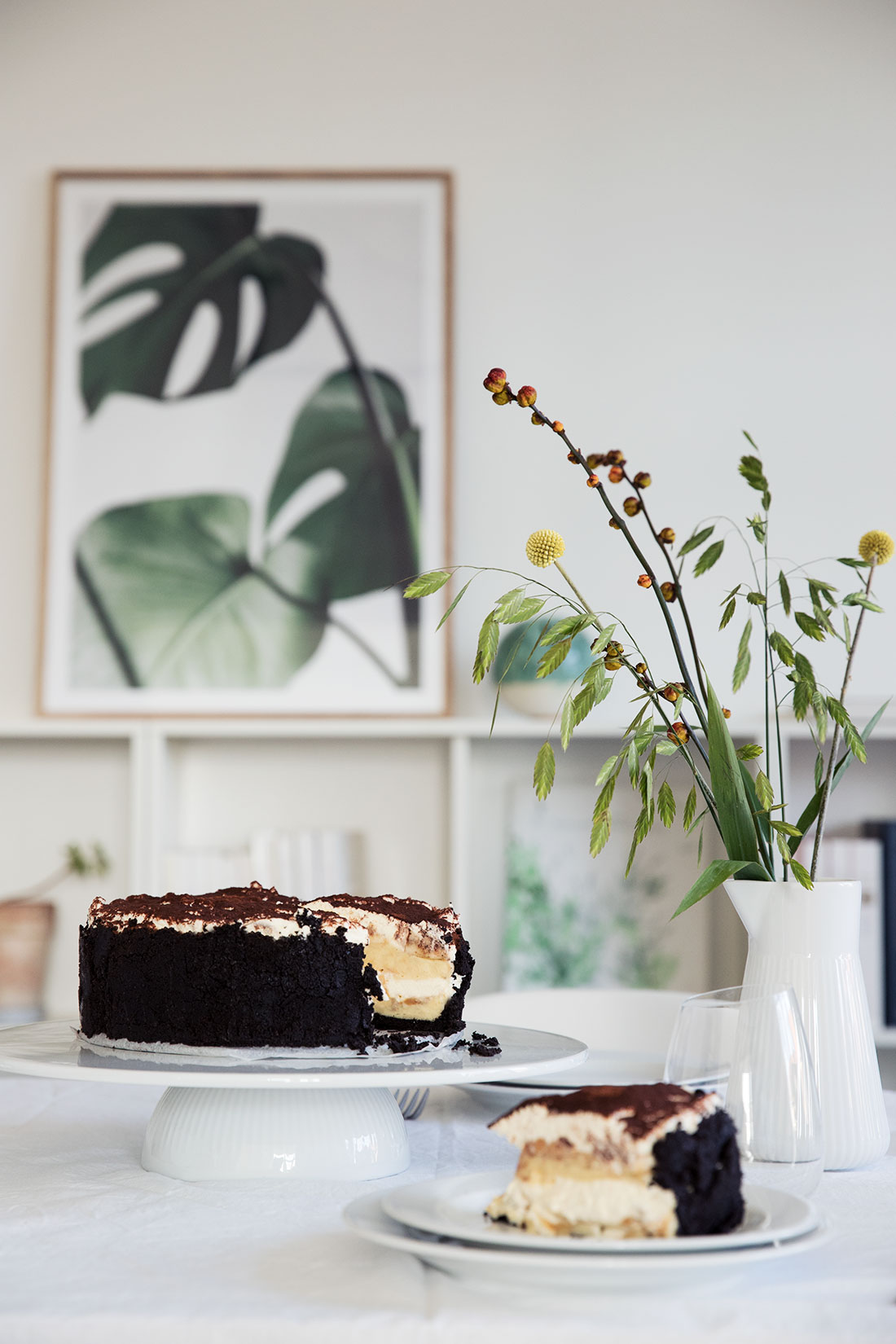 I never thought a cake could be this sinful, but oh was I wrong… Ladies and gentlemen, let me introduce to you a giant batch of calories, so heavy that you're (almost!) ashamed, a treat without equal, a "one piece is more than enough, but lemme see if I can squeeze down one more piece"-kind of cake.
This is my 9 layered banoffee pie, consisting of Oreo crust + vanilla cream + banana + salted caramel + whipped cream + vanilla cream + banana + salted caramel + whipped cream.
Yes, you read that right. NINE layers. And I even switched the traditional crust for a version with delicious and crunchy Oreos.
Do I have your attention now…?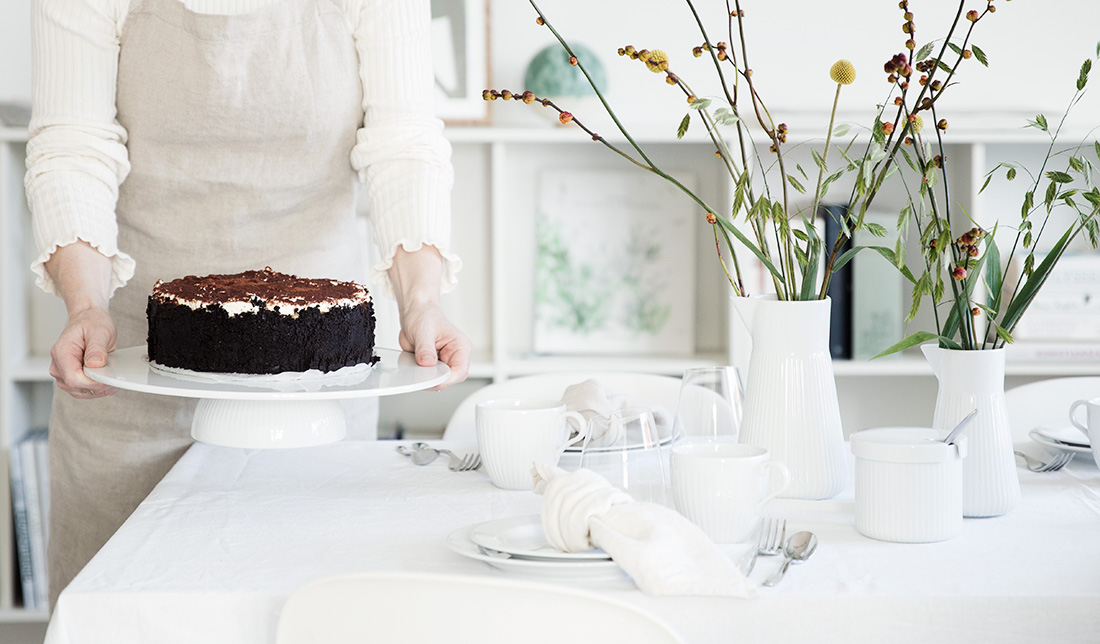 A classic banoffee pie is made with of a biscuit crust topped with banana, caramel and whipped cream. Thereof the name banoffee: Banana and toffee. This time I made my own version with salted caramel, homemade vanilla custard and a crunchy Oreo crust in a gorgeous tall springform which not only makes the cake even more sinful but also gives it a beautiful look. And then of course there's the added bonus that the extra height makes room for even more filling. Win!
This Oreo Banoffee Pie does not need baking, so it's super easy to make. Actually you can even cheat a bit with some of the ingredients – no judgements! For instance I've bought canned dulce de leche instead of using time on cooking the caramel from scratch. Honestly, sometimes you just need to minimize time spent where you can in a packed schedule.
You can also make vanilla custard from store-bought powder if you want, but if you've got the time for I really recommend making your own. It definitely pays off with the taste and the end result.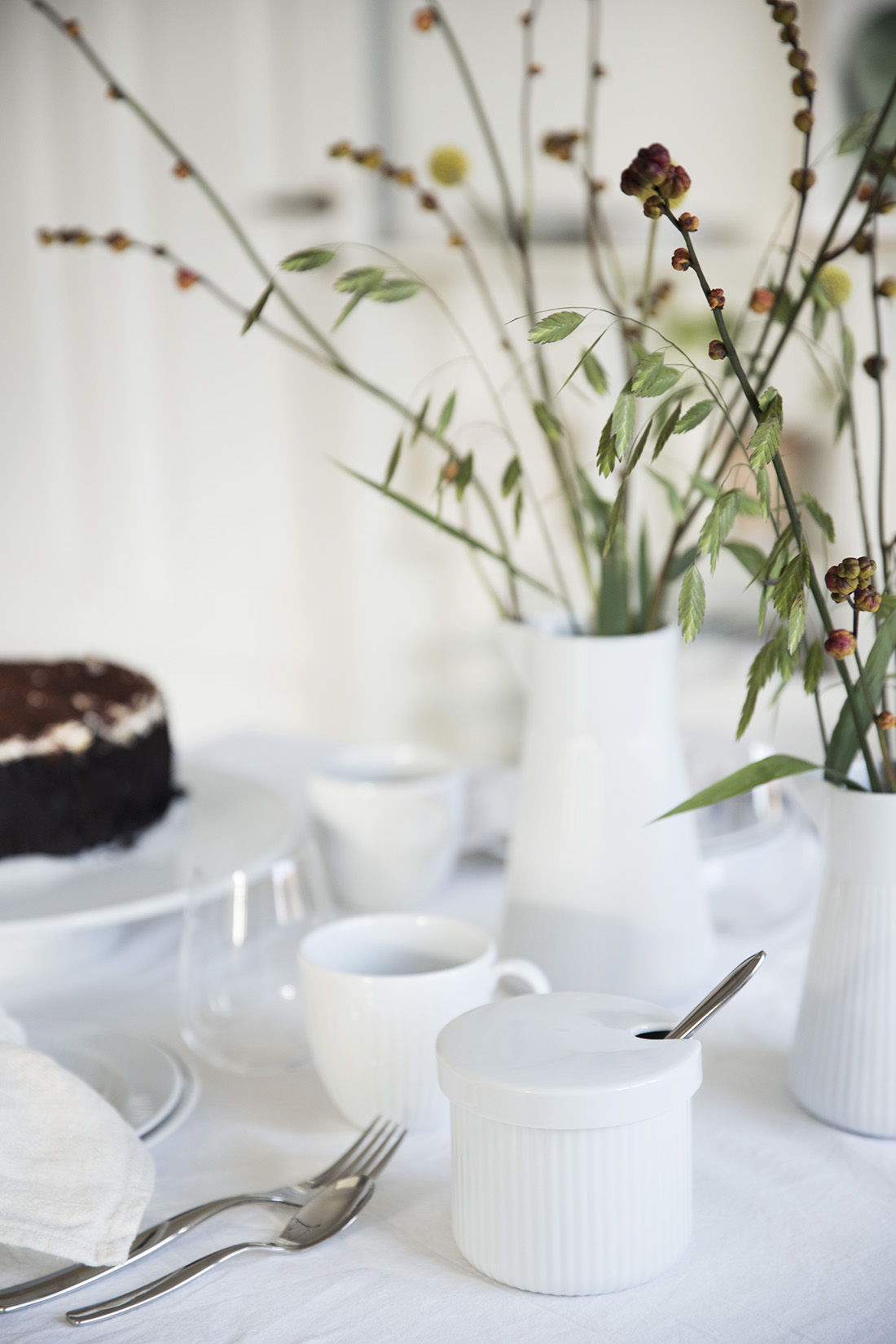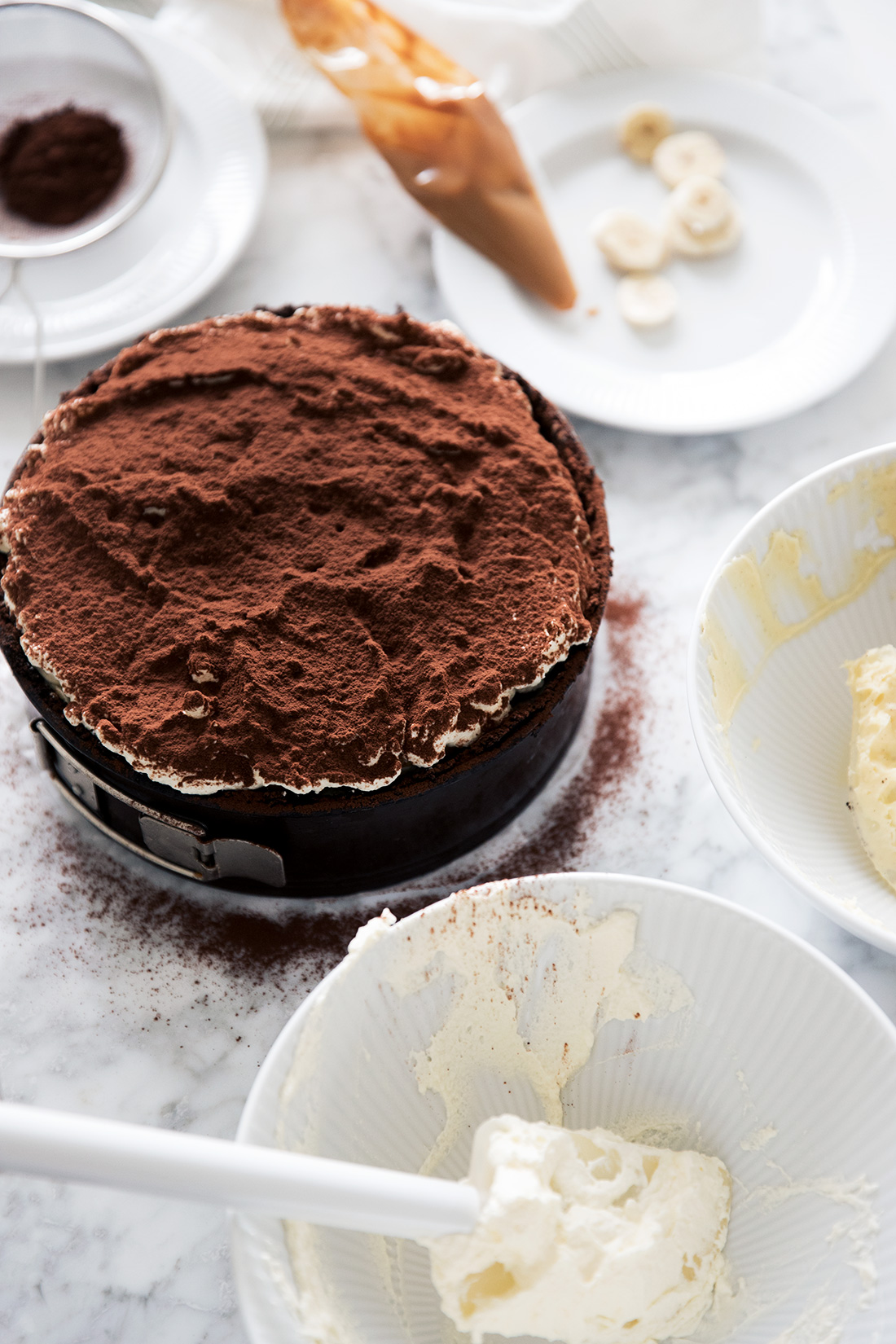 This recipe came to life in yet another of my wonderful collabs with Danish design brand Eva Trio. I've used their beautiful white porcelain tableware from the Legio Nova collection to set the table, and I must say it turned out soooo pretty! My local florist helped me out with those amazing and tall autumn-like flowers, and inspired me to use the two jugs as vases for the flowers.
I wish my table looked like this every day, haha. But with a baby that has started to throw around food making a mess literally everywhere (mothers can relate) I must admit setting a beautiful table isn't always my top priority. At least now I've seen how easy it is to make a beautiful dining situation out of our everyday mess, so I know now that I'll be inspired to turn it up a notch every now and then. A little upgrade like this is all it takes to put a smile on my face. Easy!
Before we start, I want to add a few comments to the recipe.
You can make the vanilla custard a few days in advance without problems. Just make sure you store it in an air-tight box in the fridge.
The cake can last for a few days in the fridge. The crust will even stay crunchy. It is the durability of the cream that sets the bar for how long the cake is good. If you're not sure of how long the cream will stay good, just eat the cake straight away (who can wait anyway?) and that problem is solved 🙂
Ready? Here's the recipe!
OREO BANOFFEE PIE (makes app. 10 servings)
Oreo crust
320 g Oreos
100 g butter
Blend the Oreos in a food processor until they are fine crumbs.
Melt the butter and pour it over the crums. Mix well.
Line the bottom of a springform (20-21 cm) with baking paper and pour in half of the crumbs. Press them tightly to form a bottom crumb layer. Do the same up the sides of the springform with the remaning Oreo crumbs. Make sure that sides and bottom are pressed very hard so that the crust will keep it's shape without breaking.
Place the springform in the freezer while preparing the remaining ingredients.
Vanilla custard
5 dl cream
2,5 dl whole milk
Seeds from 2 vanilla beans
6 egg yolks
150 g sugar
65 g corn starch
Pour cream, milk, vanilla seeds and the empty vanilla beans into a pot and heat it while stirring until it starts boiling.
While the milk and cream is simmering, pour egg yolks and sugar into a bowl and whisk until it thickens.
Add corn starch to the egg mixture while whisking.
Add a bit of the hot milk to the bowl with the egg mixture while stirring, and then pour all of the egg mixture into the pot.
Slowly heat everything up while stirring until the custard thickens. Be careful to not bring it to a boil.
Take the pot of the heat and let the custard cool while the vanilla beans are still in. Leave them there and take them out just before you want to use the custard.
Store the custard in an air-tight box until you want to use it. It is important that the custard is completely cooled down before using it in the cake.
Salted caramel
1 can of dulce de leche
Salt
If you can't find dulce de leche in your supermarket you can make it yourself following this recipe.
Pour the dulce de leche into a bowl and stir it through. Add a little bit of salt (start with no more than half a teaspoon) and tatse. Add more until you are happy with the flavor.
Assembling the cake
3-4 bananas
5 dl cream
Cocoa powder
See how I assembled the cake in my video on Facebook here.
Slice the bananas and whip the cream. Make sure that the cream is whipped thick enough that it won't be too thin and liquid inside the cake. But be careful to not overwhip it so that it splits.
Pour half of the custard over the Oreo crust and scrape it out until it the layer is even.
Place a layer of bananas on top of the vanilla custard.
Pour a little bit of salted caramel over the bananas. I used a piping bag and piped a spiral over the bananas (see how in the video here), but you can also "just" spread it our using two teaspoons.
Add half of the whipped cream on top.
Repeat with vanilla custard, bananas, salted caramel and finish off with a layer of whipped cream.
Sprinkle cocoa powder on top.
Place the cake in the fridge for a few hours allowing it to set.
Use a long, thin and sharp knife to carefully release the cake from the sides of the springform before serving.