SPONSORED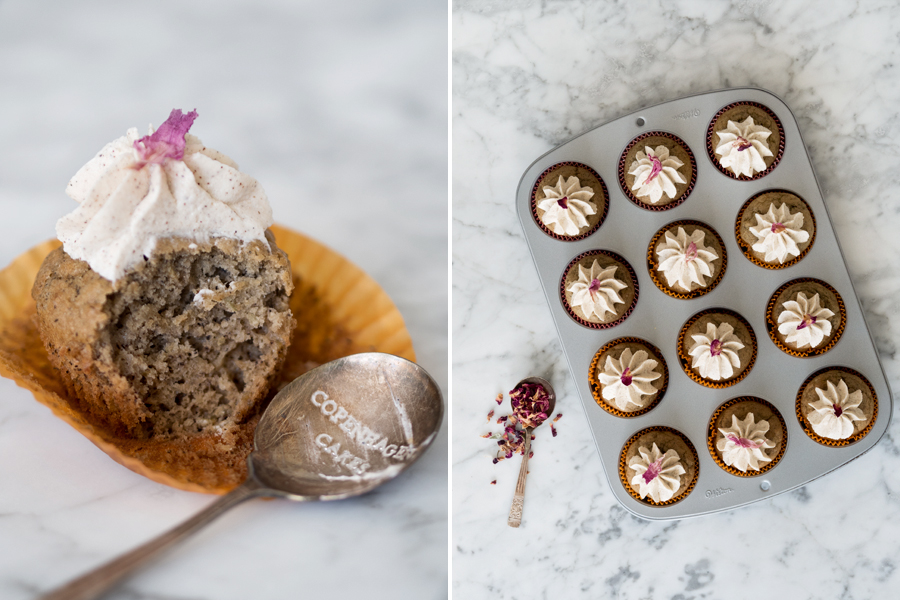 Hope you all had a great weekend!
I spent the weekend baking. Of course! we had guests over, and obviously I had to have homemade cakes ready for them.
When I'm planning to bake something new, my mind often runs off with me. I immediately start dreaming of large and impressing cakes. I find it quite difficult to limit myself, because I love baking so much. But then once in a while I calm myself down and realize, that a multi layered mousse cake, homemade cream puffs or eclairs would be kind of overkill to serve at a simple "coffee and cake date". I personally love a simple and rustic cakes just as much (perhaps even more). As long as they're tasteful!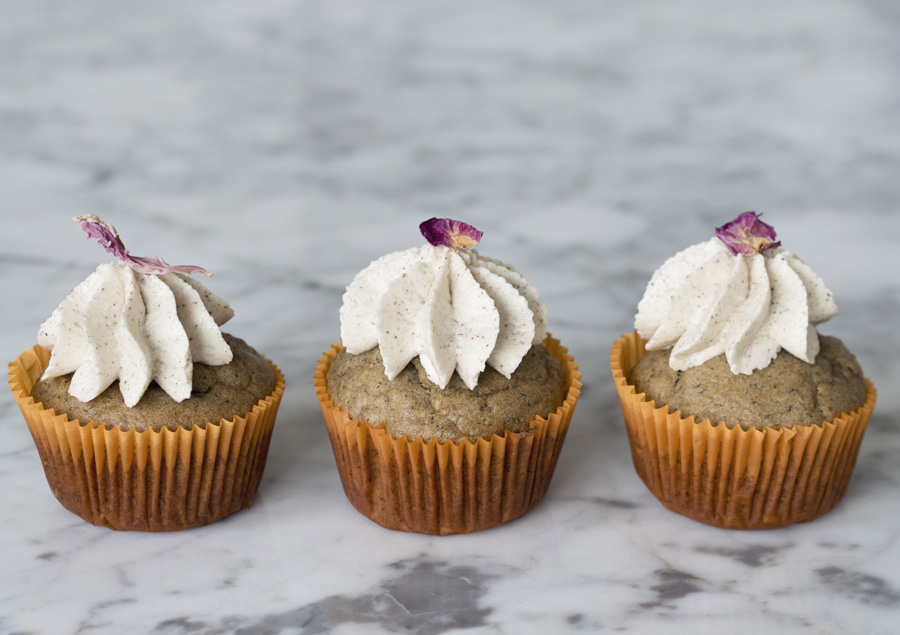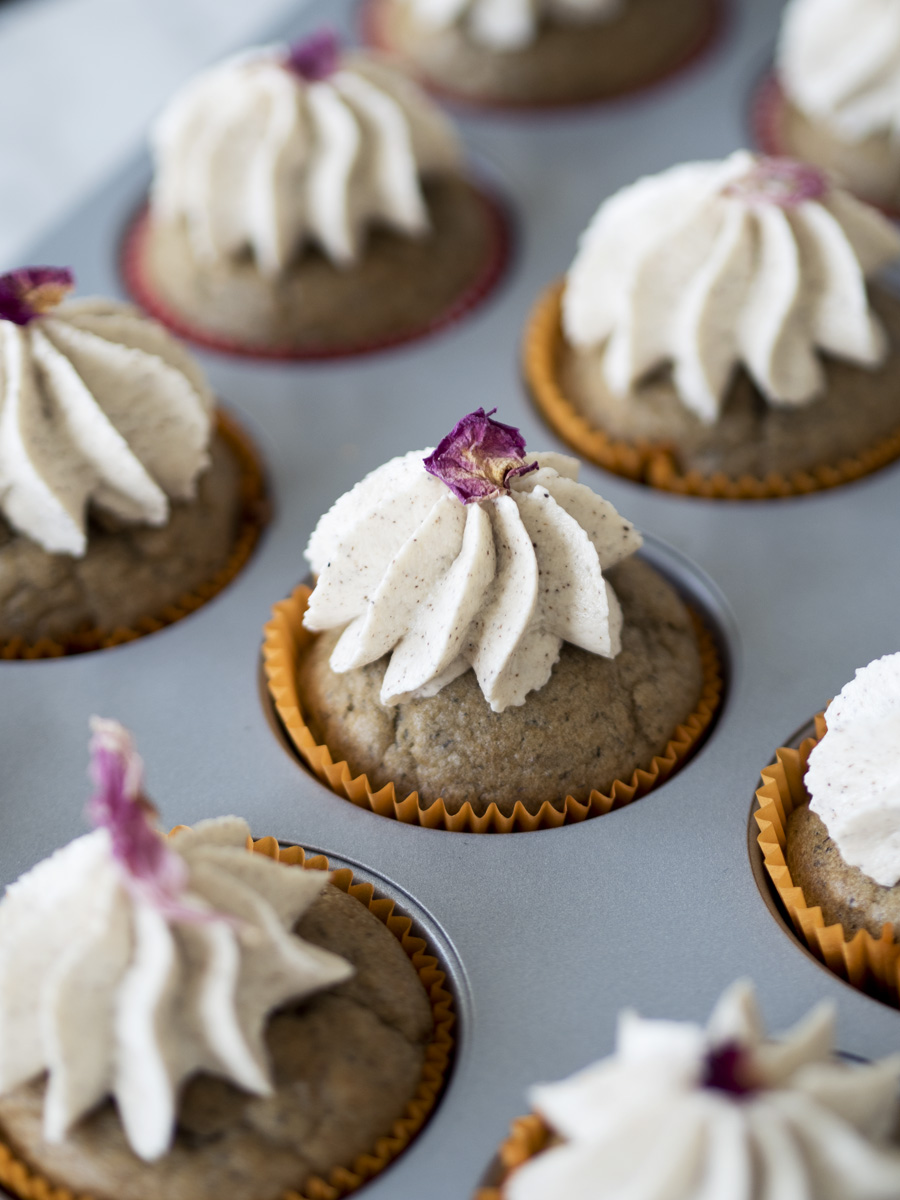 In my fridge I had three very ripe bananas, screaming to be used in some kind of cake. And then and there I decided to make banana cupcakes.
My craving to bake came very conveniently as I have teamed up with Hermesetas to create some cake recipes with their products. To be totally honest, baking with sweeteners other than sugar is a new thing to me. But over the summer I have had the time to experiment, and I must admit that I regret not having tried this out a bit sooner! It is so easy to replace sugar with Hermesetas, and in most recipes the result will be almost the same. Now, I write almost because to be fair, Hermesetas and sugar are not the same thing and hence the same result cannot always be expected. In "ordinary" cake recipes sugar can easily be replaced with Hermesetas and the cake will taste and look exactly the same. However in recipes where the sugar takes on a more functional role than just a sweet flavor, for example in meringue, mousse and certain frostings etc., you have to be aware that Hermesetas will act differently.
These banana cupcakes I baked with "Hermesetas drys-let" instead of sugar. The cupcakes taste amazing! I'm almost afraid to admit how many I enjoyed in just one day… I love the spongy texture that the bananas add to the cupcake. And the best? These cupcakes will only take you about 10 minutes to batch together and then just 10-15 minutes in the oven. This means that you can have your delicious newly baked cupcakes in less than 30 minutes…!
Ingredients (makes 13 cupcakes)
135 g butter, room temperature
30 g Hermesetas drys-let
3 eggs
4 small bananas or 3 large
50 g oat meal
¾ dl buttermilk
Seeds from 1 vanilla pod
¼ tsp salt
1½ tsp baking soda
225 g all-purpose flour
Preheat the oven on 200 

°C.

In a bowl, whisk together butter and Hermesetas. Add one egg at a time while still whisking.
Mash the bananas and pour them in the butter mixture. Stir and add out meal, buttermilk and vanilla seeds.
In a new bowl, sieve together salt, baking soda and flour. Add the flour mixture to the wet ingredients and whisk it all well together.
Pour the batter into cupcake cups and bake them in the oven for 10-15 minutes or untill a skewer inserted comes out clean.
Vanilla frosting
110 g butter, room temperature
2,5 dl Hermesetas drys-let
175 g Philadelphia, cold from the fridge
1 tsk vanilla powder
Pour the butter into a bowl of a stand mixer and whisk it well until it is light and airy. Add Hermesetas while still whisking.
Pour all of the cold cream cheese into the bowl and whisk it all together for a couple of minutes until the frosting is light and fluffy.
Fold in vanilla powder.
Pour the frosting into a piping bag with a star nozzle and decorate your cupcakes.