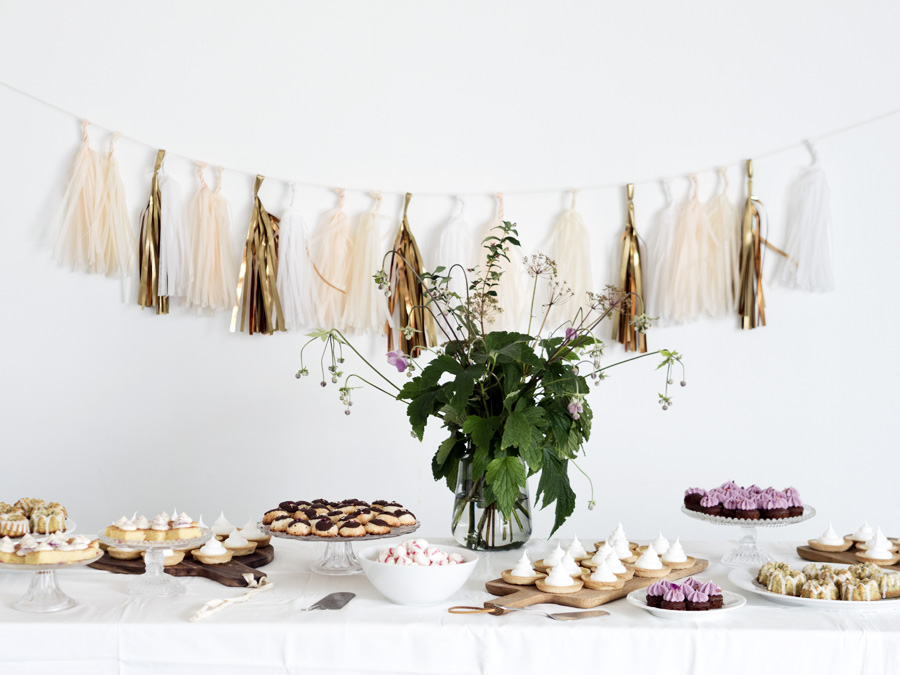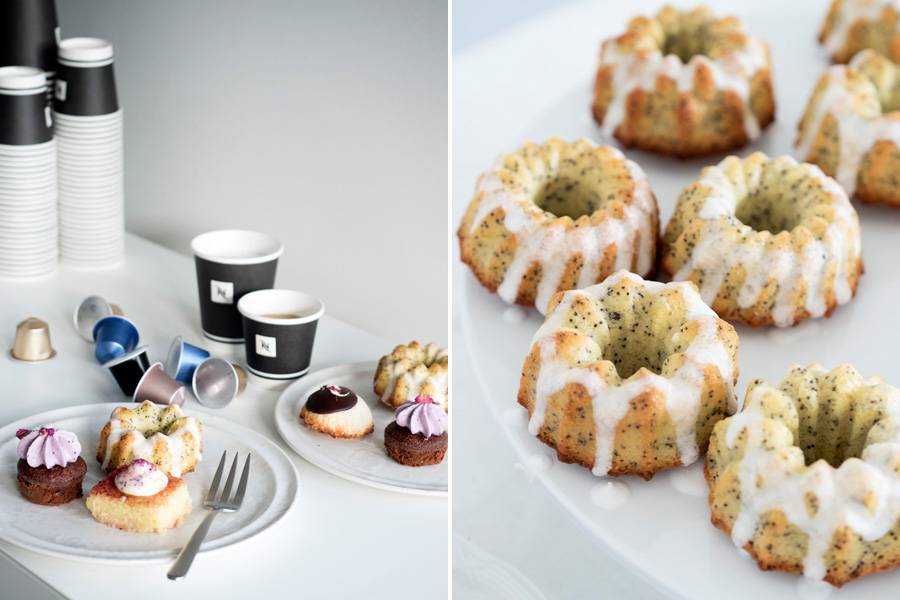 A couple of weekends ago, on a lovely Sunday in early August, we celebrated "Selma's party". Our little girl Selma (who's not that little anymore, we reckon) wasn't going to be baptized and we weren't really fond of the concept of having a naming ceremony. But of course we had to throw some kind of party in her honor! We have so many friends and family members that still hadn't met her in the 3,5 months since she came into our lives. So we invited everybody to join us for coffee, cakes and Selma-sighting.
No party without a big table of cakes! And I obviously couldn't limit myself… Originally I wanted to just make a few large cheesecakes and layered cakes. But somewhere in the planning process I got into my head that I wanted to bake a lot of small, cute cakes instead. Five different variations. And 60 of each. Yes, that makes 300 (!) in total. All baked by myself. In our unfinished kitchen missing both tabletop and zink. With a colic baby screaming in the background… More than once my fiancée urged me to cave in and just buy the cakes from somewhere else. Well, I was maybe a bit too stubborn, haha.
Miraculously everything succeeded in the last minute. I piped the meringue on the lemon pies and frosted the chocolate cupcakes 15 minutes before showtime. I always end up stressing big time in the hours leading up to an event. Typically me! Being ahead of schedule apparently isn't one of my strengths.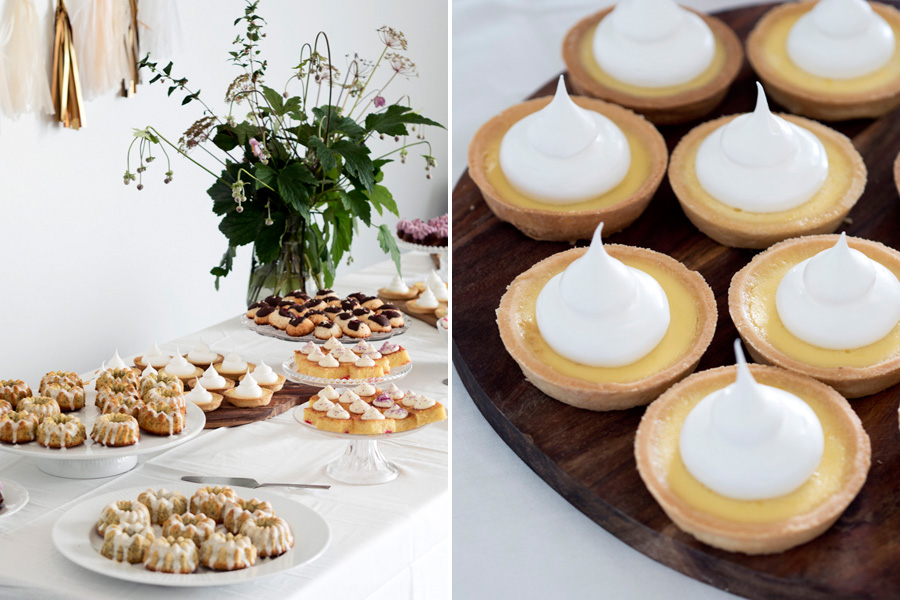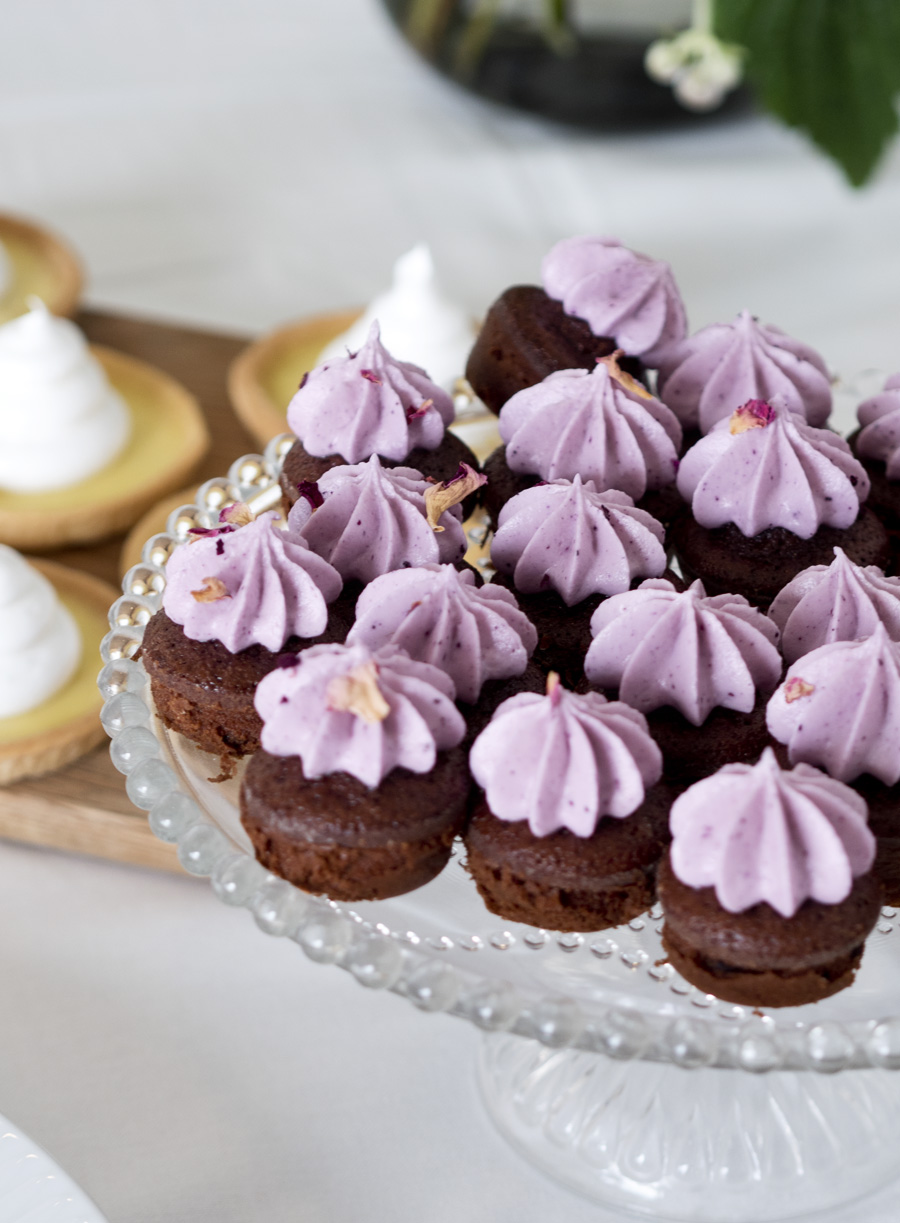 I chose to bake the following cakes because they're my absolute favourites:
Chocolate cupcakes with blueberry frosting
Mini bundt cakes with lemon and poppy seeds
Coconut macaroons
Tarte au citron
Mazarin cakes with red currant and ganache of white chocolate and lemon
This repertoire of cakes really comes around all preferences: Rich chocolate, tart lemon, sweet marzipan. Crispy meringue, crunchy pie crust, velvety lemon cream. All of the most delicious flavors I know! And in miniature versions, making it quite alright (some would say a must!) to eat more than one cake.
Of course the cakes had to be accompanied by great coffee, so my friends from Nespresso were kind enough to lend me three of their highest calibre coffee machines (Latissima Pro) with accompanying coffee capsules. I was really thrilled that the coffee part of the party was a serve-yourself-buffet, where the guests could satisfy their coffee cravings, giving us time to relax and not think about brewing coffee, filling thermos etc.
I will of course share the recipes for all of the cakes in separate posts, that will be online soon enough. Until then here's som pictures from the party. A day we will never forget.