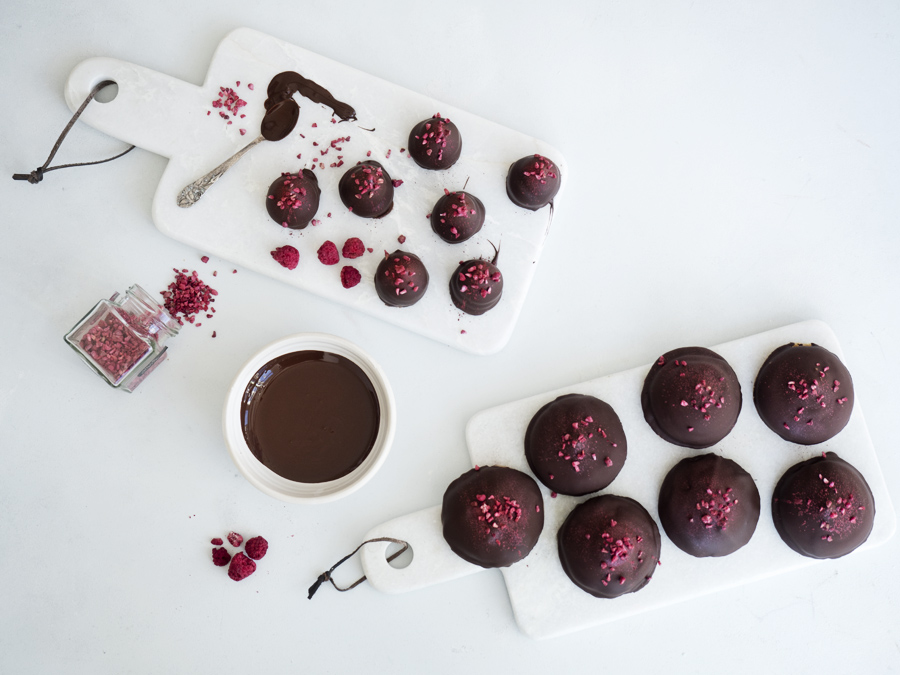 This is a cake that I deeply truly love! For some reason I just haven't really tried baking it yet (well that's a lie – I made them once in a licorice version, but I've never made the original Sarah Bernhardt). I have no idea why I haven't baked them before now, because they're SO delicious! And they aren't that hard to bake at all.
These Sarah Bernhardt cakes are made with loads of delicious marzipan, dark and intense chocolate, cream and a little bit of coffee. If you don't like coffee in your cakes, then don't worry! There's absolutely no problem in leaving out the coffee.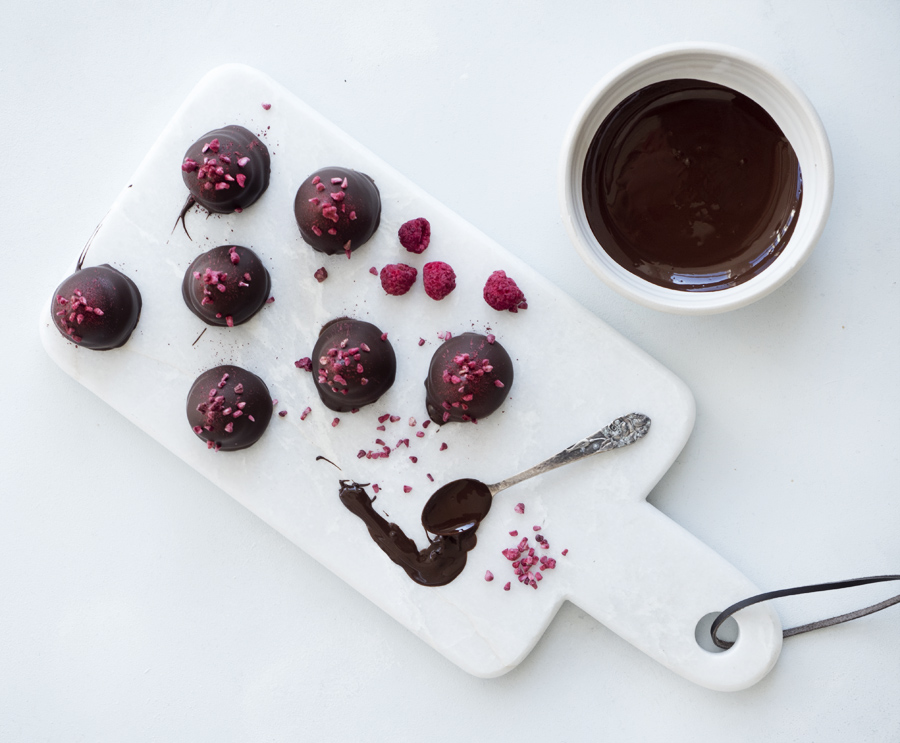 One of the really good things about Sarah Bernhardt cakes is that they can be frozen, and will taste just as good when thawed. That is actually why I chose to bake Sarah Bernhardt cakes this time, because I need to fill my freezer with loads of delicious cakes before my baby arrives – I imagine a lot of visitors will pop by to say hi to the baby, and obviously I have to offer them some cake when they're here!
However, there's this slight problem: These cakes are so good that it's very hard (almost impossible) to not enjoy one every now and then. For some reason quite a few of the cakes have already "disappeared", and I wonder if the remaining will last. Anyway, if they should all somehow magically vanish, I will just have to bake another batch.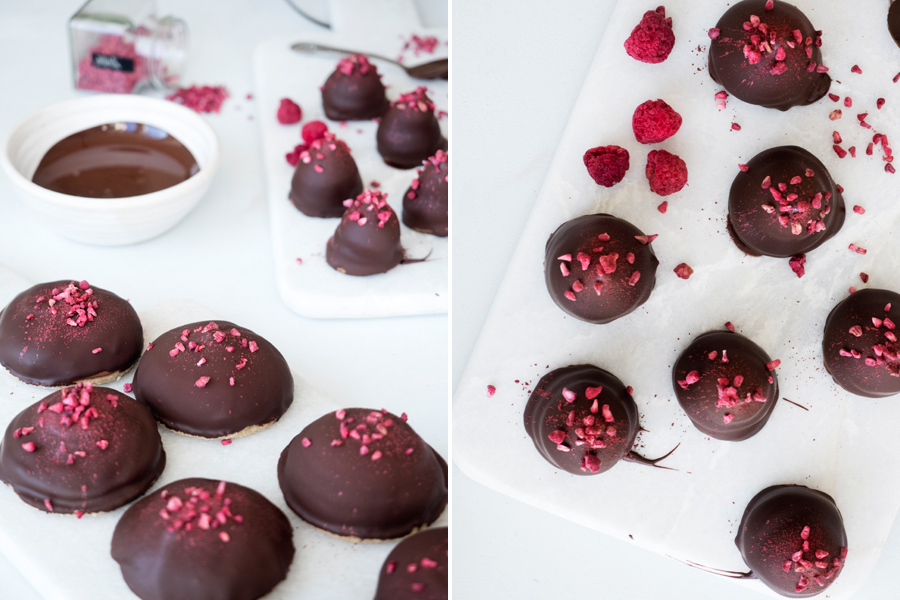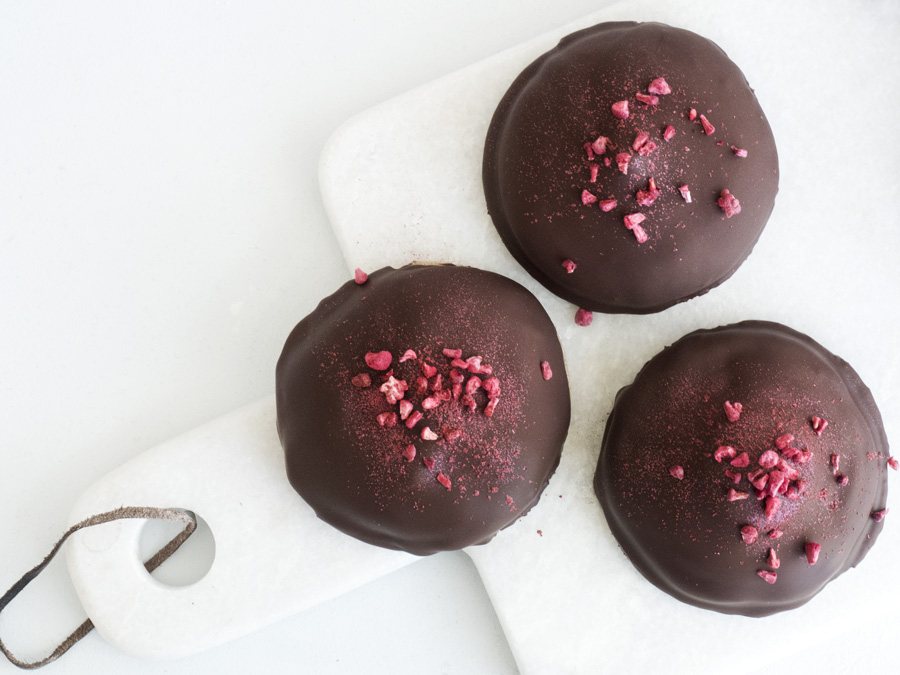 Before you start grocery shopping for the recipe, please keep in mind that you can use whichever type of chocolate you prefer. If you like very dark and intense chocolate, you can mix 70% and 80% for the chocolate creme. If you prefer a lighter version, just go ahead and use that.
Ingredients (9 large or 25 small)
Chocolate creme
200 g dark chocolate, 60 %
5 dl cream
40 g roasted coffee beans
Chop the chocolate coarsely, put it in a bowl.
Pour half of the cream in a pot, add the coffee beans and place it on the stove. Gently heat until it starts to simmer. Turn down the heat (but don't turn it off completely) and let it infuse for about 7 minutes. (If you don't want a coffee flavored chocolate cream you can just leave out the coffee beans and take the creme off the heat once it starts to simmer).
Pour the hot cream through a sieve (to remove the coffee beans) over the chopped chocolate.
Gently stir to let the chocolate melt until there are no chocolate lumps left.
Pour the remaining cream into the bowl and stir again until the creme is smooth and shiny. Cover the bowl with plastic wrap and place it in the fridge for 6 hours or over night.
Marzipan bottoms
15 g egg white
20 g sugar
60 g brown sugar
A pinch of salt
200 g marzipan
Powdered sugar
Preheat the oven to 180 °C.
Pour the egg white into a bowl and add sugar, brown sugar and salt. Stir until the sugar dissolves.
Add the marzipan little by little and mix until the dough is nice and even.
Sprinkle your table with powdered sugar (to keep the marzipan from sticking to the table) and roll out the dough until it is 0,5 cm thick.
Use a round cookie cutter to cut out your marzipan bottoms in your preferred size.
Transfer the round marzipan bottoms to a baking sheet with baking paper and bake them in the oven for 5 minutes (if the bottoms are small) or 7-8 minutes for larger marzipan bottoms.
Let the marzipan bottoms cool completely.
Sarah Bernhardt-kagerne samles
250 g dark chocolate, 70 %
Decoration: Freeze dried raspberries
Take the bowl with the chocolate creme out of the fridge and whisk the creme until it thickens. Be careful not to over whisk which will make the creme grainy.
Fill the chocolate creme in a piping bag with a large round nozzle and pipe a nice and beautiful "top" onto each of the marcipan bottoms.
Place the cakes on a plate or a cutting board and put it in the freezer. Let the cakes cool down until they are almost frozen.
Chop the chocolate coarsely, put it in a bowl and melt it in the micro oven or over a water bath.
Dip the almost-frozen cakes in the melted chocolate and sprinkle with raspberries before the chocolate sets.