Here's a snack for all of us that are fans of semi-healthy sweets. These little bites are made of a velvety smooth inner consisting of dates, orange, coconut and cocoa. No added sugar and yet they taste oh so sweet and sinful.

I couldn't help myself and "accidentally" ended op dipping the small date squares in melted dark chocolate. Oops! So strictly speaking, there obviously is some sugar in there. But let's just keep it at that and agree that a little bit of dark chocolate never hurt anyone.
On a totally different note, I need to apologize for the fact that it's been a while since I last shared new recipes with you guys. I've been taking a more or less involuntary pause from blogging since I've been hung op on job, preggo things and everyday stuff for a long while now. This has meant that the blog couldn't be my first (or second, third, fourth…) priority.
Actually for a long time I haven't felt my usual desire to bake and/or even eat cakes. I guess it has something to do with the fact that I'm carrying a blind passenger who's very dependant on my food habits and intake. Thus my cake consumption has been very low, which has been quite good for me and the baby, but then again not so good for the blog.
Anyway, I have absolutely no intentions of putting the blog on hold, and I'm actually really looking forward to returning to my life of baking and kitchen exploring. I will promise you that the cake baking frequency will no doubt rise when I go on maternity leave, which is already next week!!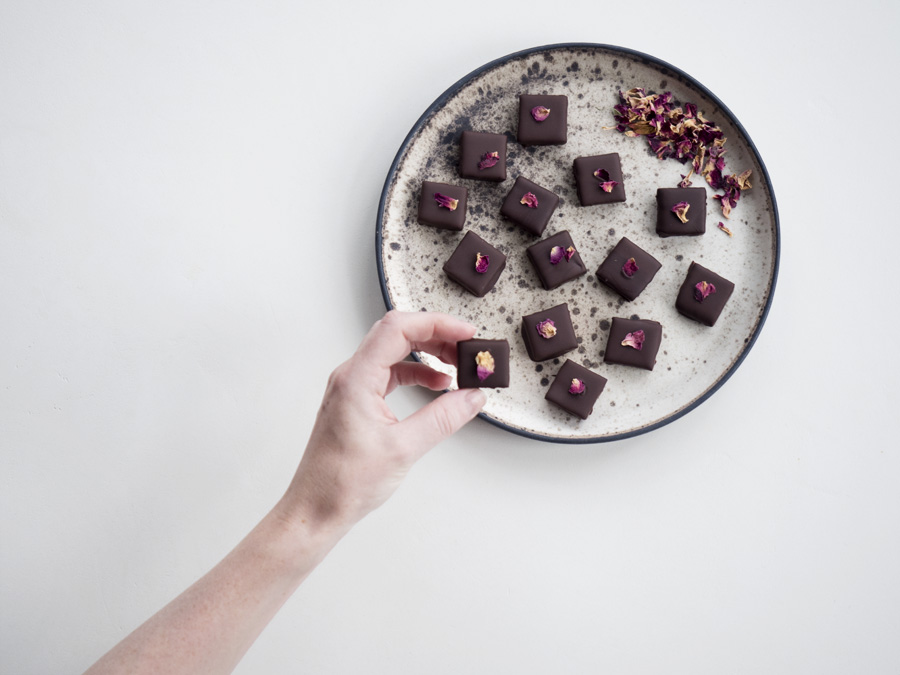 Alright now. Back to what it's all about: The snacks! They're so easy to make, and only require a very few ingredients. Do yourself a favor and make them! Now!
Ingredients (20 squares)
200 g dates (pitted)
Seeds from ½ vanilla pod
6 Tbs raw cocoa powder
3 Tbs coconut flour
Zest from 1 organic orange
2 Tbs orange juice
Chocolate cover:
50 g dark chocolate, 70 %
Dried edible flower petals
Pour all of the ingredients in a food processor and blend until the mixture is smooth without any lumps. Add more orange juice if the mixture is too dry or add more coconot flour and cocoa powder if the mixture is too wet.
Scrape out the date mixture and knead it quickly until it comes together. Place the date mixture between two sheets of baking paper and use a rolling pin to roll it out until it has a thickness of app. 1 cm.
Place it in the fridge and let it set for a while as it cools down. Then take out the "date sheet" and cut small squares.
Chop the chocolate coarsely and melt it. Dip each date square in the chocolate and decorate with an edible flower petal.