These beautiful small cardamum buns filled with whipped cream and marcipan are by far one of my favorite traditional sweets. They're originally Swedish, but here in Denmark I think it's safe to say that we've fallen in love with them perhaps just as much as the Swedes, and therefore we're starting to see them pop up here and there in the bakeries – especially in Copenhagen.
Semlor (plur. of semla) is traditionally eaten during this time a year, so I thought it would be perfectly fitting to update my old recipe with an English version, so all of you international readers can read (and bake) along.
Be sure to have a big stock of semlor ready for "Fettisdagen" (which this year falls on February 28th). I have no idea what the English translation of this is, but let's just call it the international semla day, to keep it simple.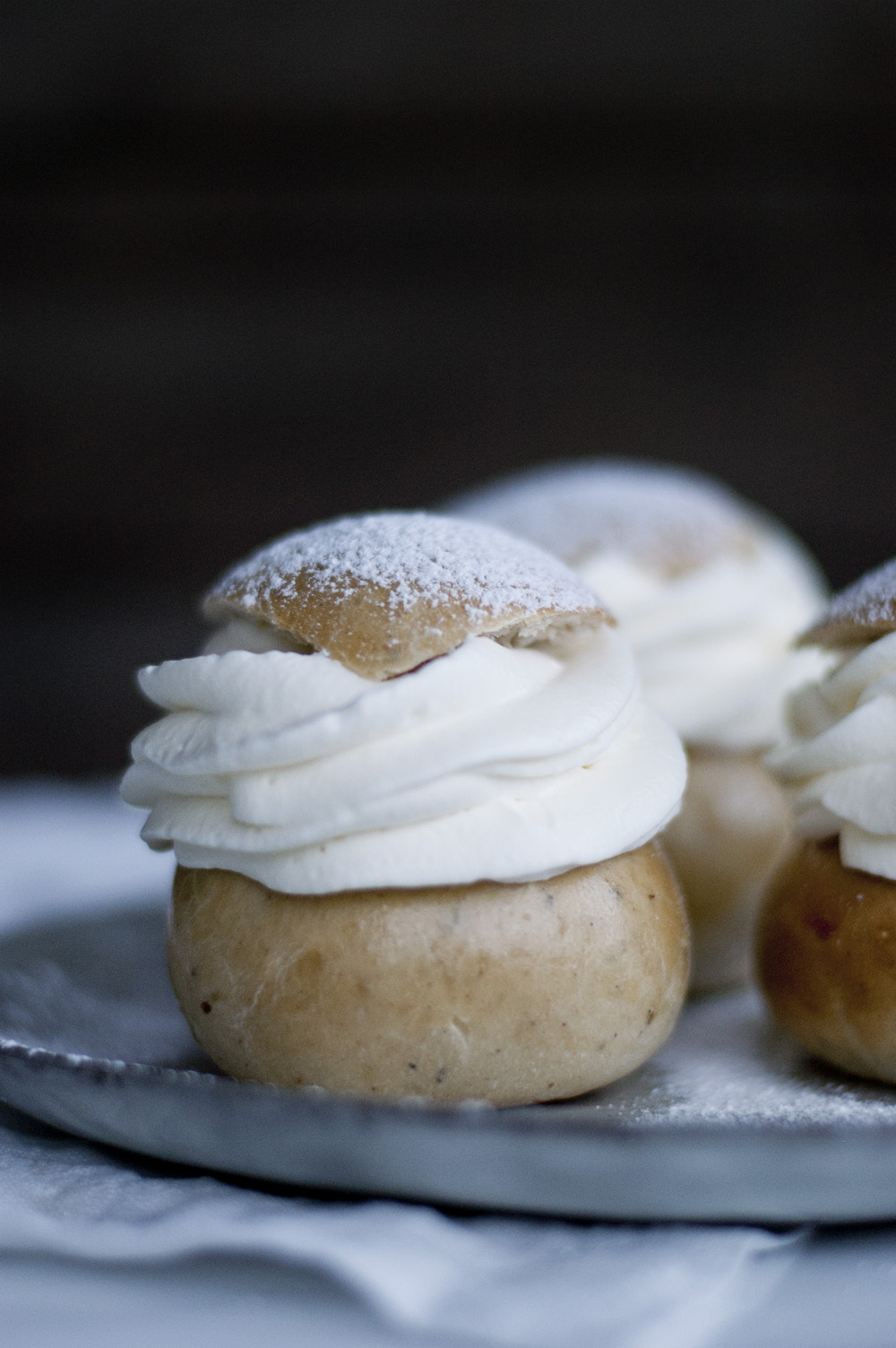 Recipe in English
Buns (makes about 10 buns)
0,5 spsk cardamum
1,5 dl milk
25 g yeast
65 g sugar
0,25 tsk salt
75 g butter, room temperature
1 egg
ca. 325-360 g all purpose flour
1 beaten egg for brushing
Gently heat milk and cardamum until it is lukewarm. Add the yeast and stir until the yeast has mixed with the milk
Add sugar, salt, butter and egg og stir until the mixture is

homogeneous

.
Add the flour little by little while mixing. Knead the dough until it is smooth and elastic.
Cover the bowl with a damp cloth and leave the dough to rise for 45-60 minutes.
Pour the dough out on a surface lightly covered with flour and cut it into 10 pieces, depending on size. Roll the pieces into round bund and place them on a baking sheet with baking paper. Let the buns rise for 40 minutes
In the meantime preheat the oven to 200° C.
Brush the buns with the beaten egg and place the baking sheet in the oven. Let the buns bake for 6-7 minutes until they are lightly golden.
Take out the buns and let them cool.
Almond paste (can be replaced with good quality marzipan)
200 g almonds
50 g powder sugar
90 g sugar
A dash of water
Blanch the almonds and pour them into a food processor. Add sugars and give it all a good spin on high speed until everything is finely ground.
Add a little bit of water and mix it all together until the consistency is good.
The finishing touch
200 g marzipan or almond paste
A little bit of milk
0,4 dl whipping cream
Powdered sugar
Cut off the tops of the buns and use a fork to dig out the inside.
Mix together marzipan/almond paste, milk and a bit of the dug out bits from the buns. The concistency should be creamy but not runny. Add more milk if needed.
Fill the buns with the almond filling.
Whip the cream and pour it in a piping bag with an open star tip. Swirl the whipped cream an top of each bun and put the lid on. Sieve powdered sugar on the buns before serving.