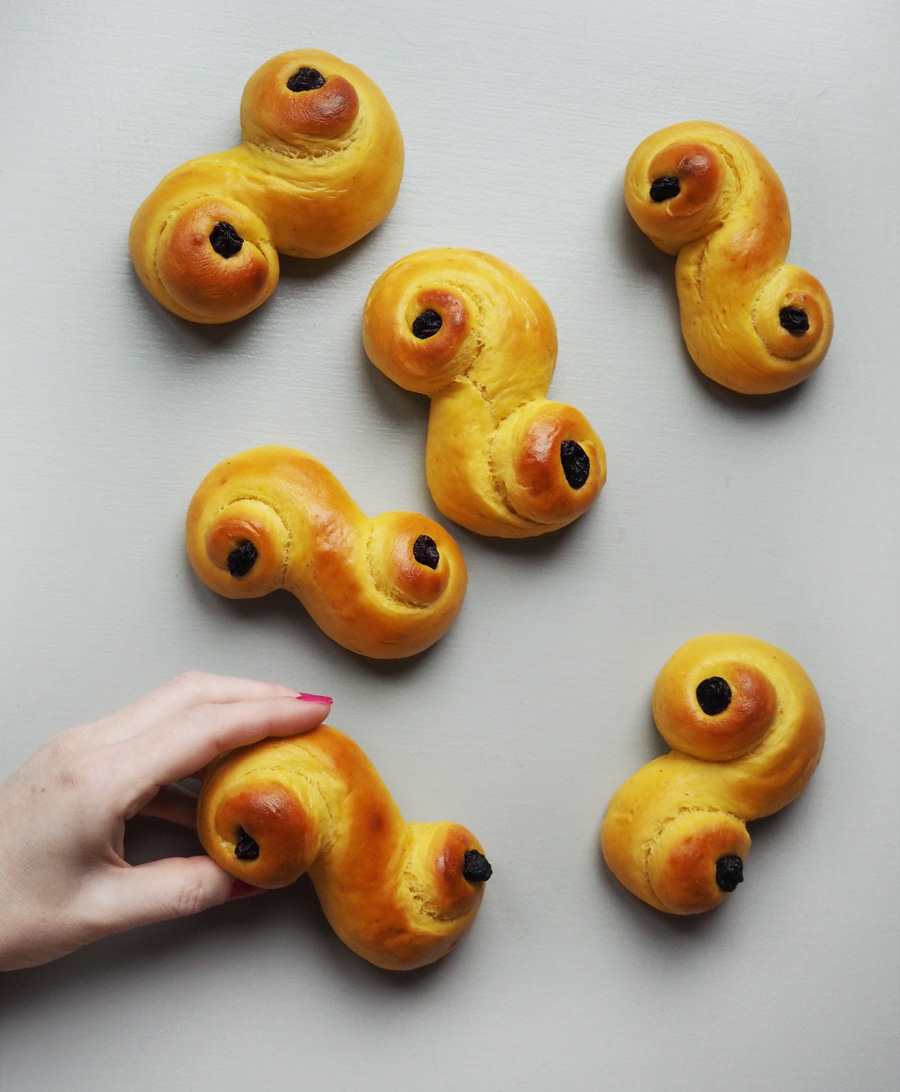 13th of December = Lucia Day!
To be honest I'm not really a Christmassy kind of person, and most Christmas traditions aren't really that important to me. But when it comes to Lucia Day (or Saint Lucy's Day as you would probably say in English) on the 13th of December I'm all for it. This day is quite special to me as it reminds me of Sweden and my Swedish family.
In Sweden Lucia Day is celebrated big time. You'll see Lucia parades with children singing everywhere in schools and the local communities as well as on television, at least in the part of Sweden where I'm from. It's actually a bit silly, but I think it's such a sweet tradition.
This morning I got up a 6 am and started on the dough for the Lucia buns (or lussekatter as they're called in Swedish), and later I woke up my boyfriend to the smell of freshly baked buns and lovely hot morning coffee. Such a magical morning! We rarely (as in never) have time to enjoy our morning coffees together, look eachother in the eyes and talk about the day to come, before we have to head on to our jobs. In other words this morning started just perfect!
I brought the rest of the freshly baked Lucia buns with me to work and shared with my colleagues.
I didn't have time for a proper photoshoot, so I hope you're okay with the relatively un-Christmassy and un-styled picture that I used for this blogpost.
Wishing you all a great Lucia Day <3
Lucia buns (makes 16 buns)
25 g fresh yeast
50 g butter
2,5 dl milk
125 g quark or thick yogurt
0,5 g saffron
65 g sugar
1/4 tsp salt
450-500 g all-purpose flour
32 raisins
1 egg for brushing
Crumble out the yeast in the bowl of a stand mixer.
Melt the butter in a pot and add milk. Slowly heat it until it is lukewarm. Pour the buttermilk over the yeast and stir until the yeast is dissolved.
Add quark/yogurt, sugar, salt and most of the flour. Knead the dough together until there are no more lumps. Add more flour if needed. Knead again until the dough is shiny and lets go of the the sides of the bowl.
Cover the bowl with a tea towel and let the dough rise for 40 minutes.
Pour out the dough on a flour dusted surface and knead again. Cut the dough into 16 pieces of equal size. Roll together the beautifully shaped buns and place them on baking sheets with baking paper. Cover the buns with tea towels and let them rise again for another 30 minutes.
Turn the oven on 225 °C.
Brush the Lucia buns with a beaten egg and place a raisin in the ends of each bun.
Bake in the oven for 5-8 minutes depending on size. Take the buns out when they're nice and golden.