Hi weekend bakers!
There's this very special pie that I've been wanting to bake for many many years now. Why I haven't baked it until now is a mystery. I've actually even shopped for the ingredients several times, but I always ended up using them for something else before I came to baking the pie.
The pie I'm talking about is a chocolate pecan pie. I can't even begin to tell you how much I LOVE pecans. And combined with chocolate, these two ingredients are a match made in heaven. I chose to use both dark and milk chocolate. The dark chocolate gives the pie it's intense flavor and richness, and the milk chocolate adds the perfect sweetness.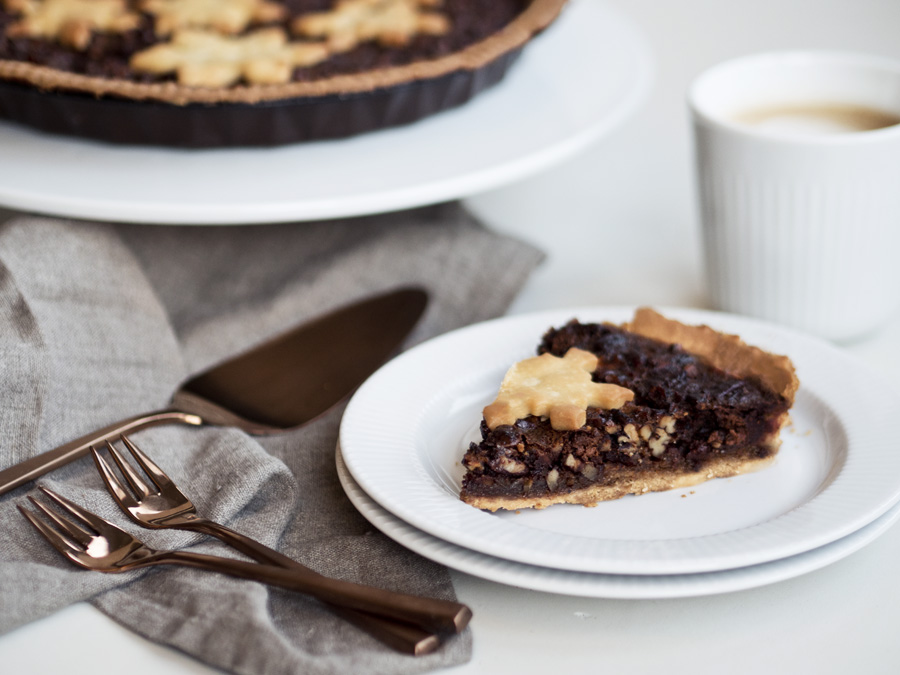 I styled this pie in a collaboration with the Danish tableware brand Eva Trio, that I'm working with for the second year in a row now. Eva Trio created this timeless series of tableware called Legio Nova, that I've completely fallen in love with. The series of porcelain is very minimalistic yet still super unique.
This year Eva Trio added a few things to the Legio Nova line, one of them being this etagiere that I showed you in a previous blogpost, and also the big cake platter that I used for the pecan pie on these pictures.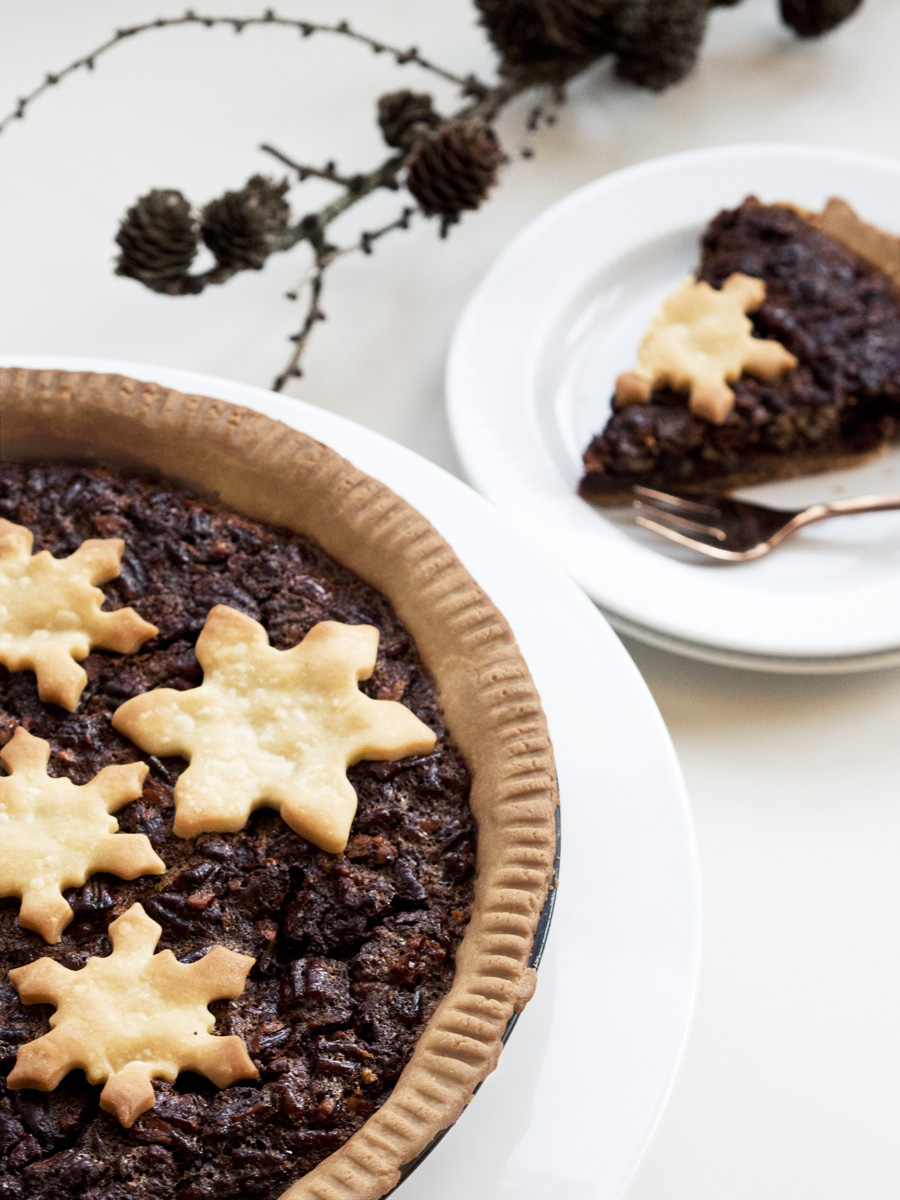 Alright you guys, back to the pie! As I mentioned already it is intense and packed with flavor. Just the way I (and probably you too) like it. Make sure to serv it while it's still hot and add a generous scoop of vanilla ice cream on the side.
I baked this pie in a 28 cm pie tin.
Pie crust
70 g all-purpose flour
20 g powdered sugar
A pinch of salt
40 g butter, cold
1 tsp water
1/3 egg yolk
In the bowl of a stand mixer, pour flour, powdered sugar and salt. Stir it together.
Add butter and water and whisk until the texture resembles sand. Add the egg yolk and knead until the dough comes together nicely.
Cover the dough in cling film and let it rest in the fridge for two hours.
Butter your pie tin and sprinkle with flour. Knock out excess flour.
On a flour-dusted surface, roll out the dough and carefully place it in the pie tin. If you have any leftover dough you can cut out small stars (or any other shape) with a cookie cutter. Place the stars to the side – you will need them much later when the pie is baking.
Use a fork to prick small holes here and there in the pie crust. Place the tin in the fridge for 30 minutes.
Preheat your oven to 180 °C.
Blind bake your pie crust for 12-15 minutes.
Chocolate and pecan pie filling
175 g pecan
60 g dark chocolate, 70 %
60 g milk chocolate
3 large eggs
100 g brown sugar
1,6 dl syrup
2 spsk butter, melted
Seeds from 1 vanilla pod
1/2 tsp salt
Preheat your oven to 190 °C.
Toast the pecans on a large pan for about 5 minutes. Chop them coarsely.
Chop the two kinds of chocolate coarsely.
In a large bowl add eggs, brown sugar, syrup, butter, vanilla seeds and salt. Stir until it all comes together. Add the chopped pecans and the chocolate.
Pour the chocolate and pecan filling into the prebaked pie crust. If the edges of the pie crust has already darkened a bit, cover them with tin foil to protect them for the second baking.
Place your pie in the oven and bake for app. 45 minutes or intil the filling is set. Remember to place your pie crust stars on top of the pie when there's 10 minutes left of the baking time.
Let the pie cool slightly before serving.