It's cupcake time, yaaay!! Some would even call it their favorite time (myself included)! It's been quite a while since a last posted a cupcake post here on the blog, so I thought it was about time.
I've baked these chocolate cupcakes with salted caramel filling before, and since they were sooo extremely good I immidiately knew I wanted to bake them again when I had guests coming over this weekend. These cupcakes consist of a delicious chocolate muffin filled with salted caramel and topped with an intens dark chocolate frosting. This frosting is a new version I hadn't tried before, but it turned out pretty well I must say, and therefore I decided to share the recipe with you.
And oh, it's about time I include you guys in a little secret I've been keeping for quite a few months now…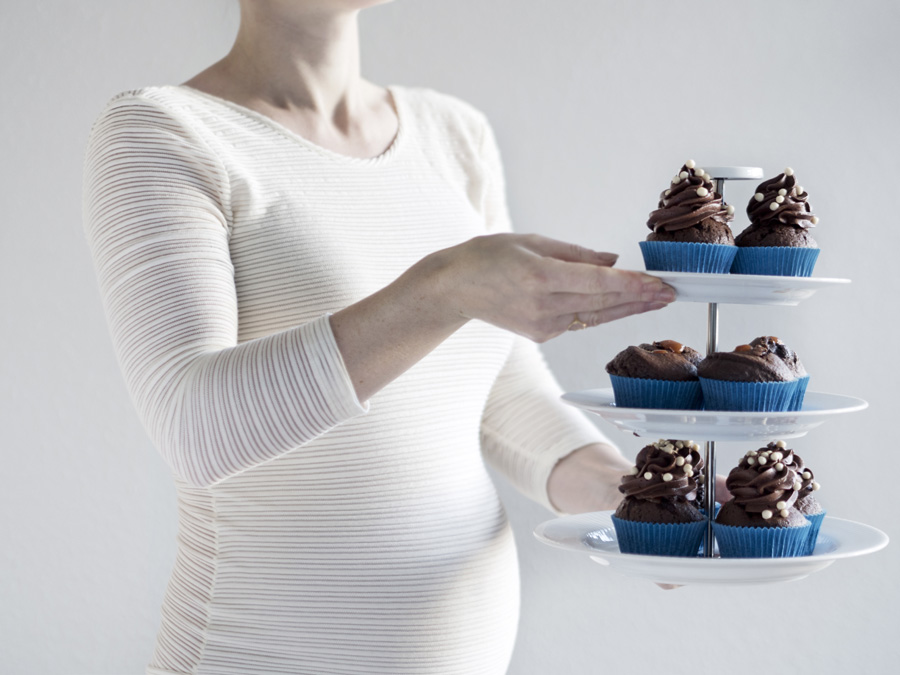 As you're probably able to tell from the picture, I've been baking more than just cupcakes recently. To be precise, I'm carrying a baby girl due in April next year. Pretty crazy, right!
My fiance and I have been together for 10 years, since I was 18 and still in high school. And now life is about to get pretty grown-up-ish as there's a baby on the way. We are both so happy and can't wait to meet this little person.
So this pregnancy-thing is actually treating me pretty great. Besides from extreme fatigue I have not been tormented by other pregnancy related problems. I feel absolutely great, and I'm so thankful that by body is adjusting well to this big change, giving me the chance to really enjoy it along the way.
I don't think being pregnant/becoming a parent will mean any changes for this blog. Best case scenario is that I will even be better at suggesting/giving recipes for fun and child-friendly cakes and pastries, that'll encourage more children to explore the kitchen with their parents (and vice versa). I remember with such fondness when I was a child, how my parents always let my brother and I take part in their cooking and baking. I believe this is where my interest in cooking started, and I really hope this is something I can pass on to my own little mini-me.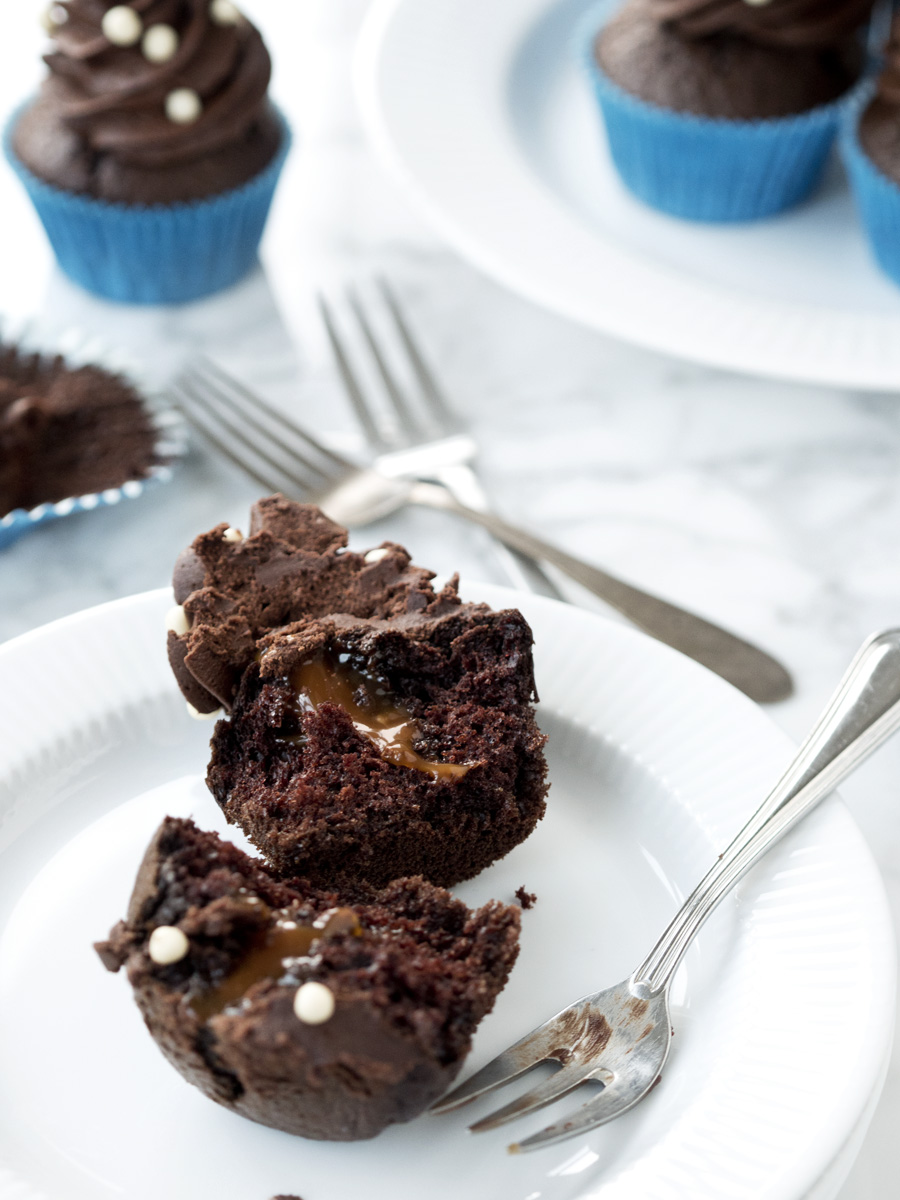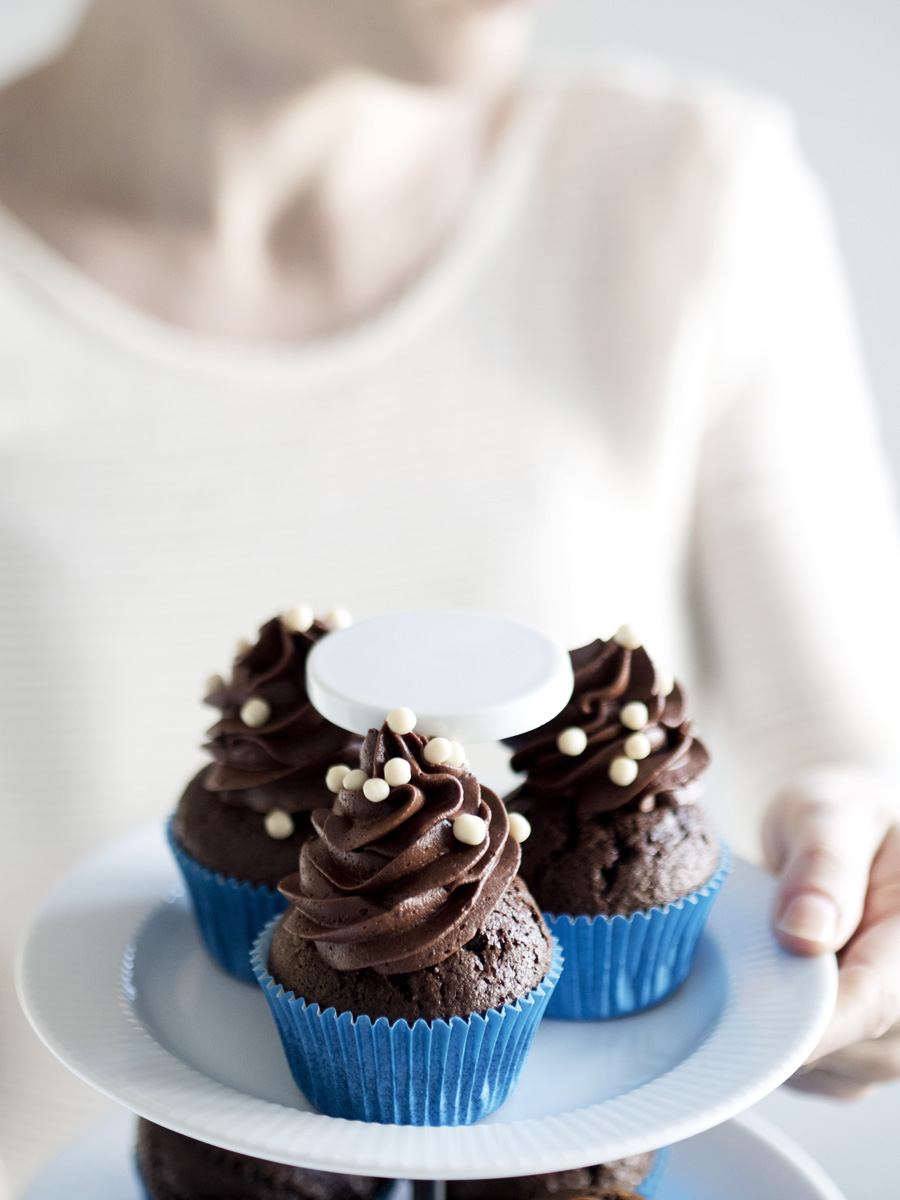 Like last year I have partnerede up with my friends from Eva Solo, using their beautiful Legio Nova tableware when styling my cakes. Last year, as a part of the collab, I created two great (if I may say so myself) christmassy recipes; this white mulled wine and this delicious christmas bundt cake with walnuts and cream cheese frosting.
This year a few new items have been added to the beautiful Legio Nova assortment, and the first one I want to show you guys is the fancy étagière I used for styling these cupcakes. I've actually never owned an étagière before, but boy have I been longing for one for a long, long time. I really wish I had one for all the time I've been serving small petit fours, mini cupcakes, bisciuts etc. when having guests over.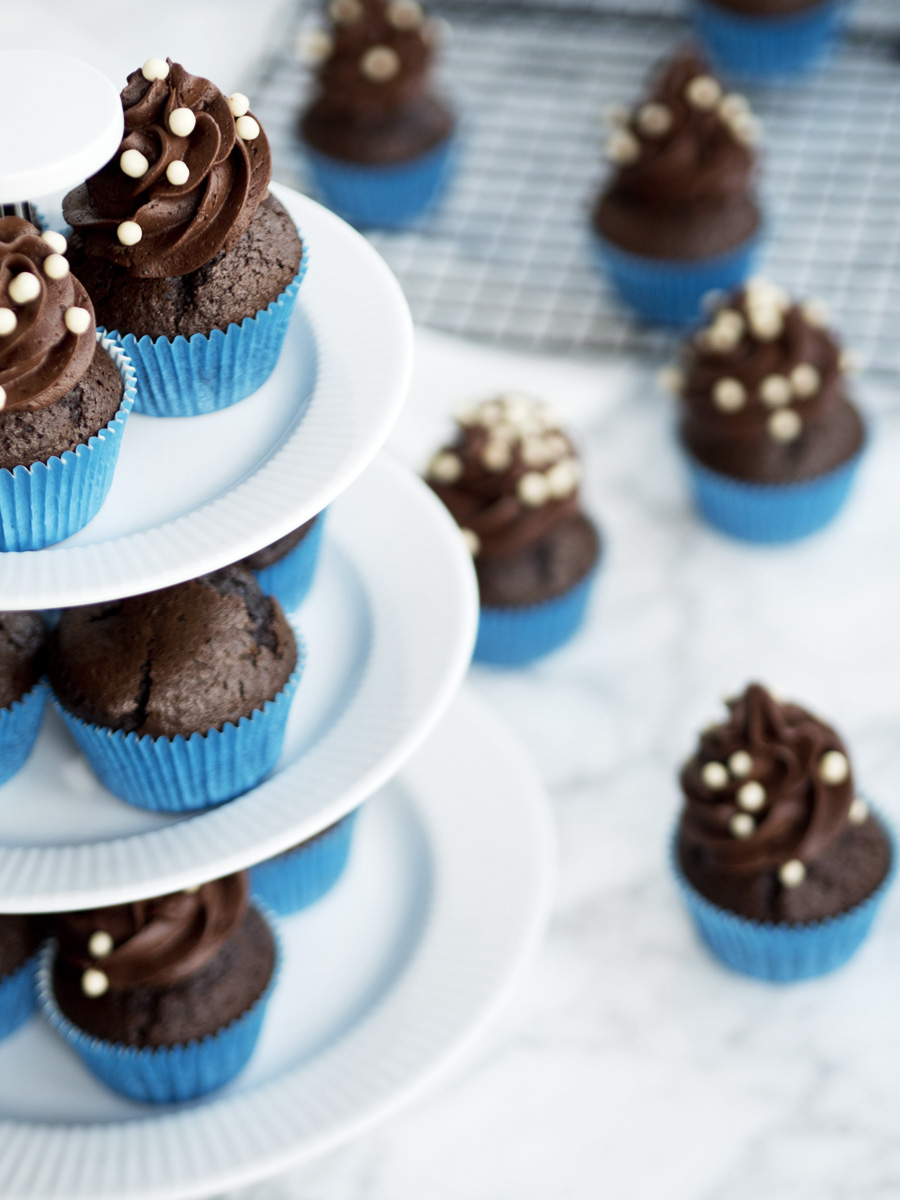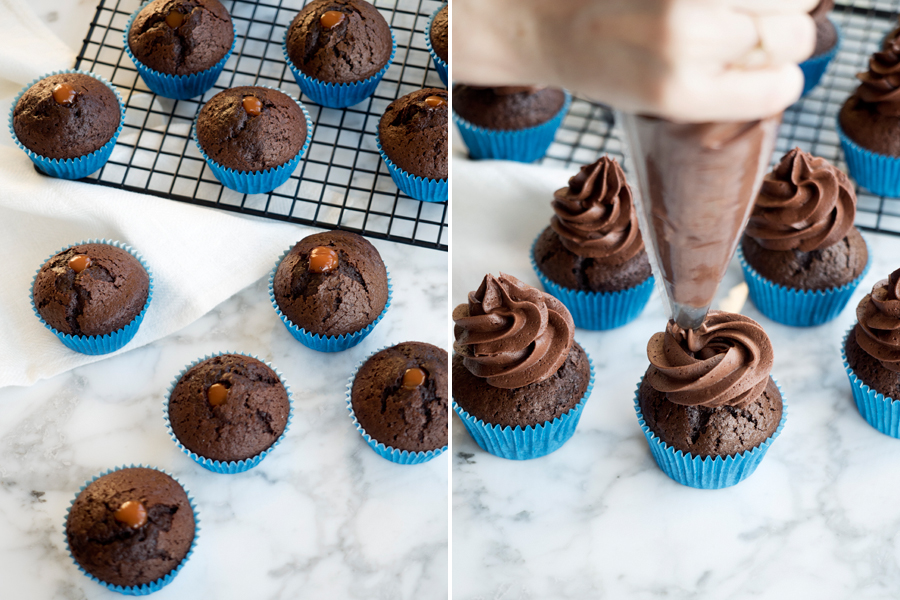 For this recipe I recommend you start with making the frosting, as it takes a while for it to cool completely. There's absolutely no problem in making it the day before, storing it in the fridge over night. Just make sure you wait with whipping the frosting until the cupcakes have been made.
Note that no sugar is added to the frosting, making it quite intense and lovely chocolatey bitter – and not sweet. Therefore I recommend you use the chocolate % that you like and feel comfortable using. I used 70% as this brings just the perfect balance of chocolate in my opinion, matching quite well with the sweetness of the sweet salted caramel.
The salted caramel filling for the cupcakes you can make from scratch or buy store-bought. There's absolutely no problem in using dulce de leche (with a bit of added salt) or Dr. Oetkers salted varamel muffin center.
Recipe (makes app. 17 cupcakes)
Chocolate frosting
300 g dark chocolate, 70 %
355 g butter
Chop chocolate and butter coarsely and let it melt in a pan. Once it has completely melted and the texture is nice and smooth, pour it in a bowl and place it in the fridge. Let it cool completely.
Whip the chocolate in a stand mixer or using a hand mixer. Whip until the frosting is light and airy, this only takes a short while.
Salted caramel filling
225 g butter
425 g sugar
2 spsk syrup
2,4 dl cream
1 tsp salt
Melt the butter in a saucepan. Add sugar an syrup and let it boil for 6-8 minutes until the mixture turns caramel brown.
Add the cream slowly while stirring and let it boil for another 2 minutes until the caramel is smooth. Add salt.
Pour the caramel into a bowl and place it in the fridge. Let it cool completely.
Chokoladecupcakes
195 g all-purpose flour
45 g unsweetened cocoa powder
75 g sugar
105 g brown sugar
1 tsp baking soda
1 tsp baking powder
1 tsp salt
1,9 dl milk
1,5 dl vegetable oil
1 tsk vanilla extract
3 eggs
Preheat the oven to 180 °C.
In a bowl mix together flour, cocoa powder, sugar, brown sugar, baking soda, baking powder and salt.
Add milk, oil, vanilla and eggs. Whisk until the batter is smooth and the texture is nice and even.
Pour the batter in your cupcakeform (fill them up to about 2/3 leaving room for the cupcakes to rise). Bake your cupcakes for 20-22 minutes.
Let your cupcakes cool off completely before adding salted caramel and decorating with frosting.
Assembling the cupcakes
Start with filling the salted caramel into the center of each of the cupcakes. This is done easiest by using a piping bag and a so called Bismarck tip. If you don't have these, just cut out a whole in the top of each of the cupcakes filling a bit of the caramel into each cavity.
Pour your frosting in a piping bag with a star tip. I used Wiltons tip 1M. Pipe beautiful swirls and you're done! Add sprinkles or small pieces of chocolate for a finishing touch.