I am not hesitating to call this cake my best and tastiest creation so far this year. I know those are some pretty big words, but I'm really not exaggerating. This cake is really something. In the most chocotastic, intense and rich way possible.
And the best thing about the cake? It is SO easy to bake. It doesn't need all kinds of weird ingredients. It will surely be loved by ANYONE that tastes it. It gets better and better by each day that it's allowed to sit in the fridge (but really, who can restrain themselves from eating all of the cake on the first day?).
It truly is a cake for adults. In the best possible way, I mean. It consists of a bottom layer of moist and intense chocolate cake (after my Swedish kladdkaka recipe) topped with a seducing layer of chocolate ganache with a generous splash of Ron Zacapa.
The choice of using Zacapa is not coincidental: My rum loving and rum collecting fiancé is quite the Zacapa connaisseur, and with his guidance I used this golden bottle. Pairing it with chocolate makes a match made in heaven. I promise you'll believe me when you taste the cake!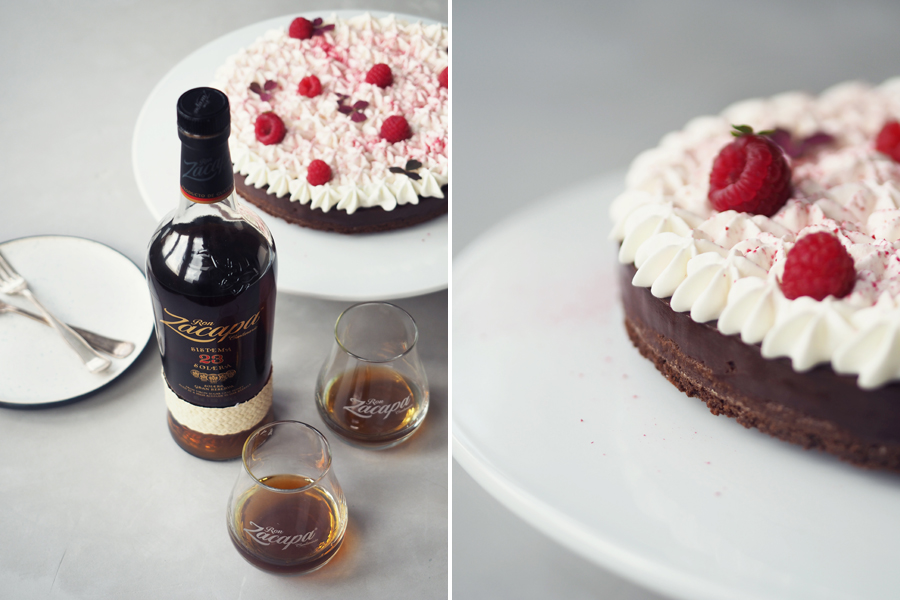 This bottle of Ron Zacapa Centenario (23 Solera) has notes of honey, caramel and chocolate, so it's no wonder that it gives the perfect kick to the soft chocolate ganache that tops the chocolate cake. The rum in itself is quite sweet and "easy going", making it quite suitable as a drink for "rum beginners".
If you're in need of a great bottle of rum for your cakes and desserts, take note of this little trick from me to you: Give your better half a bottle for Christmas! I know what I'm talking about – bottles of rum as Christmas gifts is quite the hit (if your better half is anything like my boyfriend). This little trick also gives you access to rum whenever your cakes need a splash. Win-win!
As I briefly mentioned in the introduction, this cake is quite awesome because it can be baked many days in advance. Make sure you wait with the whipped cream layer until immediately before you intend to serve it. I hope you will enjoy the chocolate cake with Zacapa chocolate ganache as much as we did!
Ingredients (app. 10 servings)
100 g dark chocolate (70 %)
160 g all-purpose flour
40 g unsweetened cocoa powder
0,5 tsp baking powder
0,5 tsp salt
135 g butter, room temperature
135 g brown sugar
2 eggs
2 egg yolks
Seeds from 1 Bourbon vanilla pod
1,6 dl milk
Preheat your oven to 175 ºC.
Grease a springform (24-25 cm) and dust it with flour or cocoa powder.
Chop the chocolate coarsely and melt it in a bowl over a water bath. Place the bowl with the melted chocolate to the side.
Sieve together flour, cocoa, baking powder and salt in a bowl.
In a new bowl whisk together butter and brown sugar until it is light and airy.
Add eggs, egg yolks, melted chocolate and vanilla seeds to the butter mixture.
Add flour mixture and milk to the batter alternately while whisking gently until the batter is free of lumps.
Pour the batter into the springform and bake in the oven for 25 minutes.
Let the cake cool completely.
Zacapa chocolate ganache
150 g dark chocolate (70%)
120 g sugar
60 g honey
1,5 dl cream
2 egg yolks
100 g butter
30-50 g Zacapa rum
Chop the chocolate finely and pour it into a bowl. Place the bowl to the side.
Pour sugar, honey and cream into a saucepan and heat slowly until just before it reaches the boiling point.
Pour egg yolks into a bowl and very slowly pour the hot sugar mixture over the yolks while whisking. Pour everything back into the saucepan and heat again while stirring until it reaches 83 ºC.
Pour everything from the saucepan over the chopped chocolate, add butter and stir gently until butter and chocolate has melted. The ganache should be lump-free and shiny whithout too many bubbles. Add rum until you're happy with the taste. The rum taste starts to build up after having added 30 g of rum. Generously add more if you want the rum to taste more intensely through the ganache.
Pour the chocolate ganache over the cooled chocolate cake (while still being in the springform) and place the cake in the fridge until the ganache has hardened.
Decorating the cakes
2,5 dl cream
Raspberries
Freeze dried raspberry dust.
Whip the cream until you're happy with the thickness and decorate using a piping bag and either a round or starshaped piping tip. I used Wilton 1M.
As a final touch gently decorate with raspberries and raspberry dust.
Gem
Gem
Gem
Gem
Gem