Living in Copenhagen it's hard not to see matcha everywhere I look. Many cafés in Copenhagen are now serving matcha in all possible kind of ways, for example as matcha lattes or as matcha bowls. I have to admit I'm pretty crazy about it.
I've actually baked with matcha a few times before. The fine powder adds the most lovely green color to the cake and it also adds a really interesting and good dimension to the taste. Find my recipe for matcha and raspberry tart here.
Recently I've been making this greenlicious matcha bowl for breakfast a lot. It literally takes no more than 1 minute to prepare. It's SO good, very filling and it tastes amazing when topped with fresh fruits and berries.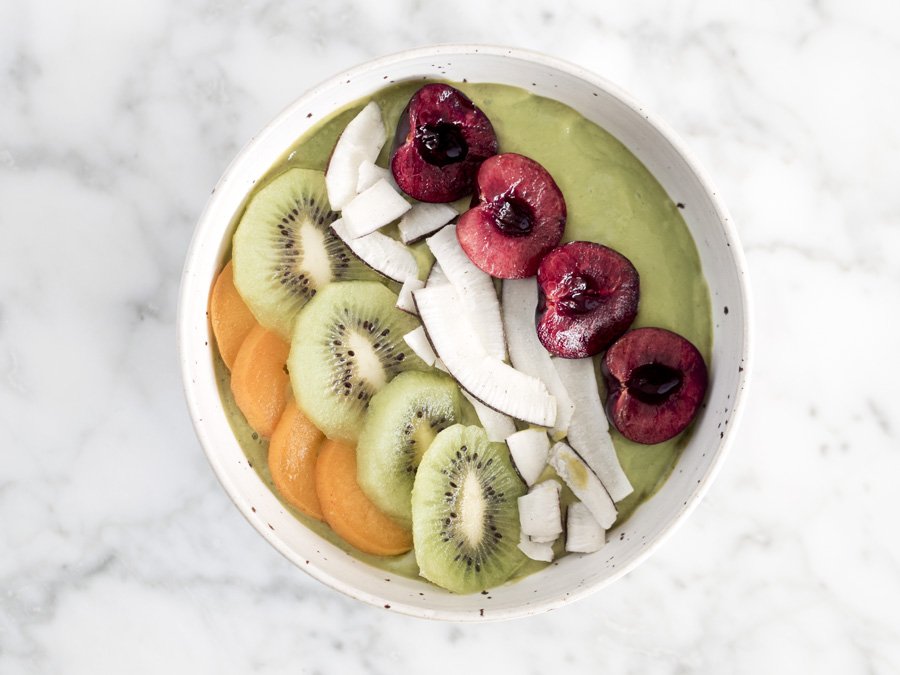 Before you start you want to freeze the bananas in good time. Cut the bananas into slices before placing them in the freezer – this makes them easier to blend later on.
Ingredients (for two big bowls)
Two frozen bananas
1 avocado
4 daates
2 tsp matcha powder
1 tsp vanilla powder
Almond milk
Toppings: Apricots, kiwi, coconut, cherries etc.
Cut the bananas into slices (if they weren't already sliced when frozen) and remove the stones from the avocado and the dates.
Pour all of the ingredients in your blender and start with only a little bit of almond milk. Blend and gradually add milk as you go, until you are happy with the the consistency.
Taste and add more dates if you want it sweeter.
Pour into two bowls and decorate with fruits, berries, coconut and anything else you love.
Let me know in the comment section below which topping are your favorites! I'd love to know and get inspired to try new toppings <3