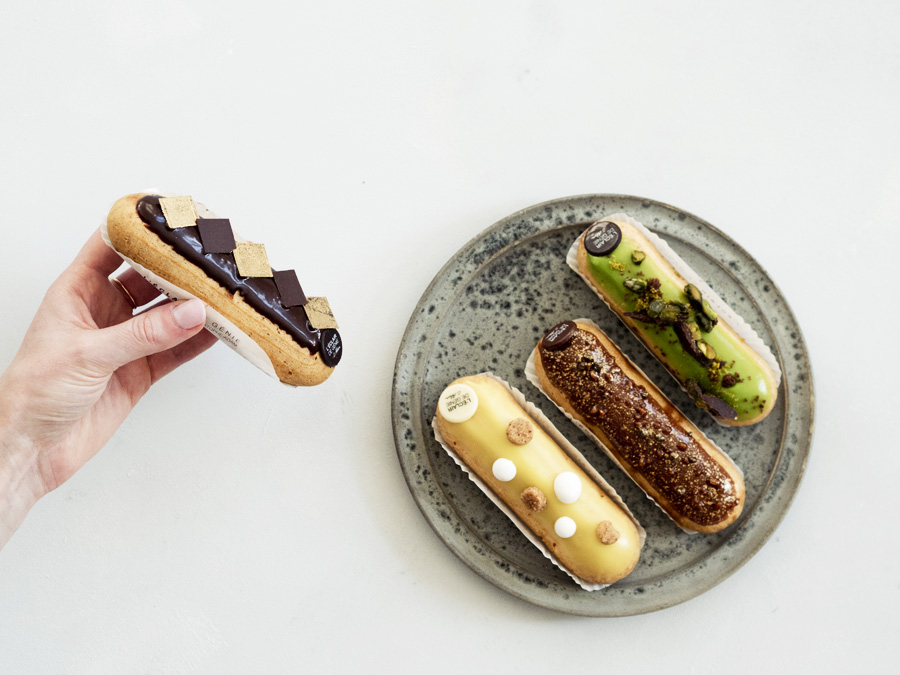 Quite often I come across a type of pastry that's so amazing, that all I can think about is when I have time to create it myself in my own kitchen.
That exact feeling overwhelmed me earlier this spring when Ivisited Paris for a short weekend trip and stopped by the gorgeous little pastry L'éclair de Génie. Yes, you guessed it: They make eclairs, and they make the most beautiful, colorful and tasty I have come across thus far.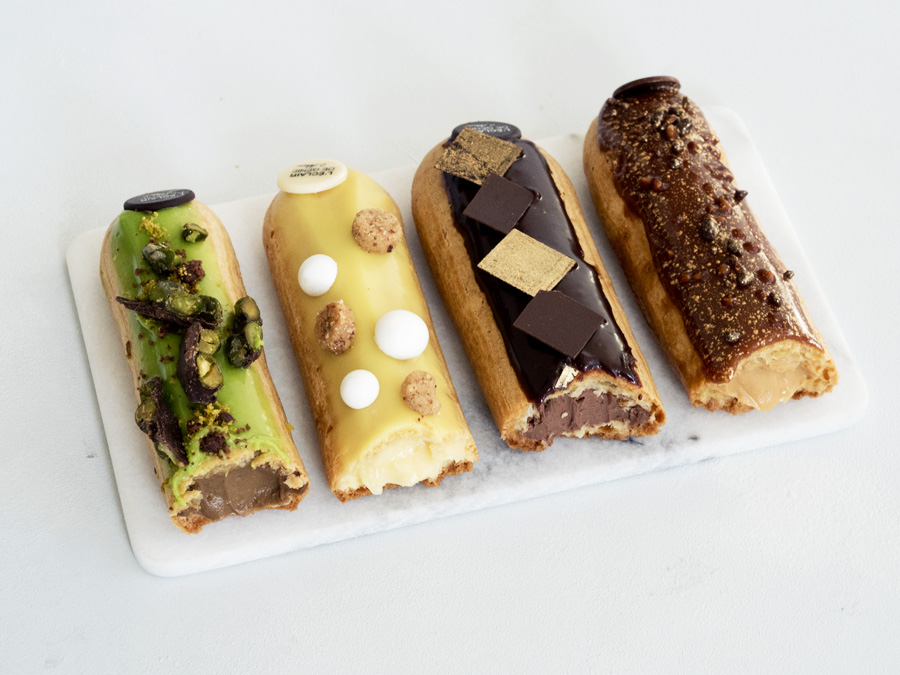 From left to right: Pistachip, yuzu, chocolate and salted caramel.

I encountered these eclairs on a beautiful and sunny Sunday on my last day in Paris. I had only a few hours to walk around before it was time to head back to CDG airport and fly back to Copenhagen.
I had actually been sick all night with food poisoning and if you've ever been in the same situation you know how absolutely horrible it can be. In the morning I was SO tired, still nauseous and exhausted, as I hadn't slept for a minute during the night. Looking back, I really should have just spent my last hours in Paris relaxing and head straight for the airport to relax. But you know me, there's no way I could have visited Paris without stopping by L'éclair de Génie to bring home these precious souvenirs.
The sun shone and my map app didn't function properly. I was just about to give op when all of a sudden I realized I was standing in front of the shop. I almost can't describe the feeling of relief that swept over me. I was so happy I almost had to shed a tear, probably also because I was feeling pretty sorry for myself at that time 😉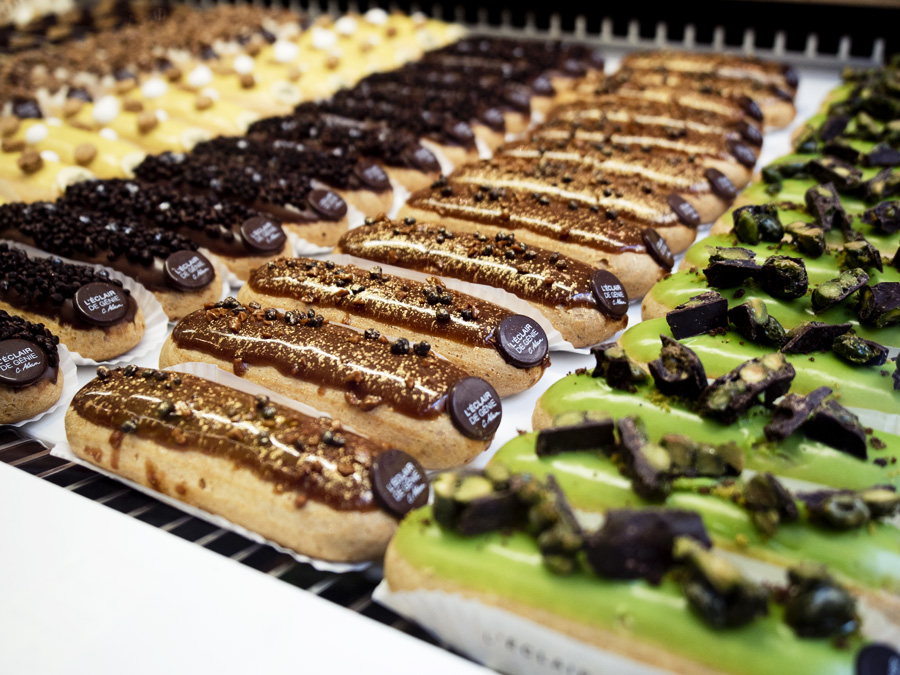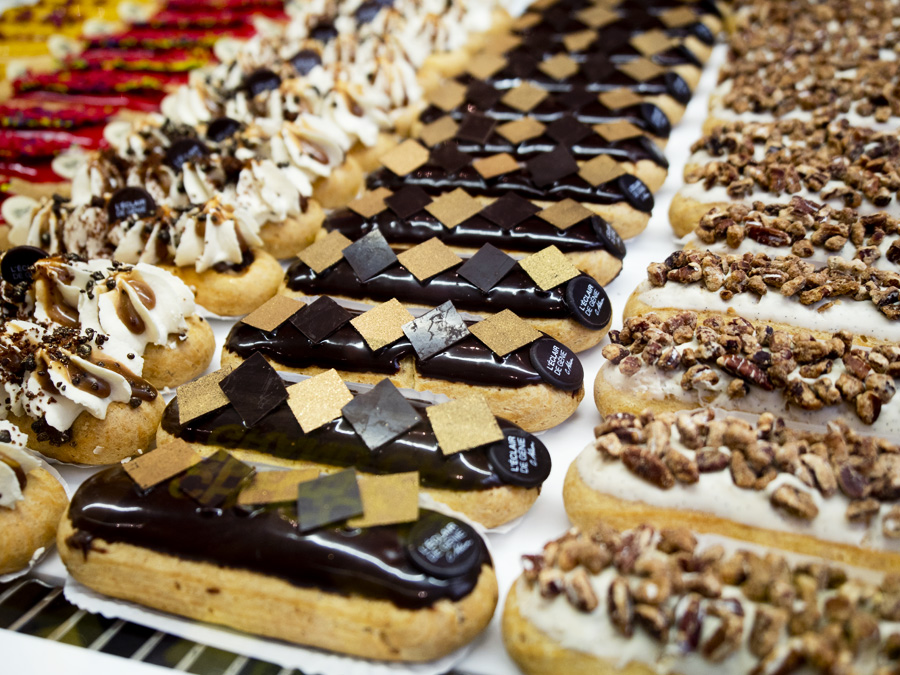 1, 2, 3, 4 eclairs were carefully chosen and placed in a simple paper box – their home for the next 6 hours and 1200 kilometers. I guarded it with my life all the way to the airport when taking the metro and the train. In the airport I had to bring them aboard the plane as cabin baggage, so the box even had to roll through the x-ray at security haha. Arriving at home I immediately opened the box and there they were, still as perfect and beautiful as when I had picked them up 6 hours earlier. I couln't have been happier!
It's the little things that count!
If you are just as hooked on eclairs as I am, I can happily tell you that they are very easy to bake at home. I have tried it a couple of times, and they come out perfect every time! If I can do it – you can do it!
Find the recipe for my eclairs here.
L'eclair de Genie is located at 14 Rue Pavée, 75004 Paris, Frankrig.