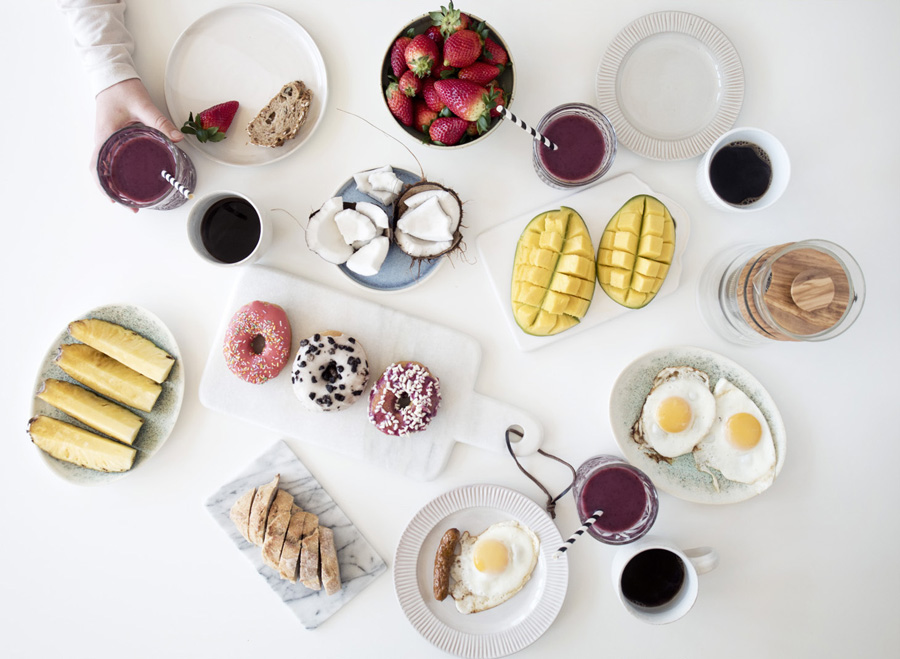 With weekdays filled with work, meetings, photoshoots, webshop managing and so much more, it's nice to have one weekly tradition to hold on to. Ours is brunch. This is where we totally relax, enjoy good food and have time to just talk.
Some times we go out to enjoy brunch. Copenhagen really is the place to live if you're into brunch, with so many wonderful brunch cafés and restaurants to choose between. Living in the capital and working in the restaurant business gives me so much inspiration for what to bring to my own brunch table in the weekends.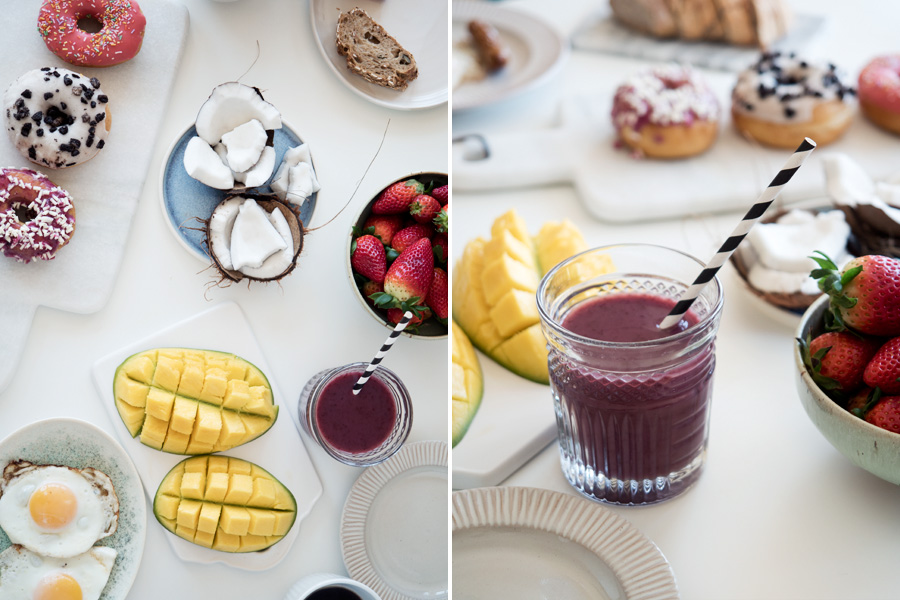 When I go brunch shopping in the super market I always have this checklist from which I get items in each of these categories:
Fruit
Vegetables
Proteins
Eggs
Bread
Dairy
Sweets
Cold beverages
Coffee (of course!)
Last weekend mysister visited and we both had intense cravings for brunch in the morning. So we hurried to the grocery store and got lots of different stuff – yeah it's quite dangerous to go grocery shopping on an empty stomach haha.
When we came home we spent about an hour in the kitchen and voila, brunch was served. Our brunch consisted of:
Fruit: Mango, strawberries and coconut (I just looove fresh coconuts).
Vegetables: We made a fantastic tomato salad with tasty organic cherry tomates, buffalo mozzarella, olive oil and basil.
Variations: Avocado with olive oil and sesame seeds, mixed salad or perhaps baked bell peppers with spices.
Proteins: We bought extra thick slices of bacon that and small (very yummy) turkey sausages.
Variations: Brunch sausages, smoked salmon, chorizo etc.
Eggs: We made fried eggs that we cooked on a frying panunder a lid – this makes the egg whites cook better and faster.
Variantions: Omelette (try topping your omelette with smoked salmon – delicious!), scrambled eggs or just plain good soft boiled eggs.
Bread: We kind of "cheated" and bought buns from our local bakery, but whenever I have time I totally prefer home baked buns. I recommend this recipe for amazing whole grain buns.
Variations: Home made croissants, savory muffins or scones (can be made with or without chocolate).
Dairy: This is my favorite recipe because CHEESE. Well, and yogurt and skyr. But mostly cheese.
I alway have a container filled with homemade granola in stock, that goes so well with skyr/yogurt (and fresh berries with syrup).
Sweets: No need to say that this is my favorite category! We "accidentally" bought doughnuts (oops), but if you wan't to try baking them yourself you should totally go for it. It's so easy! Here's my recipe for delicious oven baked doughnuts.
Variations: Waffles (topped with fruit, berries and syrup), crepes or the classic american pancakes.
Cold beverages: We served blueberry/acai smoothie and orange juice.
Variations: Smoothie with banan and pineapple (my favorite smoothie!), juice with carrots and grapefruit.
Coffee: No woords needed…
So these were my tips and ideas for a perfect homemade brunch with both healthy and sweeter options. I'm excited to hear YOUR opinions as to what makes the perfect brunch. Please share in the comment section below.