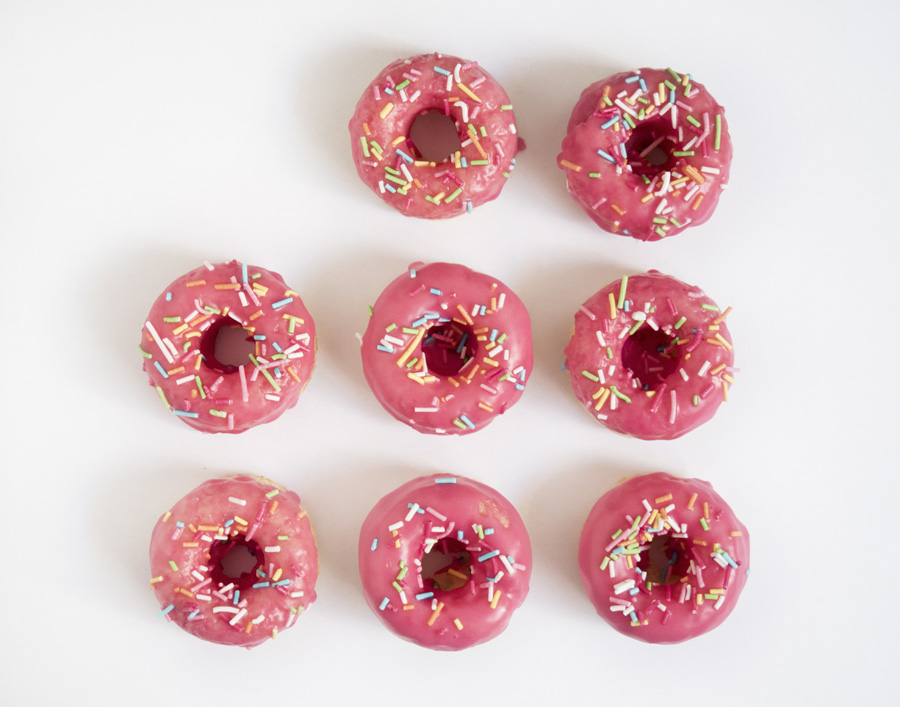 I'm a huuuuge fan af doughnuts of all shapes, colors and flavors. However, there's something quite unique about mini sized doughnuts. I think there's a rule saying that when things come in mini sizes, it's alright to eat more… Am I right?!
Anyway, I've shown doughnuts a few times on the blog before, and I'm quite certain I'll probably do it agan (and again, and again).
I L O V E them!
I really must insist that if you haven't tried baking them before, just go ahead and get baking! Now! These doughnuts are SO easy to bake and they turn out perfect every time.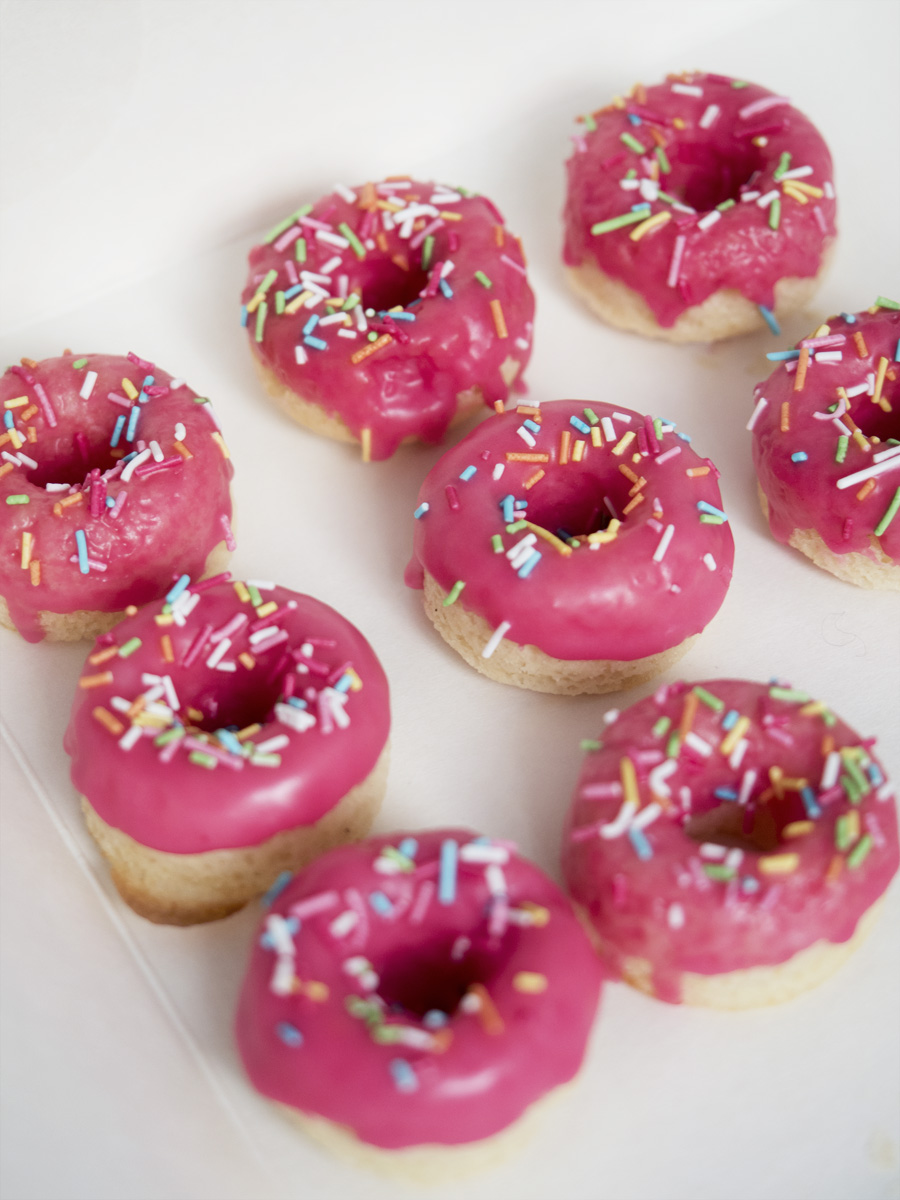 This recipe is for plain – but still very very seductive – oven baked doughnuts.
By the way the credit for these little lovely creations go to a sweet and very talented colleague of mine. She used my recipe for doughnuts and created these beautiful pink bite sized beauties. I just love the colorful glaze and the multi colored sprinkles. The finished look is almost very cartoonish.
If you ask me, the most fun thing about making doughnuts is the decoration process. There's really nothing more pretty than a plate full of colorful and sprinkle decorated doughnuts.
This recipe can be baked in a regular sized doughnut form just as well as a mini sized. Make sure to bake these doughnuts right before they're meant to be eaten. They do not last as well as fried doughnuts, and these ones will loose their yummy and soft texture if you store them for too long.
Forvarm ovnen på 220

°C

.
Smør dougnutformen grundigt eller spray med bagespray.
I en skål sigtes mel, sukker, bagepulver og salt.
Pisk ægget let i en anden skål.
I en tredje skål blandes mælk med citronsaft.
Tilsæt mælk, æg og det smeltede smør til melblandingen og rør indtil dejen er ensartet og fin i konsistensen.
Hæld dejen i doughnutformene. Hver hul skal max være halv fyldt – dejen hæver meget.
Bag nederst i ovnen i 4-6 minutter eller indtil doughnuts'ne tager en fin lysebrun farve.
Ingredients (30 mini doughnuts or 6-8 regular sized doughnuts)
150 g all-purpose flour
110 g sugar
1 1/4 tsp baking powder
3/4 tsk salt
1,2 dl milk
1 tsk lemon juice
1 egg
1 ½ Tbs butter, melte
Preheat the oven to 220

°C

.
Butter the doughnut pan or spray thoroughly with baking spray.
Sieve together flour, sugar, baking powder and salt.
In a new bowl beat the egg.
In a third bowl beat the milk with lemon juice.
Add the milk, eggand the melted butter to the flour mixture and beat until the dough is nice and free of lumps.
Pour the dough into the prepared doughnut pan (I prefer to use a piping bag with a round nozzle). Each cavity should not be filled more than half – make room for the dough to rise.
Bake the doughnuts in the oven for 4-6 minutes or until they turn nice golden brown.
Glaze
Powdered sugar
Food coloring
A splash of water
Sprinkles for decoration
Mix powdered sugar and food coloring in a bowl and stir until there are no more lumps. Add more food coloring or water to get the right texture. Be careful not to make the glaze too runny.
Dip every doughnut in the glaze and decorate with sprinkles before the glaze hardens.