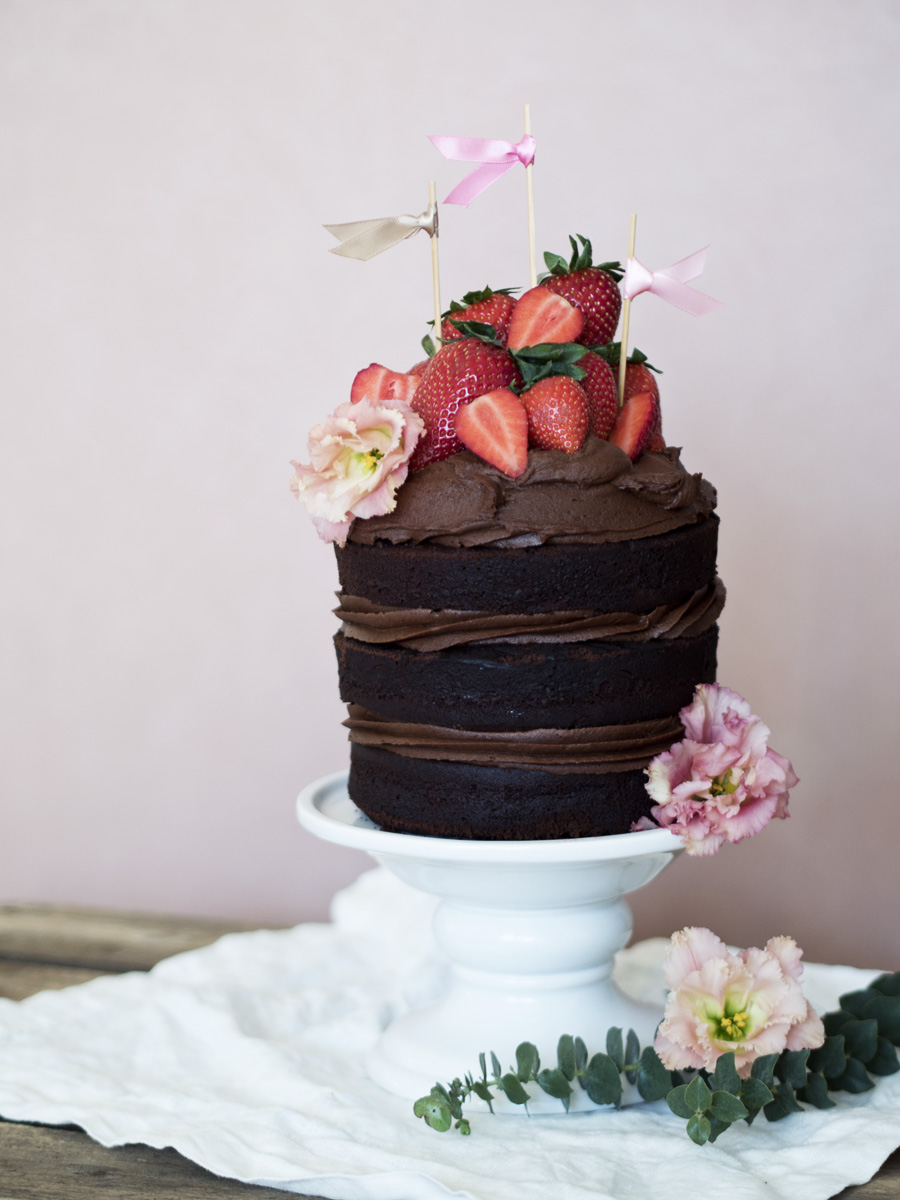 Chocolate, chocolate, chocolate!
This cakes really makes me happy – it doesn't take any more than this. I made the cake with three large layers of my favorite chocolate cake, and between the layers I added a generous layer of my newest obsession: Nutella frosting.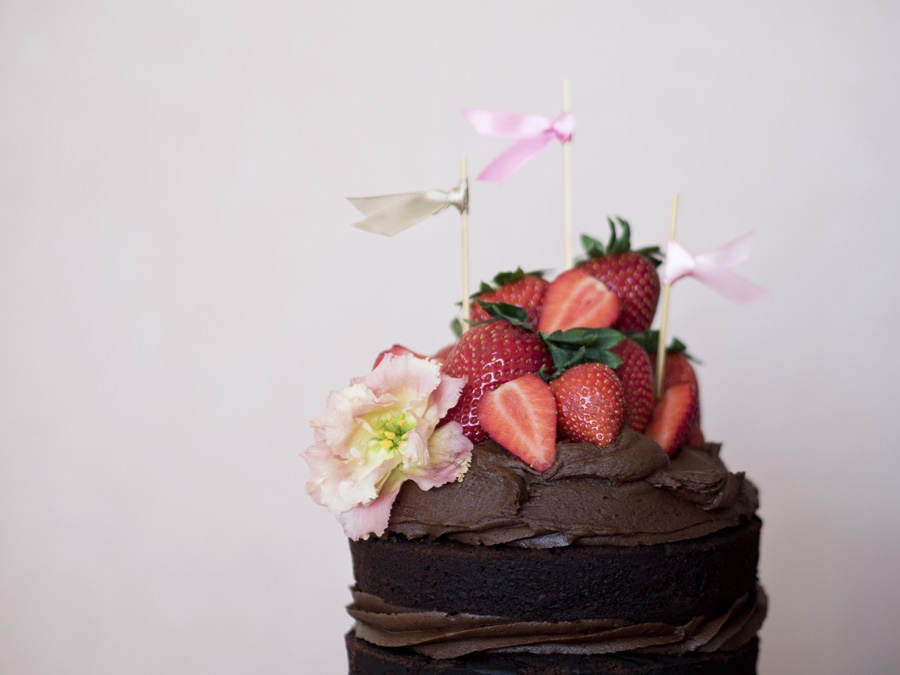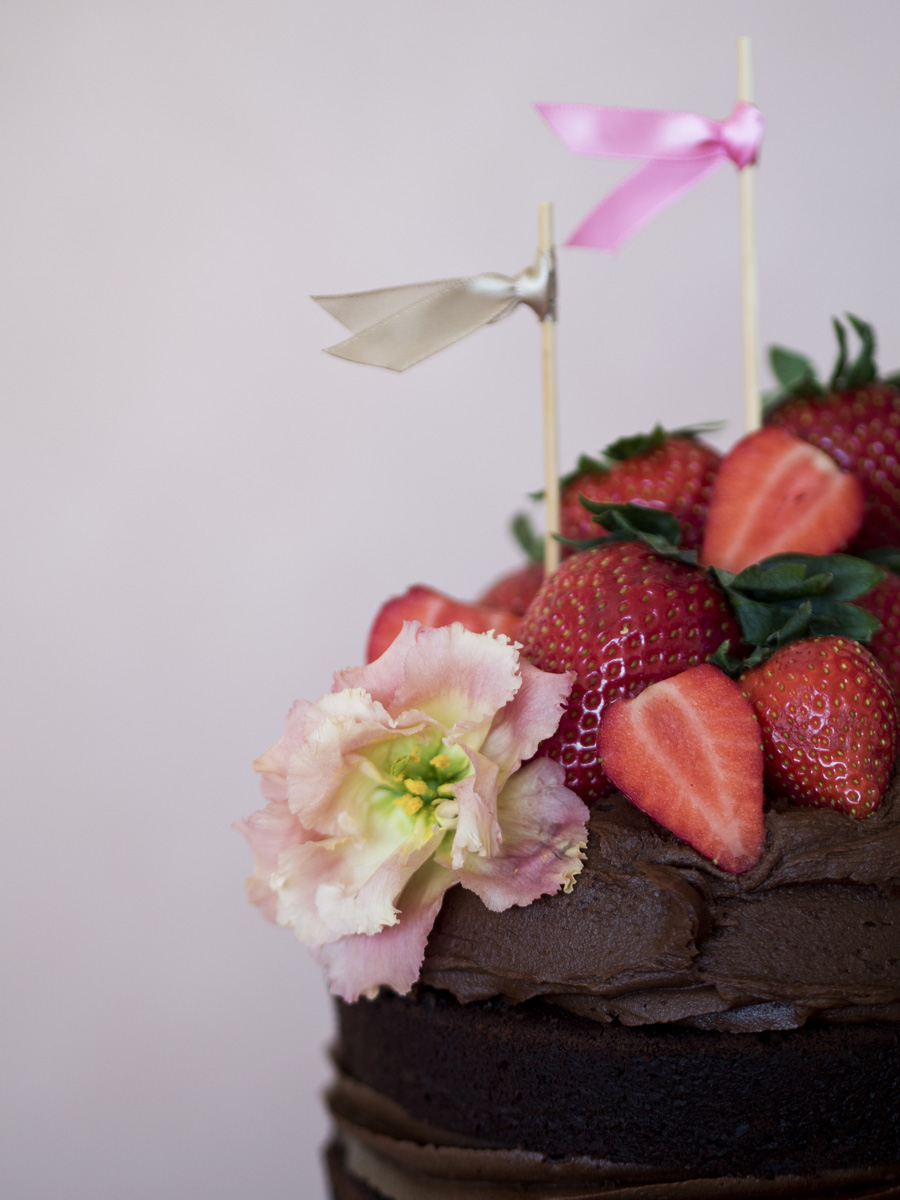 To be honest I have never been a huge Nutella eater. Well I obviously eat it (with moderation) when it's available, but it's just not something that we keep in stock here in our home. I consider it a "rare luxury", and I really do enjoy it when it happens to find it's way to our kitchen cabinets.
Nutella really has this special "nutty" flavor and soft texture, that for quite some time had made me want to see how I could incorporate it in a cake. One day it hit me, when I was thinking of different kinds of frosting to accompany my favorite chocolate layer cake. And thus the Nutella frosting was born.
I think it's worth mentioning that my boyfriend, when tasting the frosting, immediately exclaimed that this was the best frosting I've ever made. And this is coming from a man whose girlfriend invents new frostings every week. If that doesn't speak for itself I don't know what does… 😉
Practical stuff: This cake is obviously very tall, meaning that it can be a challenge to cut slices. I usually just take off the top layer and start serving that with frosting and berries and all, and then I go to the second layer and finally the bottom.
This cake can easily be made a few days in advance. Just remember to wrap each cake carefully in cling film and keep them refrigerated. Build the cake with frosting and berries on the day that you want to serve it. In my experience the frosting is best on the day that it's made.
It's always hard for me to estimate how many persons the cake is for. This cake is small in circumference, but obviously quite tall, so I'm gonna estimate it to be for about 8-12 people.
For this cake I used small springforms with a diameter of 15-16 cm.
Ingredients
Chocolate cake
150 g dark chocolate 70 %
240 g all-purpose flour
50 g unsweetened cocoa powder
½ tsp baking powder
½ tsp bicarbonate of soda
½ tsp salt
200 g butter, room temperature
210 g brown sugar
2 eggs
2 egg yolks
2 tsp vanilla sugar
2 ½ dl milk
Preheat the oven to 175 ºC.
Butter three springforms (15-16 cm) and dust them with flour or cocoa.
Chop the chocolate coarsely and melt it. Place the melted chocolate to the side.
Sieve flour, cocoa, baking powder, bicarbonate and salt in a bowl.
Whisk butter and brown sugar until it is light and fluffy.
Add eggs, egg yolks, melted chocolate and vanilla powder to the bowl with the butter and sugar and stir it together.
Alternate adding flour mixture and milk while stirring. Stir until the dough is nice and even in texture.
Pour the dough in the prepared springforms and bake for 23-25 minutes or until a tootpick comes out clean when inserted into the middle of the cakes.
Let the cakes cool and release them from the springforms.
Nutella frosting
165 g dark chocolate 70%
280 g powdered sugar
170 g unsalted smør, room temperature
140 g Nutella
0,6 dl creme fraiche
½ Tbs vanilla extract
A pinch of salt.
Chop the chocolate coarsely and melt it. Place the melted chocolate to the side and let it cool slightly.
Pour all of the ingredients in a food processor and mix until the frosting is shiny and consistent in texture.
Transfer the frosting to a bowl and let it rest in the fridge for 15 minutes in order to cool a bit thus getting a thicker texture.
Assembling the cake
You'll need:
Piping bag
Large star nozzle (I used BC330)
Strawberries
Cake flags
The three chocolate layer cakes will have risen during baking, and therefore they will have a slightly rounded top. Use a sharp knife to cut of the rounded tops making the surface level.
Place the botten layer on a cake platter and pour the frosting in a piping bag with a star nozzle. Pipe a generous layer of Nutella frosting on top of the cake.
Place next layer on top and repeat with the frosting. Repeat again with the top layer.
Decorate the top of the cake with beautiful strawberries and add a festive touch with pretty cake flags.