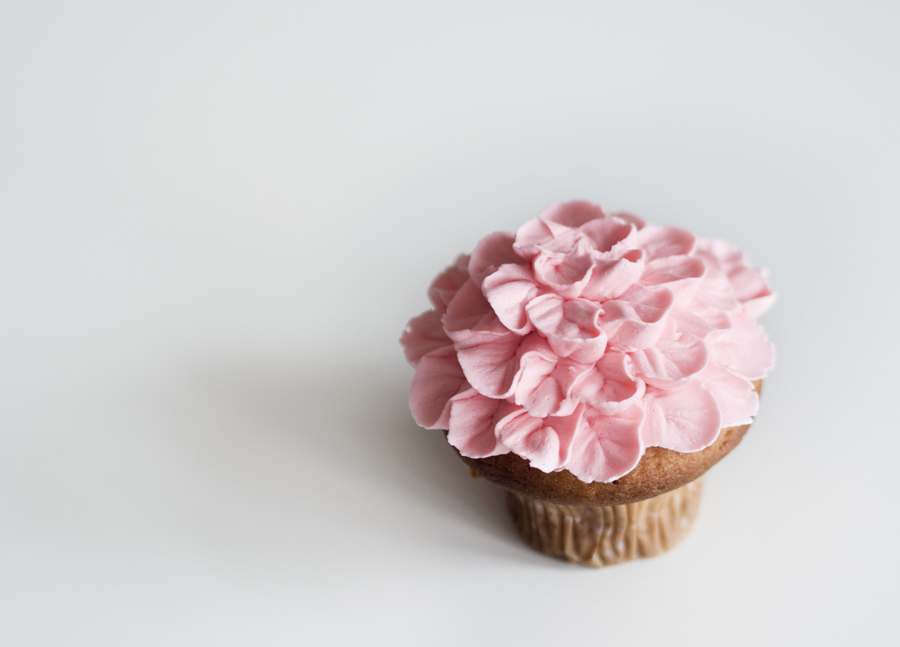 I've shown you guys some flower frosted cupcakes a few times before (ie. here and here), and I have gotten so many questions so make a tutorial on how to pipe these pretty little sugary things.
The reason I've waited so long to actually do the tutorial is that I've only first now gotten to know the video function of my camera, and obviously I also needed to learn how to cut and edit the raw (and many hours) of material into short little videos, that won't bore you. Well naturally I had to start building my very own YouTube channel, and I really hope you'd want to subscribe so that you can see more of my cakey videos.
This is the first video that I've made myself, that's actually starring me. And my face. And me talking to the camera. For my first video, being very nervous and awkward about the situation, I decided to do it in my native language Danish. I really hope it won't scare all of you non-Danish speaking readers away. As they say – a picture speaks more than a thousand words, and I'm sure you'll get the points of the video even without understand my weird language. I promise I'll do more videos either IN English of WITH English texts.
Here are some advices to get you started
Take your time! It is crucial to not rush things when doing a delicate flower frosting like this. I even have to remind myself quite often to take a deep breath and slow down, so that my frosting won't be too sloppy.
My second advice is to use a frosting that is stable and quite sturdy. A flower like this is not going to hold it's beautiful petals if the frosting gets too runny.
Third advice is to use the right tools. I'm using a Wilton tip 104 (from here) and these piping bags. You can also use Wiltons tip number 150 or any other petal tip that you love.
I really really hope you'll like the video, and DO let me know if you have any wishes/requests for future tutorials/video cake baking etc.