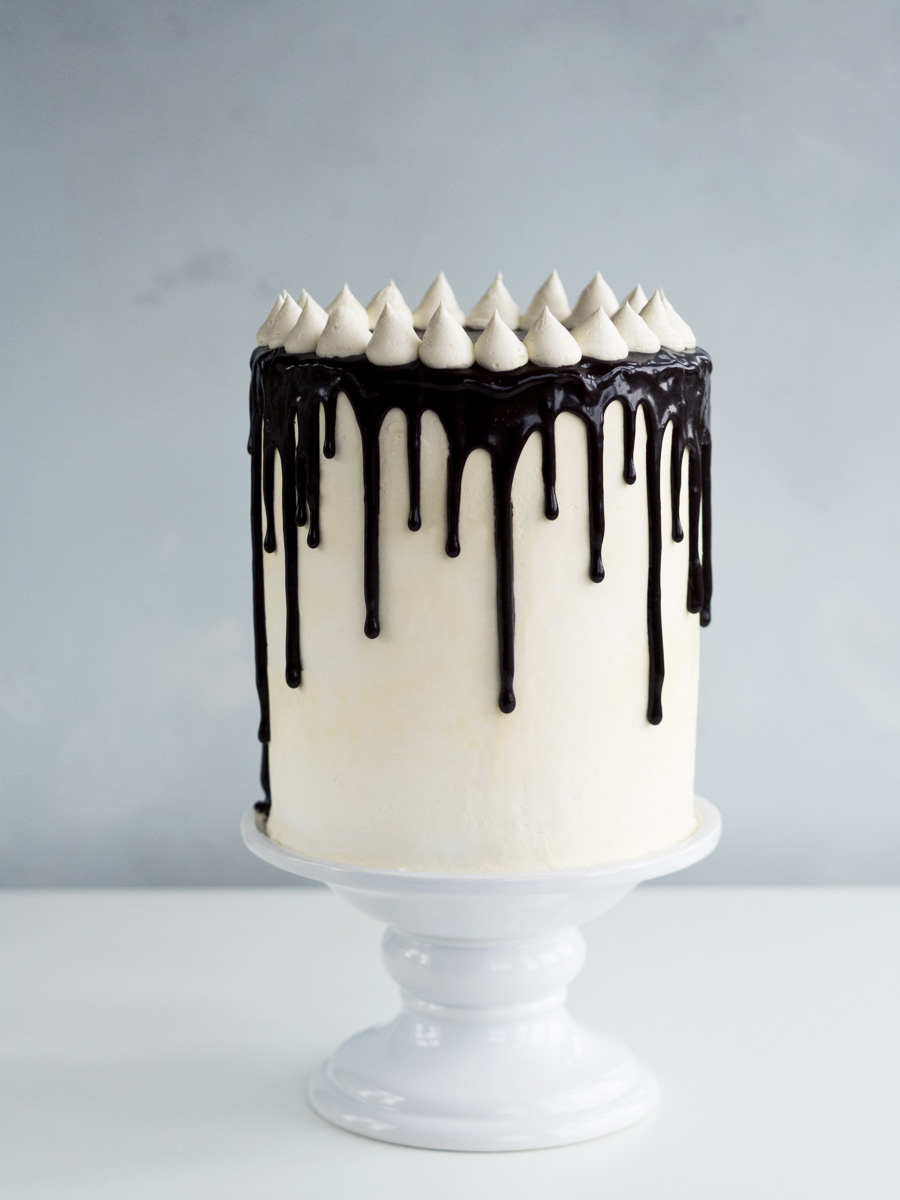 Easter holidays are now over, and to me it seems like the days have flown by quicker than ever. I'm so happy I got to have this Monday off as well, to just spend some extra time baking some cakes and having some photoshoots done before it's back to the real world again tomorrow.
I hope you all had some amazing Easter days, and of course that you had the chance to get some baking done.
This is part two of the series "Cake styling inspiration", where I show you some easy yet beautiful ways to decorate your cakes. Make sure you visit my first blogpost in this series, where I show you how to create a colorful yet simple tall birthday cake. This time I want to show you a beautiful tall and minimalistic cake I created, where the real star of the show truly embodies the essence of foodporn: seductive and glossy runny stripes of chocolate sauce.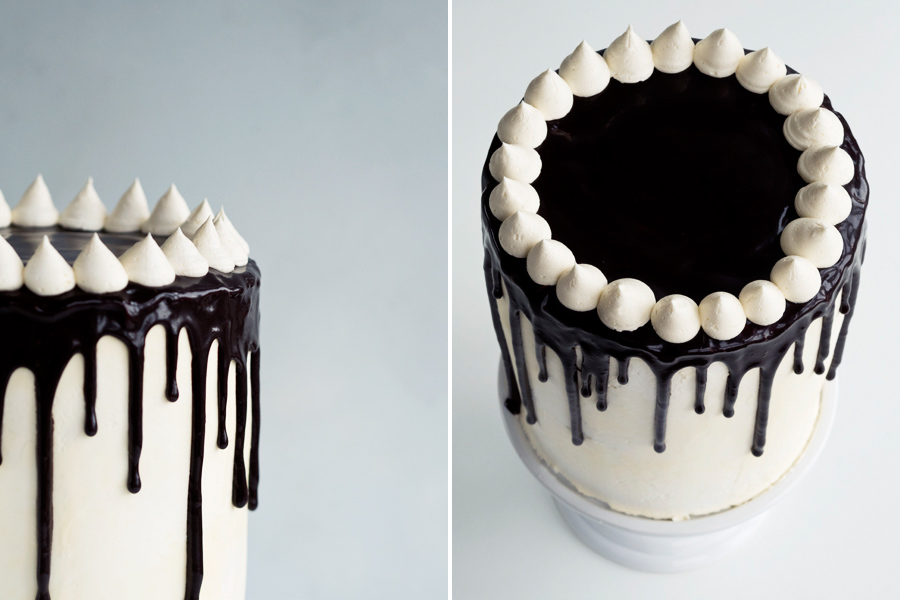 I made this cake from multiple layers of chocolate sponge cakes using buttercream in between layers as well as on the outside. You can use whichever recipe you want for the cake, but make sure the cakes are quite stable and robust, so that they can hold the shape when you start building in layers.
I will be the first to admit that buttercream is not at all my favorite kind of frosting. It tastes of nothing but butter and sugar. The reason that I'm still using it is because of the fact that it's super easy to work with and it will keep it's shape and look absolutely flawless when applied meticulously on the cake.
You can find the recipe for this white plain buttercream in my previous blogpost Cake styling inspiration #1: A tall and beautiful birthday cake.
The yummy chocolate sauce, that I drizzled on top of the cake and down the sides is actually originally a recipe that I developed for my cookbook, when I created a S'mores layercake (yes, it's as good as it sounds).
Ingredients for chocolate sauce
2 Tbs of cocoa powder (unsweetened)
30 g dark chocolate 70 %, chopped or as chips
A pinch of salt
100 g glucose syrup
2 Tbs sugar
0,5 dl cream
Sieve cocoa powder in a bowl and add chocolate and salt.
Pour the rest of the ingredients in a small saucepan and heat until just before the boiling point. Pour it in the bowl with the cocoa powder, chocolate and salt.
Stir until all of the chocolate has melted and there are no lumps left.
Let the sauce cool before drizzling on the cake.