For a long long time I have been wanting to create this cake, and today I finally had the time. It turned out to be just as beautiful and fun as I had hoped for, and the best thing is that decorating it was so easy.
What I really love about the cake is beyond a doubt the tall shape of it. I'm just crazy about tall and "slim" cakes. When putting together cakes this high it is important to bake layers that are quite sturdy. I have a few recipes that would work as layers in this "cake tower" in my cookbook "Copenhagen Cakes", and otherwise I also have some good recipes here on my blog. See for example this recipe for chocolate and rasperry layers or this recipe for the most amazing chocolate layered cake.
I made a simple buttercream for the outer surface of the cake. I do admit that buttercream is not my favorite thing when it comes to taste (yes, I have often advocated against using it), but for this cake it is just perfect as it is super easy to work with and it will simply stay just the way I want it to. For this cake (diameter 15 cm, height 17 cm) I used the following amounts:
250 g butter, room temperature
250 g icing sugar
2 Tbs heavy cream
Beat the butter in a stand mixer until it is soft and fluffy.
Add the icing sugar a tablespoon at a time while beating at medium speed. When all sugar has been added scrape down the sides of the bowl with a spatula and attach the whisk. Whisk the buttercream at high speed for app. 3-4 minutes until it is light and fluffy .
Add the cream and give it a good whisk.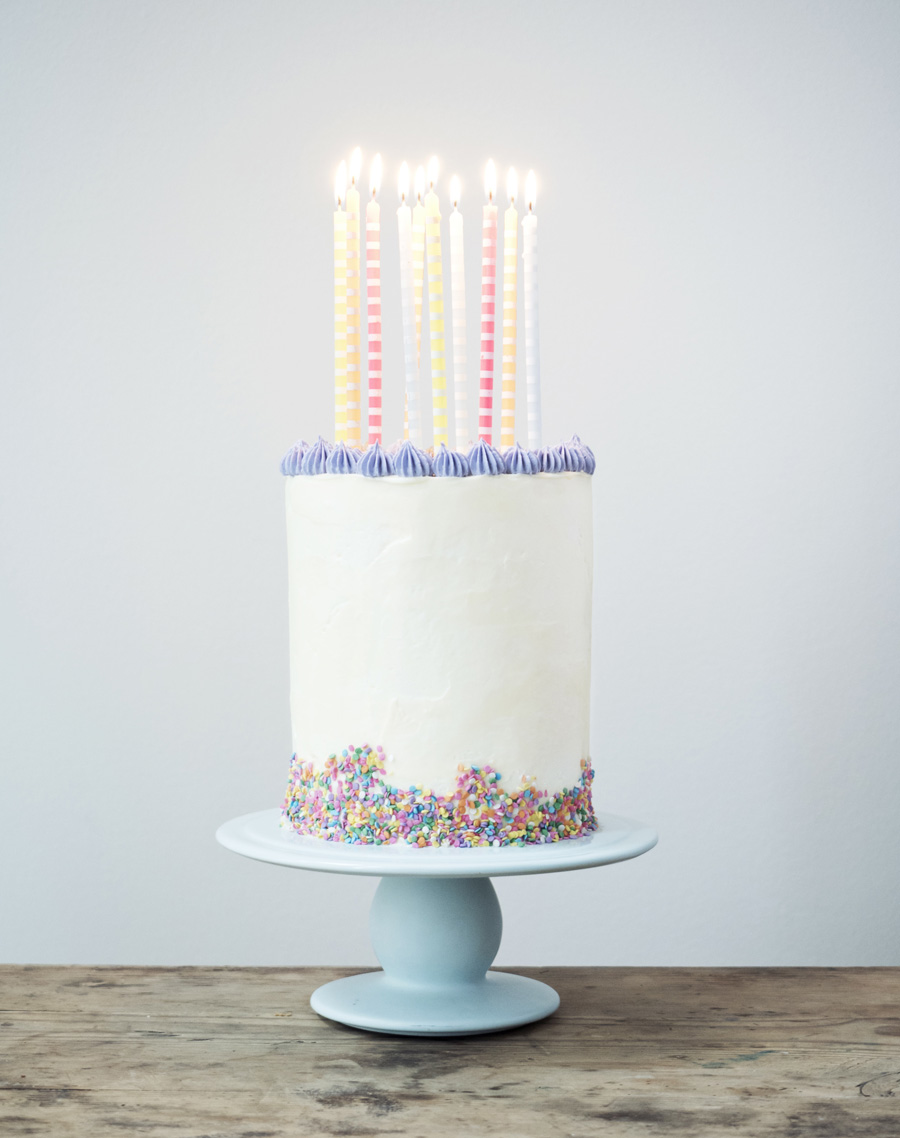 Once the cake has been covered with a beautiful layer of buttercream there will be a little bit of buttercream left in the bowl. I colored it purple with purple icing color and piped small cute dots along the top edge using Wiltons large tip 6B.
Creating this cake was such a fun and interesting creative process. There are really no limits as to how the end result may turn out – actually trying to restrict myself was quite difficult once I got hooked on adding details here and there. Along the bottom I pressed a cute uneven line of colorful confetti sprinkes – both beautiful and practical as it covers the edge between the cake and the cake stand.
As seen on the first picture of this post I tried topping the cake with beautiful roses and rose petals. I really liked the elegant touch this brought to the cake. For a more festive looking cake I took off the flowers and instead decorated with cute tall pastel colored candles, as seen on the second picture.
I really love both versions of the cake, and I am sure this won't be the last time I'll be creating a tall and "different" cake like this. Can't wait untill next time!