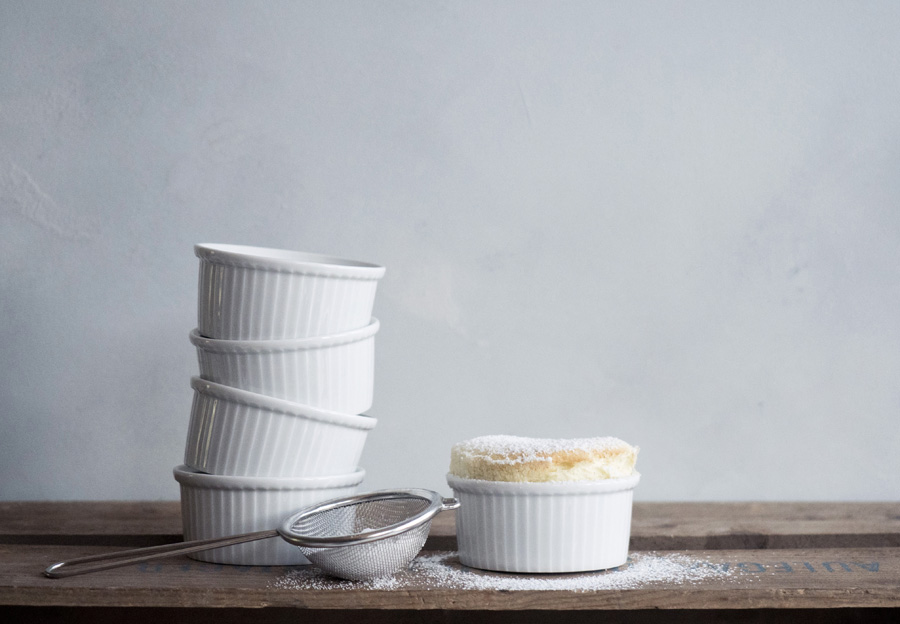 Okay guys, here's the deal. I simply do not understand the fuss about soufflés. For the past couple of weeks I have put some reserach into this quirky little dessert, resulting in several baking sessions where different recipes have been tested.Some recipes are short and simple, consisting of only four ingredients, while some are lenghty and complicated with odd lists of ingredients.
The baking process in itself, no matter which recipe you chose to follow, is always a matter of staying focused and maintaining the overview of several more or less complicated techniques keeping track of temperatures, textures and in the end combining two masses ever so gently to not loose the volume and more importantly; to not make the high temperatures turn the eggs into scrambled eggs.
In the end, your kitchen is looking like a bomb just blew off and your baking process is climaxing as you're ready to serve the dessert for your guests. And this is where the unavoidable dissapointment hits as the masterpiece you've created turns out to not live up to the high expectations you've set.
From my experience, soufflés taste of egg. Eggs and sugar. If you've done well, there might be a slight taste of vanilla as well. But that's it. What an epic disappointment. Sure enough soufflés are pretty to look at and yes, also quite wow-ing and impressive to serve for your guests. But what a complete waste of time, preparing and serving something that tastes of absolutely nothing with a weird consistensy you're not even quite sure how to describe.
Please help me. Am I right in my assumption that soufflés are the new macarons? Meaning an intimidating and difficult pastry, not at all worth the trouble?
Do YOU have an amazing recipe for soufflés, that I just HAVE to try out? Or have you just as well given up on baking them ever again?