No Christmas without a wonderfully holiday spiced cake! I love these kind of cakes full that are full of flavor! For this one I gathered all of my favorite Christmas spices such as ginger, nutmeg and cinnamon.
I topped the cake with cream cheese glaze since this beautifully white glaze is both delicious and oh so pretty.

I made this cake in collaboration with Danish design brand Eva Solo, who challenged me to bake something Christmassy that would look beautiful styled with their classic tableware. I invited a bunch of friends over and set the table with Eva Trios Legio Nova plates and cups and served lots of cake and great drinks to go with it.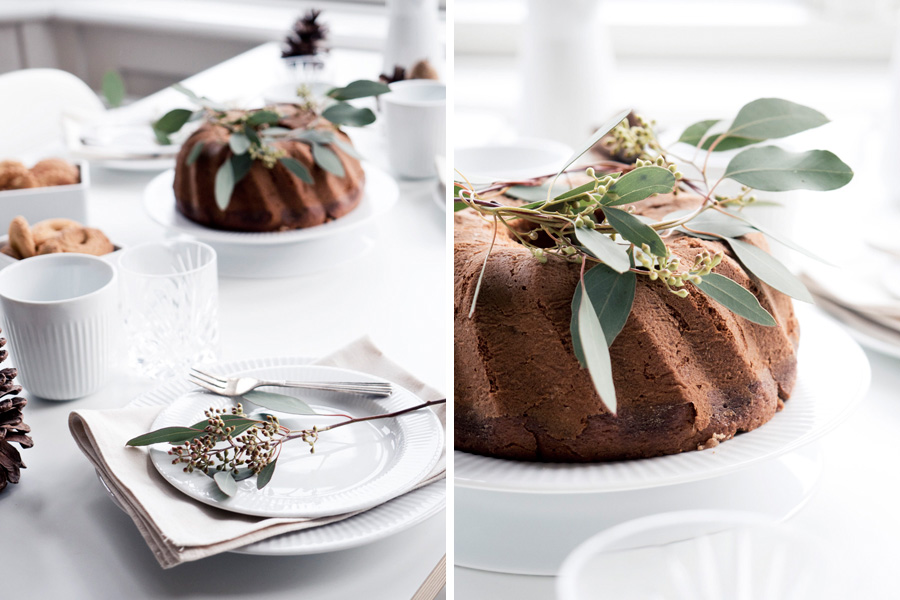 This cake is so easy to bake, and it will look beautiful on your holiday table. Have fun baking it!
Ingredients (serves 10)
1,2 dl water
70 g walnuts, chopped
½ tsp baking soda
60 g butter
100 g sugar
1 egg
1 tsp lemon juice
Seeds from 1 vanilla pod
180 g all-purpose flour
1 tsp cinnamon
1 tsp ground ginger
½ tsp ground nutmeg
¼ tsp ground cloves
¼ tsp salt
Preheat your oven to 170 °C. Butter a large bundt cake form and sprinkle with flour. Knock out excess flour.
Boil the water and pour it over chopped walnuts and baking soda in a bowl. Gently stir and place the bowl to the side.
In a new bowl, whisk together butter and sugar until it is light and airy. Add the egg and whisk again until it is incorporated. Add lemon juice and vanilla and whisk again.
Sieve flour, cinnamon, ginger, nutmeg, cloves and salt together in a bowl, and pour it in the bowl with the butter and egg mixture while stirring. Lastly add the water and walnuts and stir until the batter is nice and even.
Pour the batter into your prepared bundt cake form and bake in the oven for 30-35 minutes or until a stick inserted comes out clean.
Let the cake cool completely.
Cream cheese glaze
1,2 dl cream cheese
240 g icing sugar
A pinch of salt
3-5 Tbs cream
Whisk together cream cheese with icing sugar and salt in a bowl. Add a tablespoon of cream at a time while whisking, until you are happy with the texture. The glaze should be thin but not too runny.