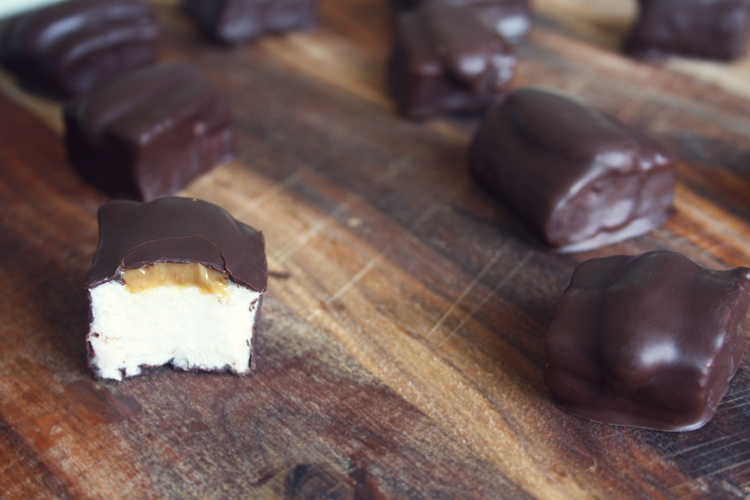 Lately, chocolate covered marshmallows have been an addiction for me. They've also been quite hyped on Instagram, and I totally get why. They're SO good.
I wanted to try to make my own, and even though it was just an experiment, the final result was so good!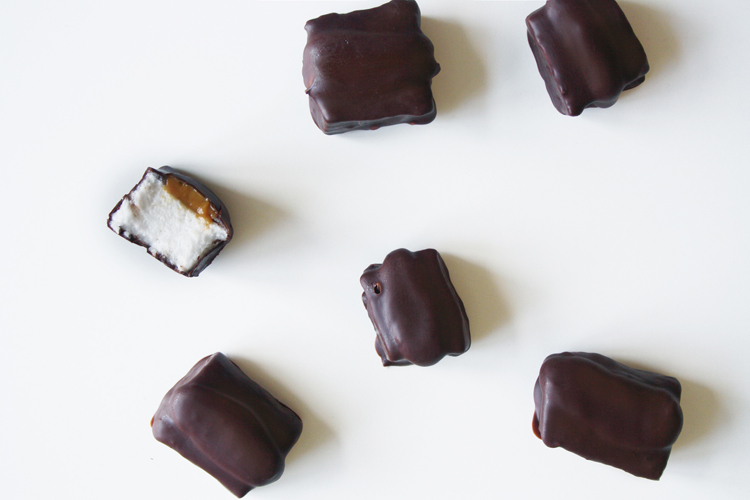 This recipe makes about 25 marshmallows.
Marshmallows
100 g sugar
20 g glucose syrup
1/4 dl water
3,5 sheets of gelatine
50 g egg whites
1 tbsp powdered sugar
1 dl powdered sugar
1 dl potato starch
Pour sugar, 

glucose

syrup

and water in a casserole and let it boil until it reaches 100 °C. Turn down the heat while it keeps boiling and keep an eye on it while you continue following the next steps. The sugar mixture may not get hotter than 127 °C.
Soak the gelatine in cold water for 5 minutes. Squeeze the gelatine to remove excess water and melt it in a bowl in the microwave.
Beat the egg whites with 1 tbsp powdered sugar until stiff. Now return to the sugar mixture in the casserole. Take it off the heat when the temperature reaches 127 °C. Pour it in the stiff egg whites while beating.
Add the melted gelatine and keep beating undtil the marshmallow mixture is firm and shiny and has started to cool down (this may take a while – have patience).
Mix together powdered sugar and potato starch and sift it over a small baking tray ( 15×20 cm). Make sure there are absolutely no bare spots.
Use a spatula to spread the marshmallow mixture in a layer on the baking tray. Allow to dry for at least 3 hours, preferably overnight, uncovered.
Use a pizza cutter or scissors (dusted as well with the marshmallow mixture) to cut the marshmallows into small squares.
Salt caramel
One can of sweetened condensed milk
Sea salt
Remove the paper label of the can.
Fill a large pot with water and bring it to a boil.
Place the can in the boiling water and let it boil for 3-4 hours. Make sure the can is completely covered with water at all times.
Let the can cool down before it is opened. Add a bit of salt to the caramel and stir it well.
Pour the salt caramel into a piping bag and pipe a line of caramel on top of each of the marshmallows.
Chocolate
200 g dark chokolade of good quality (I used Caraïbe 66 % from Valrhona)
Melt the chocolate while tempering it carefully.
Dip each of the marshmallows in the melted chocolate and place them on a sheet of wax paper or a cooling rack.